Heads held high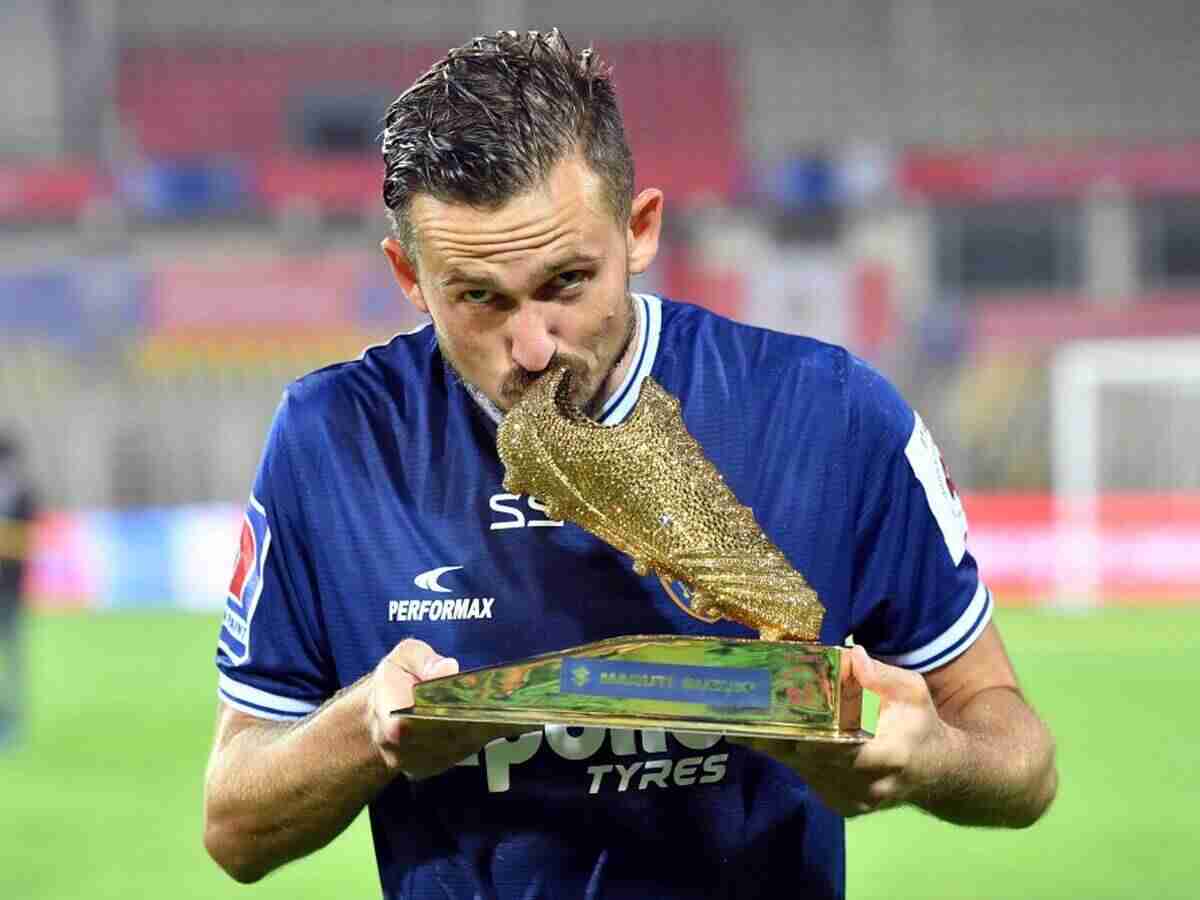 In an exclusive interview with Arif Mohammad, golden boot winner of the 2020 ISL season, Nerijus Valskis, talks about Chennaiyin FC's change of fortune, his goal-scoring spree and much more
Chennaiyin FC was off to a poor start after being hammered 0-3 by Goa in their opening fixture. It took them five games to gather back the momentum but the road ahead looked gloomy for John Gregory's team. After managing just one win in six attempts, the management sacked Gregory and replaced him with Owen Coyle.

Many pundits had ruled out Chennai and the hopes of a semi-final berth looked bleak. But, then began the 'Coyle-era' for Chennai with a 1-1 draw against the Men of Steel. With 9 undefeated games on the trot, Chennai almost pulled off the improbable. Their last defeat excluding the knockout stage came on January 6 and since then the tides had changed. As the Indian Super League was approaching its business end, the team was suddenly firing on all cylinders and managed to secure a final berth before losing to ATK 3-1 in the finals. Nevertheless, this Chennai squad had almost done what Rohit Sharma-led Mumbai Indians did in 2015. A nearly perfect season missed by a whisker.
It took Chennainyin FC 450 minutes to score the first goal this season. But since then, what changed the tide?
Belief in our abilities, as individuals as well as a team. A lot of us were new to the team and it takes time to gel and get to know each other. But we knew we had to keep going and keep working hard. We kept giving it our all in training. At the same time, it is also important not to try too hard. We trusted the process and the results came.
When I interviewed Goian during the league stage, he was confident of the team's qualifications. What according to you has been the key element reviving the hopes of making it to the playoffs?
Along with the belief in our own abilities, what also helped is no one lost hope. We took it one game at a time and played every match on its merit. With Owen Coyle coming in, the intensity of our play also went up by quite a few notches. He reinstalled the confidence we had lost and then we started gaining momentum. That is a very key element in football. The coach has always stressed that how we started the season doesn't matter. What matters is how we arrive at the business end, towards the playoffs. And we arrived with a lot of momentum. I must also give a word of gratitude towards our fanbase which has been exceptional and unconditional throughout this roller coaster of a season. The way they came out and supported us, especially in the semi-final first leg against Goa was amazing. Almost 18,000 people in the crowd, and I am glad we gave them a good result in our last home game of the season.
It has been the debut season for all four foreign Chennai players. How did the team gel in such a short period?
As I said, initially it did take a bit of time for us to gel and get to know each other. But as time progressed, our determination and resolve grew stronger, to bounce back. There is a strong sense of unity within our group, especially now the way we have turned our season around. We cannot let up now, we cannot stop. We must not get complacent. We must go out there and finish the job. Another aspect has been the amazing Indian talent we have in our team. They have been an absolute joy to work with, all of them. That has also helped us, foreigners, to adjust and adapt seamlessly. And our support staff takes great care of us, it is a family-like atmosphere at the club.
Initially, it did seem that it would turn out to be a disappointing season but change in management did wonder. Your comments.
Yes, Head Coach Owen Coyle and Assistant Coach Sandy Stewart have done a great job since coming on board. It was not an easy situation when they came in December. But we have managed to turn it around with a nine-match unbeaten run including 6 wins to reach the semis. As I said, momentum counts for a lot in football and Owen and Sandy kept reiterating that. They have brought in their acumen and expertise and done a great job.
Talking about your personal game, this has been your first stint in Indian football. How has been your experience?
Personally, it has been a fantastic experience too. 15 goals and 6 assists so far I surely can't complain, but I'm never satisfied. Because the team winning and the team's objectives and goals come first for me. My personal achievements mean absolutely nothing if the team doesn't win. So the focus is always on our collective strength.
And outside of football, it has been a great experience in India. A new country, new people but I am very happy with my time here.
You have been on a goal-scoring spree and to a great extent has been responsible for the team's turnaround. With a win all games scenario, what went in the dressing room?
In the dressing room, it is always about focusing on one game at a time. We did not look too ahead of ourselves. We helped each other improve each other's game and stayed united. That is the most important thing to do when you are faced with a big task. We have to drown out all the negativity and criticism and only focus on improving ourselves. And that is what we have done and is the sole reason why we are here.
You have come across many Indian footballers from different teams. Which one player has been your favourite?
My choice is Anirudh Thapa from our team, but I also like some other players like Brandon Fernandes from FC Goa, Ashique Kuruniyan from Bengaluru FC, Farukh Choudhary from Jamshedpur FC and Lalengmawia from NorthEast United FC.
....message for the fans
Not just fans, I request every one to take care of themselves – keep your hands clean and implicate social distancing. This is probably the biggest crisis in modern times and we need to battle this out together. See you next year!