I let the team down: Paine on dropped catches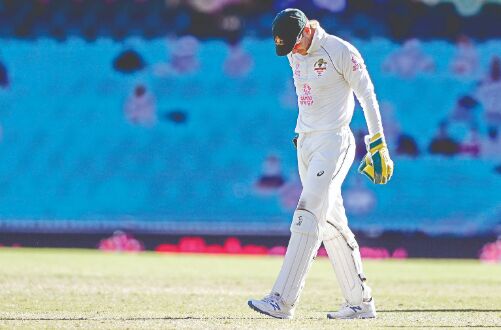 Sydney: A "bitterly disappointed" Australia captain Tim Paine conceded he "hasn't had too many worse days" than Monday after his three dropped catches "let the team down" and played their part in India pulling off a draw in the third Test here.
Paine said he was below par behind the stumps after India held on for a draw in pursuit of 407. Paine dropped two catches of Rishabh Pant, who made a fluent 97 and raised hopes of an Indian win, and then dropped one of Hanuma Vihari, who remained unbeaten on 23 and ensured that the game ended in a draw along with Ravichandran Ashwin (39 not out).
"Obviously the dropped catches have played a part in the result. Probably going both ways to be far. But I am bitterly disappointed, I pride myself on my wicketkeeping. Haven't had too many worse days than that today," Paine said at the virtual post-match press conference.
"It's a horrible feeling knowing our fast bowlers and our spinner (Nathan Lyon) bowled their hearts out and gave everything to the team. I certainly feel I let them down.
"I have to wear that, but I'll get another crack at it next week so move on," said the wicket-keeper referring to the fourth and final Test in Brisbane.
Paine also had a verbal duel with Ashwin, while the Indian off-spinner was batting. The Australian skipper said it was all a part of the game. "There was a bit of by-play going on. They were wasting a bit of time, we were getting a bit frustrated, we let him know, he had a bit of say back and again it's all part of the game. No harm done," the 36-year-old maintained.