For equal opportunity
There is an urgent need to overhaul the selection process for public services in India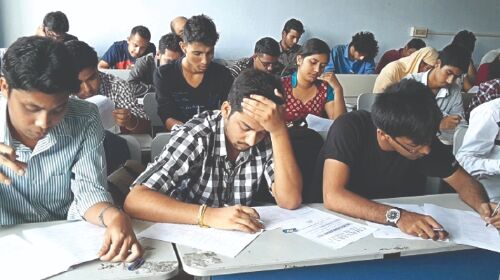 It is a very common sight to notice while travelling to any place in India that several hoardings advertise about coaching facilities available in cities and small towns for getting selected in public (Government) services and for admission to professional colleges, viz., engineering, medicines, law, management, etc. A random Google search to understand the business of this industry revealed that it's a 40 billion dollar (Rs 2.39 trillion) industry with CAGR (cumulative annual growth rate) of 35 per cent going by the ASSOCHAM 2015 figures. In contrast, having travelled around the world, I have hardly come across this sort of organised business in the developed world albeit individual coaches for different subjects in schools/colleges/universities.
Undoubtedly, this entire business is flourishing by the contribution from the students/aspirants who take recourse to these coaching centres/institutes. The number of such candidates in our country runs in millions and, therefore, the turnover would naturally be in billions. For example, to select roughly 1,000 candidates by the UPSC in civil service each year, there are about eight to 10 lakh candidates who write the preliminary test. On a random basis, a candidate taking coaching for civil services would spend anywhere between Rs 50,000 to 5 lakh every year. One can very well work out the amount of money involved in this business.
Majority of candidates taking coaching are from middle and lower-income group families which means a huge drain of financial resources for such families. Apart from the huge financial loss every year, one can see the colossal loss of youth energy being wasted as a very large number of candidates who go to such institutions remain unselected for many years as the number of vacancies remains minuscule as compared to the number of aspirants.
The moot question is whether there is no better way of selecting some 1,000 odd candidates for Civil Service, for example, every year than continuing with the drudgery for the students for years and wastage/drain of huge financial resources for the middle class/lower-middle-class families? Obviously, there must be some solution to the problem which will ensure a simpler and least costly process of selection.
Taking a cue from my engineering(college) days wherein for admission in M Tech programme after graduation, a Common Entrance Test-Graduate Aptitude Test in Engineering (GATE) was started in the year 1984 for all graduate Engineers who wanted to pursue M Tech programme. One of the best engineering college/institutes conducted this examination and the admission for M Tech in various engineering colleges in the country became absolutely smooth, ie., based on one's percentile score and availability of seats in a college/university, one could get admission hassle-free. There was no role of any coaching institute whatsoever for admission to the M Tech programme.
The solution to the flagged issue can be found in the above example. One can apply the same principle of percentile with some modifications as felt necessary for admission to all the professional colleges and universities and the same can even be applied for recruitment to various Government services. It is presumed that only consistently meritorious candidates are selected through the competitive examination system.
It is possible that while awarding graduation degrees to the students by various universities, each student can also be awarded his percentile score in his/her subject of study category wise (General, OBC, ST/SC). The same principle can also be applied to students passing out at class XII level with state boards, CBSE, ICSE, etc., awarding every student a mark sheet as also percentile score category wise in his/her stream of study.
While seeking admission, for example, after class XII in various professional colleges, it can be prescribed that those students whose percentile score is, say, above 90 per cent (can be varied depending on the situation) in their category are only eligible to write the entrance test for admission in various professional colleges. The test for the admission to professional colleges may consist of two parts: Firstly, a written examination (simple test, subjective/ objective type with no negative marks) carrying 80 per cent marks followed by an interview/viva carrying 20 per cent marks for a small number (two to three times of the seat availability) of candidates.
In a similar process, for selection to Government services, the recruitment agencies, eg., Union Public Service Commission, State Civil Service Commission and other subordinate bodies may consider following the similar principle as enunciated above. Here also, the candidates/aspirants who have scored their percentile in the subject at the graduation level in their own category more than, say, 90 per cent would be eligible to write the test/examination. However, the percentile cut-off can be changed by the recruitment agencies depending on their requirement for various exams/services. The selection process may consist of two parts — written examination (80 per cent marks) through a simple test (subjective /objective paper with no negative marking) and interview (20 per cent marks).
The recruitment agencies can also guide the students/aspirants through online lessons/videos about the syllabi of the tests and sample papers content of which should not be much different from what is generally taught in colleges and universities.
It is heartening to know that the Central Government has come out with the NRA (National Recruitment Agency) for selection to group B and group C services. We hope that the NRA's procedure would be such that candidates do not resort to coaching institutes. Depending on the NRA score, recruitment can happen simply and transparently.
This initiative would be a major reform in the field of education which will bring faith in the merit-based selection, improve education at school, college and universities level as also free these sectors from multifaceted corruption and obviating the need of coaching institutes resulting in saving of billions worth of hard-earned money of the middle and lower-middle-class families; and, last but not the least, saving youth power of the country which is languishing while preparing for several years while living, very often, in miserable conditions in the cities and small towns of the country.
The writer is the Additional Chief Secretary to the Governor of Sikkim. Views expressed are personal