No to lockdown but ban on outsiders in Lahaul-Spiti after massive spike in HP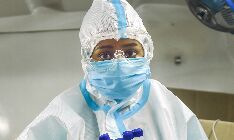 Shimla: Faced with massive spike, leaving 216 persons dead in the past three weeks, the Himachal Pradesh government is in the process to invoke stringent measures to tackle the sudden COVID spread, mainly hitting districts of Shimla, Mandi, Kullu and Lahaul-Spiti .

Even as Chief Minister Jai Ram Thakur on Sunday ruled-out lockdown in the state but Lahaul-Spiti district administration has banned entry of the outsiders, primarily the tourists thronging the newly opened Rohtang Tunnel .
The district has reported six deaths, five of these only during the November as a total number of positive cases also having shown an alarming rise to 950.
Deputy Commissioner Lahaul-Spiti Pankaj Rai said the Covid -19 conditions in the district, especially after the snowfall, has worsened. The local panchayats want that outsiders entry beyond Rohtang tunnel ,should not be allowed.
"We have passed the orders and set-up a police check post at Sissu to spot the outsiders and advise them to return back, once they have crossed the tunnel. The Army personnel enroute Ladakh and other border areas have been exempted beside locals," he told the Millennium Post.
The case of village Tholang, where an entire population of 42 persons, including women, barring one person Bhushan Thakur — a 52-year-old native, have been tested positive clearly demonstrates how the situation has turned bad.
"I find myself lucky to have not got infested by the virus as I had been strictly following the social distancing and hand hygiene practices. Of six family members in my own family, five have been tested positive. All 42 villagers, of total 43 are positive," he informed.
Currently all seven Lahaul and Spiti are under snow. This is certainly an attraction for the tourists crossing the Rohtang Tunnel.
Sissu panchayat Pradhan Suman Thakur recalls that three other panchayats in Lahaul viz Sanskar, Gondola and Koksar were unanimous in taking a decision to ban tourism activities because of corona spread.
"We also wrote to the Deputy Commissioner to impose a ban and also invoke section 144 to stop gathering of five or more persons or holding of public meetings," she asserts.
Infact main reason for the spread of the virus in Lahaul-Spiti is also attributed to a religious congregation held in the area during the visit of local "devta" (Village God). The permission for the same was also given by district officials without realising its implications.
Because of the consideration drop in the temperature to sub-zero level and tribal families living together in congested homes, the infection got chances for its spread.
"Coming days are going to be tough due to winters. We are not considering imposing any lockdown but stringent measures will be put in place soon to deal with an alarming situation," Jai Ram Thakur said at Mandi on Sunday.
The state government feels that large scale wedding functions — wherein the people did not follow social distancing or wear face masks, has directly contributed to the COVID spread.