TMC condemns Nadda's remark about Tagore's place of birth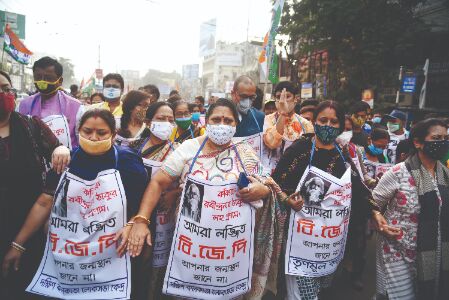 Kolkata: Trinamool Congress supporters took out a rally in south Kolkata, condemning the statement of BJP national president JP Nadda that Rabindranath was born in Santiniketan.

The rally started from Rashbehari Avenue and ended at Hazra square. It was led by MP Mala Roy, Rajya Sabha MP Subrata Bakshi, and coordinators of Kolkata Municipal Corporation, including Debasish Kumar, Ratan Dey and Ashim Basu.
"The leaders who are coming from other states have no idea about Bengal's culture and heritage. They are dreaming of winning the 2021
Assembly election in Bengal," Roy said.
Interestingly, neither Nadda nor any of his party leaders has tendered an apology for the goof-up on Tagore's birthplace. It may be recalled that during his trip to Bankura in November, union Home minister Amit Shah had garlanded the statue of a local hunter mistaking it to be that of Birsha Munda's.
When the matter was pointed out, a sketch of Munda was brought and placed on the pedestal of the statue, which Shah later garlanded. Bidyut Chakrabarty, the Vice-Chancellor of Visva Bharati had called Rabindranath an outsider to Santiniketan.