State creating fund of Rs 100 cr to procure vaccines, says Mamata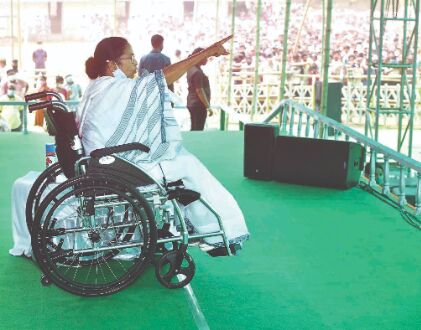 Malda: Amid the surge in Covid cases in Bengal, outgoing Chief Minister Mamata Banerjee on Wednesday said the state government is creating a fund worth Rs 100 crore to ensure "universal vaccination" that will begin in the state from May 5.

Holding an urgent Press conference after a meeting through video conference with the top brass of the state government from Malda, Banerjee said: "The vaccination for all above 18 years is going to begin from May 5 and the state government is creating a fund of Rs 100 crore to procure the vaccines."
Stating that already 93 lakh vaccines have been administered in the state, she maintained that the Centre will be immediately asked to provide another 1 crore to avoid shortage for the same when the state government is giving 40,000 vaccines through 400 centres.
Reacting strongly to the differences in the prices of vaccines for the Centre, states and if privately purchased, Banerjee said: "I am writing to the Prime Minister in this connection. The Centre has to take the responsibility without leaving the entire thing on common people. Serum is giving it to the Centre at Rs 150 per unit and asking the states to procure it at Rs 400 per unit while one has to pay Rs 600 if privately purchased. Is this the time to do business or the priority is to save people's lives?" Banerjee said.
The Centre has allowed universal vaccination from May 1. According to the experts, it is going to be initiated from May 5 in Bengal after the election results are out on May 2.
Urging people not to panic over the number of people getting infected and requesting precautionary measures, Banerjee ruled the possibility of imposing lockdown on immediate basis. "People must take precautionary measures. Now, there is no question of going for 'gharbandi' like notebandi," she said, adding that many came to the state, including the 1.5 lakh security personnel for the purpose of elections and it resulted in a spike. "The situation would not have turned so worse in the state if the elections had been held in three to four phases. On behalf of the state government, I always want the poll process to end at the earliest," she said in reply to a question on the EC not accepting her party's proposal to wrap up the last three phases into one. With 6,793 Covid patients admitted in hospitals at present, she demanded that the EC should arrange postal ballots for them. At present, 51,593 Covid patients are in home isolation.
Giving details of the infrastructure created by the state government to combat the pandemic and stating that no serious Covid patient should return from the hospital without getting a bed, she said: "Many safe houses have been tagged with selected hospitals. At present, there are 11,000 Covid beds that will soon increase to 13,000.
As many as 3,888 Covid patients are undergoing treatment at government hospitals while 2,905 are in private ones. The state government has also requisitioned 80 private hospitals comprising 7,000 beds with proper oxygen supply mechanisms. Around 200 safe homes have also been set up."
The state government has also taken the unique initiative of round-the-clock satellite counselling by 70 doctors.
On Wednesday, 10,784 people got Covid infected with 58 deaths being recorded in the past 24 hours. Till Wednesday, around 1,73,866 people have been vaccinated in the state.
Mentioning the scarcity in oxygen supply in the state, she said all steps have been taken to check its hoarding and black-marketing. Banerjee also requested all to donate to the relief fund to combat the situation as thousands of people had come forward the last time.
While addressing a poll campaign at Balurghat in South Dinajpur, she said the second wave of Covid in India is a "Modi-made disaster" as it took place due to the BJP-led Centre's negligent attitude. Banerjee further stated that "Bengal engine" has only carried an overall development of the state and there is no need for "double engine".
Banerjee said: "There was no Covid in the past five to six months. It is none other than Prime Minister Narendra Modi who is responsible for the second wave in the country. Now, when it has gone up, he is pushing the ball in common people's court. Why is he fleeing now? I would like to state that it is not man-made. Instead, it is a Modi-made disaster and he (Modi) has to take responsibility. The situation in Maharashtra, Andhra Pradesh and Rajasthan is worse and Modiji is continuing his poll campaigns here by bringing in outsiders."
She added: "You (Prime Minister) have to ensure sufficient supply of medicines to people or else you have to step down. Your mere speeches will not work. The Union Health minister had said five to six months ago that Covid was gone. Then how is it again claiming so many lives? It is happening only because of the Centre's callousness. Maximum vaccination should have been carried out first in our country without shipping it to other nations."