School of Tropical Medicine to conduct clinical trials of Covid vaccine in December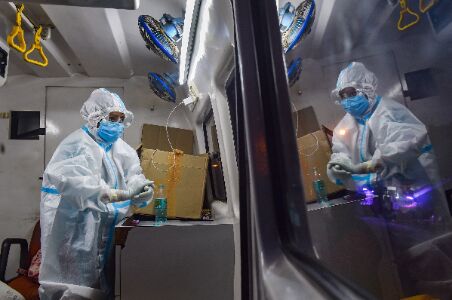 Kolkata: The School of Tropical Medicine (STM), which has been declared as the centre of excellence by the state Health department will conduct the clinical trials of Covid vaccine in December.

The STM is the first state government run institute which has been selected for carrying out the clinical trials. The trials would be conducted by the state health department in collaboration with the Indian Council of Medical Research (ICMR). The National Institute of Cholera and Enteric Diseases (NICED) Kolkata is also expected to conduct the phase III clinical trials of the Covid vaccine developed by the Bharat Biotech in December. Steps have been taken to demarcate the College of Medicine and Sagore Dutta Hospital where clinical trials of Russian vaccine, Sputnik V would be performed. Bengal will play a key role in the final phase of clinical trials of Covid vaccines as it would be carried out at three different venues including two run by the state government.
According to health department sources, the STM would conduct the trials of COVOVAX developed by Novavax, USA and also those which are developed by the Serum Institute of India. Two sets of volunteers are being arranged on whom the vaccine would be administered. One set of volunteers would be given the vaccine developed by the Serum Institute of India while the other group would be receiving the vaccine developed by the USA Company, Novavax. The ethics committee of the STM will supervise the entire procedure. The trials would be conducted in at least 30 centers across the country and a minimum 5,000 volunteers would receive the vaccine in the third phase of trials.
Meanwhile, the state health department has already prepared a list of 6 lakh front line health workers from both the government and private health establishments who would first receive the vaccines after they successfully clear the final phase of trials and meet all the other necessary parameters.
A senior health official in the state said that STM has been given permission to conduct the clinical trials of Covid vaccine. As lots of issues are involved, an institution needs to fulfill certain norms set by the health department before it goes for clinical tests of Covid vaccine.
It may be mentioned here that the steering committee of the state government on Friday held a meeting to take a stock on the preparedness as to how the Covid vaccination programme would be implemented. It was also discussed in the meeting how the vaccines would be stored. The state health department has already put in place adequate infrastructure for the smooth running of the vaccination programme. The state government currently has the infrastructure to stock around 8.5 crore doses of vaccine.