Recent defections from party will not affect TMC: Hakim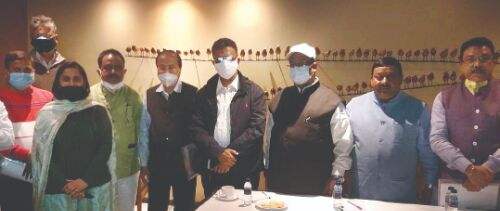 Darjeeling: The disgruntled are leaving the party. The party in no way will suffer for these "disgruntled souls" claimed veteran Trinamool Congress (TMC) leader and Municipal Affairs Minister Firhad Hakim.

He was commenting on the TMC leaders who had recently defected from the party.
Hakim arrived in Siliguri on Sunday. He will be unveiling a statue of Mahatma Gandhi being put up by the SIliguri Municipal Corporation in front of the General Post Office on Monday.
Ashok Bhattacharya, the Administrator of the Corporation had invited the Minister for the unveiling ceremony. Tourism Minister Gautam Deb will also be attending the ceremony.
Along with this, the Municipal Affairs Minister is also scheduled to attend a TMC rally in Siliguri on Monday.
"Not only will Mamata Banerjee form the Government in West Bengal in 2021, she will also form the Government in 2026," declared Hakim.
The Municipal Affairs Minister on Sunday, visited the Bengal Safari also.
Talking to media persons, the Municipal Affairs Minister stated that some leaders were suffering from immorality and these are the persons who are running from pillar to post. "Some of these persons are also leaving the party" added Hakim.
When quizzed on TMC leader Subhendu Adhikari, he stated: "Subhendu Adhikari has not left the party yet neither has he joined any other party. It is not time yet to comment on Adhikari."
Reacting to TMC MLA Mihir Goswami's defection and joining the BJP, Hakim said: "We have grown up following the ideologies of Gandhiji. We can't shun these ideologies now. We cannot knock on the doors of the violent leaders from UP or Gujarat. Some are going to them. The party will
not face any problems. There are many who forget had it not been for the TMC they would not have become MLAs or Ministers."
The Board of Administrators of the Siliguri Municipal Corporation led by Asok Bhattacharya met the Minister in the evening. It was dubbed as a courtesy call.