Habibpur: TMC removes Sarala Murmu, nominates Pradeep Baskey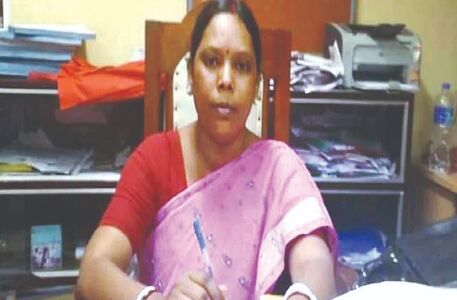 Kolkata: Trinamool Congress (TMC) on Monday replaced its candidate from Habibpur Assembly constituency of Malda district Sarala Murmu, and announced the name of Pradeep Baskey in her place. Sources said that the party knew in advance that Murmu would join the saffron party which proved to be true when the latter joined the BJP.

"This is to inform that the candidate for Malda District's Habibpur Assembly Constituency, Sarala Murmu, had to be replaced due to her ill health. Pradeep Baskey will be contesting the upcoming Assembly Elections from this constituency," said TMC in a statement that was released in the morning.
Murmu was not happy even after receiving the ticket to contest the Assembly polls and had been speaking in a dissonant manner. She had travelled to Kolkata on Sunday night along with some of her aides.
Later in the day Murmu and 14 other members of Malda Zilla Parishad joined BJP that included sabhadhipati of the zilla parishad Gour Chandra Mondal.
TMC Malda district president Mausam Noor held a meeting with the district leadership to discuss strategy for the polls with so many members of the ziila parishad defecting to the saffron camp.
TMC chairperson Mamata Banerjee had released the full list of 291 candidates among the 294 seats on Friday and had said that the party's allies will contest in three seats Darjeeling, Kalimpong and Kurseong.