CM to embark on a 3-day tour of N Bengal on Mon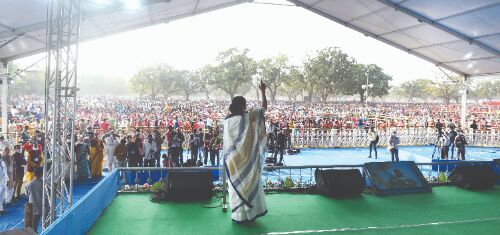 Kolkata: Eying victory of her party in all the 54 seats in north Bengal, Trinamool Congress chairperson Mamata Banerjee will set out for a three-day tour of north Bengal on Monday when she is scheduled to address political rallies in Jalpaiguri and Cooch Behar.

The Chief Minister would also inaugurate Maharaja Jitendra Narayan Medical College and Hospital in Cooch Behar.
Banerjee has already started holding political rallies in south Bengal districts including Bankura, West Midnapore and Bongaon in North 24-Parganas with a few months left for the 2021 Assembly elections. It was from Bankura, she has given a call to ensure win of Trinamool Congress in each and every Assembly seats in Bengal considering it would be a major blow to the saffron brigade in the national level.
Banerjee will be leaving for north Bengal on Monday. She will be addressing rallies of her party at ABPC Ground in Jalpaiguri on Tuesday and Rash Mela Ground in Cooch Behar on Wednesday. The rallies will begin from 12 noon on both the days.
The party supremo will be leaving for Cooch Behar soon after the meeting in Jalpaiguri on Tuesday itself as she is scheduled to inaugurate Maharaja Jitendra Narayan Medical College and Hospital in the evening on the same day.
According to political analysts, Trinamool Congress is going to come out with a better result in north Bengal in the forthcoming Assembly election with a series of steps taken by the state government starting from launching cha-sundari project to provide houses to tea-garden workers to setting up of Narayani Battalion giving respect to the people of Cooch Behar.
Banerjee would be raising her voice against BJP in the political rallies as she had said during her visit to north Bengal that "Like minorities, Dalits and tribals, people from general castes are also not spared in their (BJP's) rule. They have not fulfilled any of the pre-poll assurances as neither promises made to Rajbangshis were fulfilled nor the seven tea gardens in North Bengal were reopened as they do not give value to their own words".