Best wishes to all countrymen & linguists: CM greets people on the occasion of 'Hindi Divas'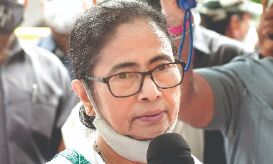 Kolkata: In a Hindi tweet on Tuesday, Chief Minister Mamata Banerjee extended her good wishes to the people of the country on the occasion of "Hindi Diwas".

This comes when the Chief Minister took a series of steps since 2011 including setting up of West Bengal Hindi Academy for development of the language.
"Best wishes to all the countrymen and the linguists who are contributing towards the development of Hindi language on the occasion of Hindi Diwas,"Banerjee tweeted.
The Chief Minister had announced restructuring of West Bengal Hindi Academy with as many as 25 members and headed by former Rajya Sabha MP and Jorasanko MLA Vivek Gupta on Hindi Diwas last year.
Later, her government provided a grant of Rs 5 crore to the West Bengal Hindi Academy for spreading Hindi literature.
It was the Mamata Banerjee government only that had set up the West Bengal Hindi Academy in 2011 soon after coming to power. Initially, there were 13 members in the committee.
With restructuring of the academy in 2020, the total number of members was increased to 25 for better functioning of the academy. It has also increased the scope of work of the academy.
After restructuring the Hindi Academy, Banerjee had said that Bengal loves and respects all languages. Despite Bengali being the mother tongue, the people of the state do not neglect any other languages.
As a result, the state government gave recognition to languages including Hindi, Urdu, Ol Chiki, Gurmukhi, Kuruk, Rajbanshi and Gurmukhi.
The Bengal government has also set up Hindi colleges facilitating better infrastructure for higher studies for the students. Hindi Medium Banarhat College has also started functioning.
The state government has also taken steps to set up more Hindi medium primary and secondary level schools.