Here for our rights, not just to cook: Women farmers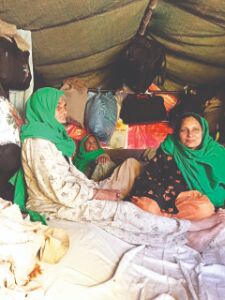 New Delhi: As the massive farmers' protests against the Centre's recently enacted agricultural laws entered its fifth day at midnight on Sunday, a large part of the protesters' resolve at the Capital's borders was seen being drawn from the women farmers — both young and old — who were also protesting.

Hundreds of women farmers from Punjab, who work the fields back home and are involved in other farming roles, stationed themselves on the Delhi-Haryana border at Singhu and said, "We also work in the field and these laws will break us in the long haul. We don't get the money we should. We want MSP, no matter and we want the government to take back these laws or we won't budge," Navpreet Kaur from Punjab said.
She along with other women sat in their small tractor where a 70-year-old woman had come to join the protest along with the others. Farmers in Punjab help their families in the field, while a majority of the labour is borne by the men.
"They beat us for raising our voice. We the farmers are treated this way under this government. We, women, have to take care of homes and fields and we have left all that to sit here. We do not even have washrooms here," another woman protester told Millennium Post, adding, "The women here are to ask for their rights and not just to cook."
A trust deficit
And despite the Central government and the Delhi Police having allowed the farmers to assemble at the Nirankari Ground in Burari, the farmers at the borders said they have a major trust deficit with the authorities after the events of the last two days and their seemingly apathetic approach to their woes.
Many of the farmers have left their families back home and marched down to the National Capital only to ensure that their demands against farm laws are fulfilled. "We have been permitted to protest at Nirankari ground but there is a lack of trust. It has been two days but no dialogue, no talks from us by the government," said Jitendra Singh, a farmer from Rohtak.
Another farmer Bijendra said, the demonstration against the farm laws is to save their future. "A few days ago we faced water cannons, tear gas but our demands are still the same," he said. And as Bharatiya Kisan Union Krantikari chief Surjeet S Phul had put it, many other farmers believed this was a ploy to trap them so that the government could have an upper hand in the negotiations.
"Look we have sufficient rations and supplies for months on end and if our demands are not fulfilled, we will stay here for long. There will be a peaceful protest," Brijpal, a farmer said.
And while farmers trickled into the Nirankari ground, senior officers of the Delhi Police kept regular tabs on their movements. Multiple internal meetings were also held among the top brass of the force and senior officers were in constant talks with blockading farmers, trying to convince them to move to Burari.
While the deadlock continues, security has been heightened and roadside checkings are on to ensure farmers do not move to any other area not designated for protesting.