Covaxin cleared for 6-12 age group, Corbevax for 5 to 12-year-olds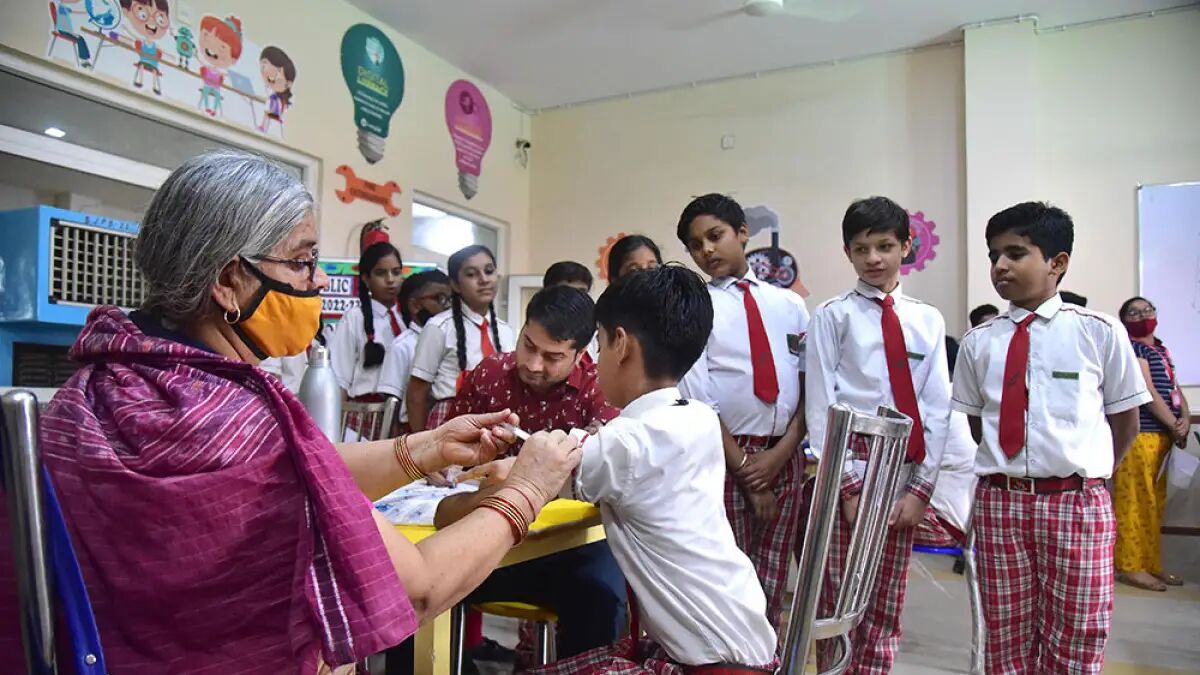 New Delhi: India's drug regulator has granted restricted emergency use authorisation for Biological E's Covid vaccine Corbevax for those aged five to 12 years and Bharat Biotech's Covaxin for children in the age group of six to 12 years, Union Health minister Mansukh Mandaviya said on Tuesday.

The approval by the Drugs Controller General of India (DCGI) for Corbevax and Covaxin for inoculating children below 12 years paves the way for giving protection to a majority of school-going children and assumes significance ahead of Prime Minister Narendra Modi's meeting with chief ministers on the emerging Covid situation in the country on Wednesday through video conferencing.
The DCGI has also granted emergency use authorisation (EUA) to Cadila for its ZyCoV-D for an additional dose of 3mg with a two-jab inoculation schedule 28 days apart for those aged above 12 years.
ZyCoV-D is, currently, approved for a 2mg three-dose vaccination schedule.
The DCGI approval comes following recommendations by the Subject Expert Committee (SEC) on COVID-19 of the Central Drugs Standard Control Organisation(CDSCO).
The SEC had last week reviewed the application of Biological E and Bharat Biotech seeking emergency use authorisation for Corbevax and Covaxin for use in children of five to 12 years and six to 12 years age group, respectively. It also reviewed Cadila's application.
Biological E's Corbevax is being used to inoculate children against Covid in the age group of 12 to 14 years. Covaxin has been granted Emergency Use Listing (EUL) by the DCGI for the age group of 12 to 18 years on December 24, 2021. India began inoculating children aged 12-14 years on March 16.
So far, more than 2.70 crore adolescents have been administered with the first dose of Covid vaccine. With 2,483 new Coronavirus infections being reported in a day, India's total tally of Covid cases rose to 4,30,62,569 while the active cases dipped to 15,636, according to the Union Health ministry data updated on Tuesday. The death toll climbed to 5,23,622 with 1,399 new fatalities as Assam reconciled 1,347 deaths and Kerala 47 due to the infection, the data updated at 8 am stated.
Seventy per cent of the people who received a booster dose of the Covid vaccine did not contract the disease during the third wave, according to a new study that covered around 6,000 people in India.
The study led by Dr Rajeev Jayadevan, co-chairman of the Indian Medical Association's national task force on Coronavirus, said that 45 per cent of the vaccinated people who did not take a precautionary dose reported Covid in the third wave. The survey covered 5,971 vaccinated people, of which 24 per cent were aged below 40 and 50 per cent belonged to the 40-59 age group. Women accounted for 45 per cent of the people surveyed, while 53 per cent were healthcare workers.
Of the 5,971 people, 2,383 took the booster dose and 30 per cent of them reported Covid during the third wave, it said.
The boosted group also had a greater proportion of healthcare workers and higher N95 use. The researchers also concluded that a long gap after the second dose correlated with a higher chance of infection during the third wave. Also, "giving a third dose before a six-month gap did not make a difference in the infection rate", it said. The study also showed that the third wave affected those aged below 40 the most — around 45 per cent of them contracted the disease.