Russia claims it controls airport near Kyiv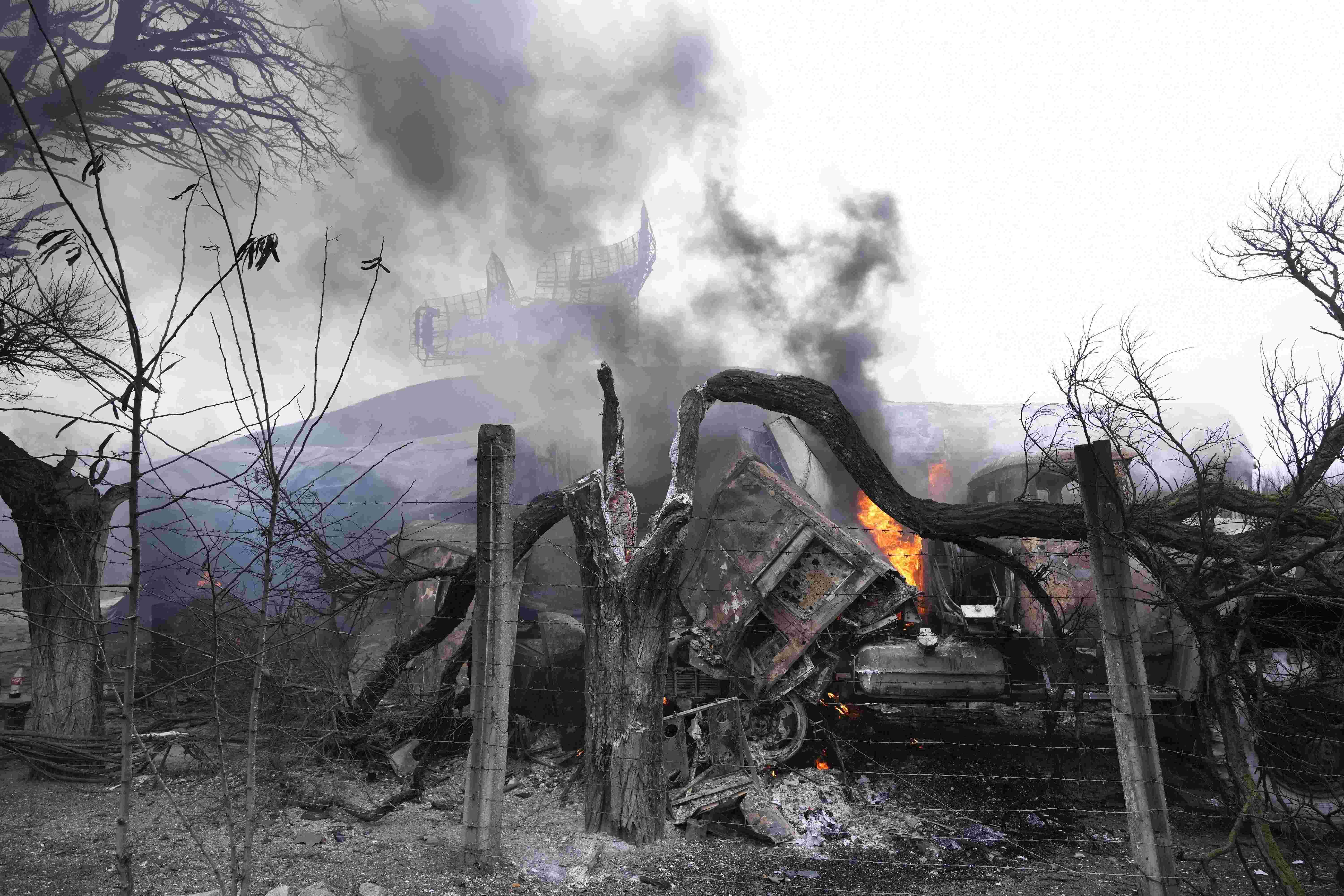 Moscow: The Russian military claims it has taken control of an airport just outside Kyiv, as Kremlin forces bear down on the Ukrainian capital.

The claim could not be independently verified.
Taking possession of the airport in Hostomel, which has a long runway allowing the landing of heavy-lift transport planes, would mean Russia can airlift troops directly to Kyiv's outskirts.
Hostomel is just 7 kilometers (4 miles) northwest of the city.
Russian Defense Ministry spokesman Maj. Gen. Igor Konashenkov said Friday that the Russian airborne forces used 200 helicopters to land in Hostomel and killed over 200 troops belonging to Ukraine's special forces.
Konashenkov claimed that Russian troops suffered no casualties. That contradicts Ukrainian claims that Russian troops sustained heavy casualties in the fighting there.
___
Berlin: Germany's Defense Ministry has confirmed media reports that it is deploying additional military assets to NATO's eastern flank.
German weekly Der Spiegel reported that the deployments included 150 soldiers and about a dozen Boxer armored fighting vehicles, two ships and anti-missile systems.
Ministry spokesman Christian Thiels declined to say Friday exactly how many soldiers were being deployed. But he confirmed that a navy corvette would leave Saturday for patrols in the Baltic while a frigate will be deployed in the Mediterranean, both under NATO command.
Germany is also assessing whether to deploy Patriot anti-missile systems to an eastern European NATO country, Thiels said.
Decisions on deploying further troops could be expected soon, he added.
___
Beijing: Chinese state TV says Russian President Vladimir Putin has told his Chinese counterpart, Xi Jinping, that Moscow is willing to negotiate with Ukraine, even as Moscow's forces invade its neighbor.
The report Friday followed a Kremlin announcement that Putin's government was considering an offer by Ukrainian President Volodymyr Zelenskyy to negotiate non-aligned status for his country.
Putin said Moscow is willing to conduct high-level negotiations with the Ukrainian side, China Central Television reported on its website.
It gave no indication whether Putin said he was responding to Zelenskyy's offer or gave any details of what the two sides might negotiate.
Russia complains that the United States and its allies ignored Moscow's legitimate security concerns by expanding the NATO military alliance eastward, closer to Russia's borders.
Xi said China supports Russia and Ukraine resolving the problem through negotiations, CCTV said.
___
Ankara: Turkey's foreign minister says officials are still assessing a request by Ukraine for Turkey to close to Russian shipping the straits at the entrance of the Black Sea.
Mevlut Cavusoglu warned, however, that under a 1936 convention Ankara may not be able to deny total access to the Russian vessels.
Ukraine on Thursday formally asked Turkey to close the Turkish Straits to Russian warships in line with the Montreux Convention which allows Turkey to restrict the passage of belligerent countries' warships during times of war. The convention stipulates however, that warships belonging to Black Sea coastal countries can return to their bases.
If there is a demand for the ships of the warring countries to return to their bases, then (passage) must be allowed, Cavusoglu was quoted as telling Hurriyet newspaper in an interview.
The minister said Turkish experts were assessing if the current situation amounted to "a state of war.
___
Berlin: Germany's president is appealing to Russian President Vladimir Putin to stop the madness of this war now.
President Frank-Walter Steinmeier said in Berlin on Friday said that we don't want enmity with the Russian people, quite the contrary, but this wrongdoing cannot go without a clear answer.
Steinmeier, whose post is largely ceremonial but holds moral authority, said that Germany will do its part in deterring Putin from using force against its NATO allies.
The president, who served twice as Germany's foreign minister, said that Putin should not underestimate the strength of democracies and Germans shouldn't either.
He said it's good that people are going out to demonstrate, adding: The Russian president should not believe for a second that people in Germany and Europe simply accept this brutal violence.