Retail inflation eases to 6.71% in July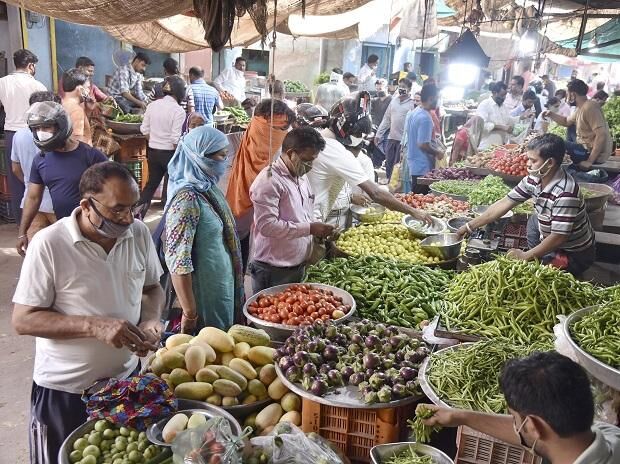 New Delhi: Retail inflation softened to 6.71 per cent in July due to moderation in food prices but remained above the Reserve Bank's comfort level of 6 per cent for the seventh consecutive month.

With retail inflation continuing to remain high despite a fall in prices of vegetables and edible oils, among other commodities in July, the Reserve Bank of India (RBI) might go for another rate hike in September.
The Consumer Price Index (CPI) based retail inflation was at 7.01 per cent in June and 5.59 per cent in July 2021. It was above 7 per cent from April to June this fiscal.
According to the data released by the National Statistical Office (NSO) on Friday, food inflation in July moderated to 6.75 per cent as against 7.75 per cent in June.
The retail inflation is above RBI's upper tolerance level of 6 per cent and has remained at that level for the past seven months.
Meanwhile, the moderation in retail inflation in July was mainly due to easing of vegetable and edible oil prices. In the case of 'fuel and light', the prices remained high.
According to the data, inflation in vegetables and 'oil and fats' in July moderated to 10.90 per cent and 7.52 per cent respectively. In June, the same stood at 17.37 per cent and 9.36 per cent, respectively.
In July, fuel turned costlier with an inflation print at 11.76 per cent as against 10.39 per cent in the comparable period.
The prices of protein rich 'meat and fish' and 'pulses and products' rose 9 per cent and 0.18 per cent, respectively, in July this year.
However, eggs continued to show deflation at (-)3.84 per cent as against (-)5.48 per cent in June.
The prices of fruits were costlier by 6.41 per cent in July compared to 3.10 per cent in June.
Meanwhile, India's industrial production grew in double digit for the second month in a row at 12.3 per cent in June mainly due to strong performance by manufacturing, power and mining sectors, according to official data released on Friday.
However, the data showed that the industrial output growth is lower than 19.6 per cent recorded in May this year. It was 6.7 per cent in April.
Factory output, measured in terms of the Index of Industrial Production (IIP), had expanded by 13.8 per cent in June 2021, the data showed.
The manufacturing sector expanded by 12.5 per cent in June 2022 compared to 13.2 per cent recorded in the year-ago period, the data released by the Statistics and Programme Implementation Ministry showed.
The power sector showed a growth of 16.4 per cent as against 8.3 per cent a year ago, while the mining sector witnessed an expansion of 7.5 per cent in June 2022 compared to a 23.1 per cent growth last year.
During April-June this year, IIP grew 12.7 per cent as against 44.4 per cent growth in the same period a year ago.
Capital goods output, which is a barometer of investment, rose by 26.1 per cent in June 2022 against 27.3 per cent in the year-ago month.
The consumer durables segment grew by 23.8 per cent against 28 per cent a year ago.
The primary goods segment, which accounts for nearly 34 per cent of the index, expanded by 13.7 per cent in June compared to 12 per cent growth a year ago.
The consumer non-durable segment grew by 2.9 per cent in June compared to a contraction of 3.9 per cent in the same month a year ago.
The ministry said the growth rates over the corresponding period of the previous year are to be interpreted considering the unusual circumstances on account of COVID-19 pandemic since March 2020.