PK turns down offer to join Cong's empowered action group 2024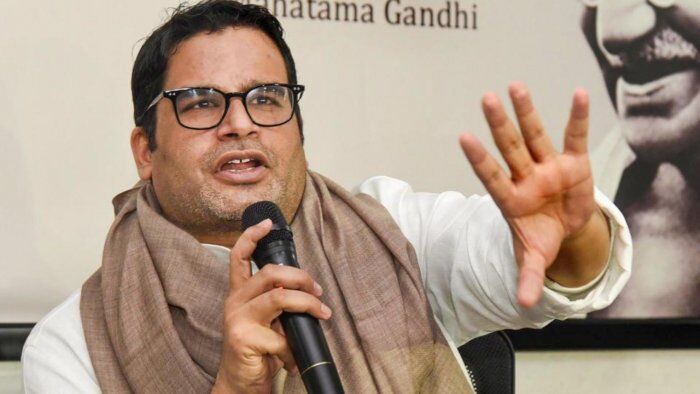 New Delhi: Amid speculations that he was likely to join hands with the Congress, poll strategist Prashant Kishor on Tuesday declined the offer to join the grand old party as part of its empowered action group.

In a tweet posted on his official account, Kishor said: "I declined the generous offer of #congress to join the party as part of the EAG & take responsibility for the elections. In my humble opinion, more than me the party needs leadership and collective will to fix the deep rooted structural problems through transformational reforms."
Party spokesperson Randeep Surjewala also confirmed the same and said in a tweet: "Following a presentation & discussions with Sh. Prashant Kishor, Congress President has constituted a Empowered Action Group 2024 & invited him to join the party as part of the group with defined responsibility. He declined. We appreciate his efforts & suggestion given to party."
Kishor was keen to join the Congress and had desired to do so without any expectations. He had also made a presentation to the party on which its top leaders deliberated upon during the last week.
According to media reports, while the 45-year-old wanted a free hand to bring in sweeping changes and play the role of a disruptor, the Congress leadership ultimately found itself wary of a complete overhaul, preferring incremental changes instead.
Suggestions that a deal fizzled because of Kishor's association with other parties like the Telangana Rashtra Samithi led by Chief Minister K Chandrashekar Rao or "KCR" which signed up his political consultancy group I-PAC just two days ago for next year's elections have also been rejected.
Neither was his past of helping everyone from the BJP to West Bengal Chief Minister Mamata Banerjee win elections a sticking point, it said.
"The difference was on how to execute the revival. PK wanted to be a disruptor. The party wanted incremental changes," a leader was quoted as saying.
The Congress was reluctant to give its reins to an outsider from the get-go and Kishor was hesitant about his hands being tied since he had seen the results of that in the party's disastrous 2017 Uttar Pradesh election campaign, sources said. Over the past 10 days, the poll strategist had made several detailed presentations on reviving the Congress at Gandhi's residence that were attended by senior leaders. Following these presentations, Congress had set up an eight-member panel to examine these problems. While a majority of the committee members agreed that the several points in the revival plan were implementable, the panel was divided on Kishor being given a key position. Soon after the development, former Punjab Congress chief Navjot Singh Sidhu met him and shared a picture with him saying "old friends are the best".
"Had a wonderful meeting with my old friend PK Old wine, Old gold and Old friends still the best!!!" Sidhu said on Twitter, sharing his picture with Kishor.
In a cryptic tweet, Congress leader Milind Deora said: "You don't need a weatherman to know which way the wind blows ~ Bob Dylan". Suspended Congress leader Sanjay Jha also hit out at the Congress leadership for "scuttling" changes in the grand old party. "A cabal of political entrepreneurs around Rahul Gandhi is responsible for scuttling change in the Congress. #PK," he said on Twitter.
The poll strategist's equation with the Congress has seen several flip-flops over the past one year — from reports that he would join the party on October 2 last year to being blamed for engineering the switchover of senior leaders like Mukul Sangma (Meghalaya) and Luizinho Faleiro (Goa) to the Trinamool Congress, with whom Kishor is working for a couple of years.