Petrol, diesel prices rise for 6th straight day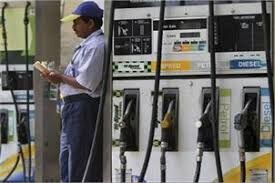 New Delhi: Petrol and diesel prices rose for the sixth day in a row on Monday as rates went up by 26-30 paise per litre. Petrol price was hiked by 30 paise per litre and diesel by 26 paise, according to a price notification of oil marketing companies.

Rates for petrol in Delhi rose to Rs 83.71 per litre, from Rs 83.41 while diesel price went up from Rs 73.61 to Rs 73.87 per litre.
This is the sixth straight day of price hike and the 15th increase in rates since November 20, when oil companies resumed daily price revision after nearly two-month hiatus.