Mamata meets PM Modi, seeks release of outstanding funds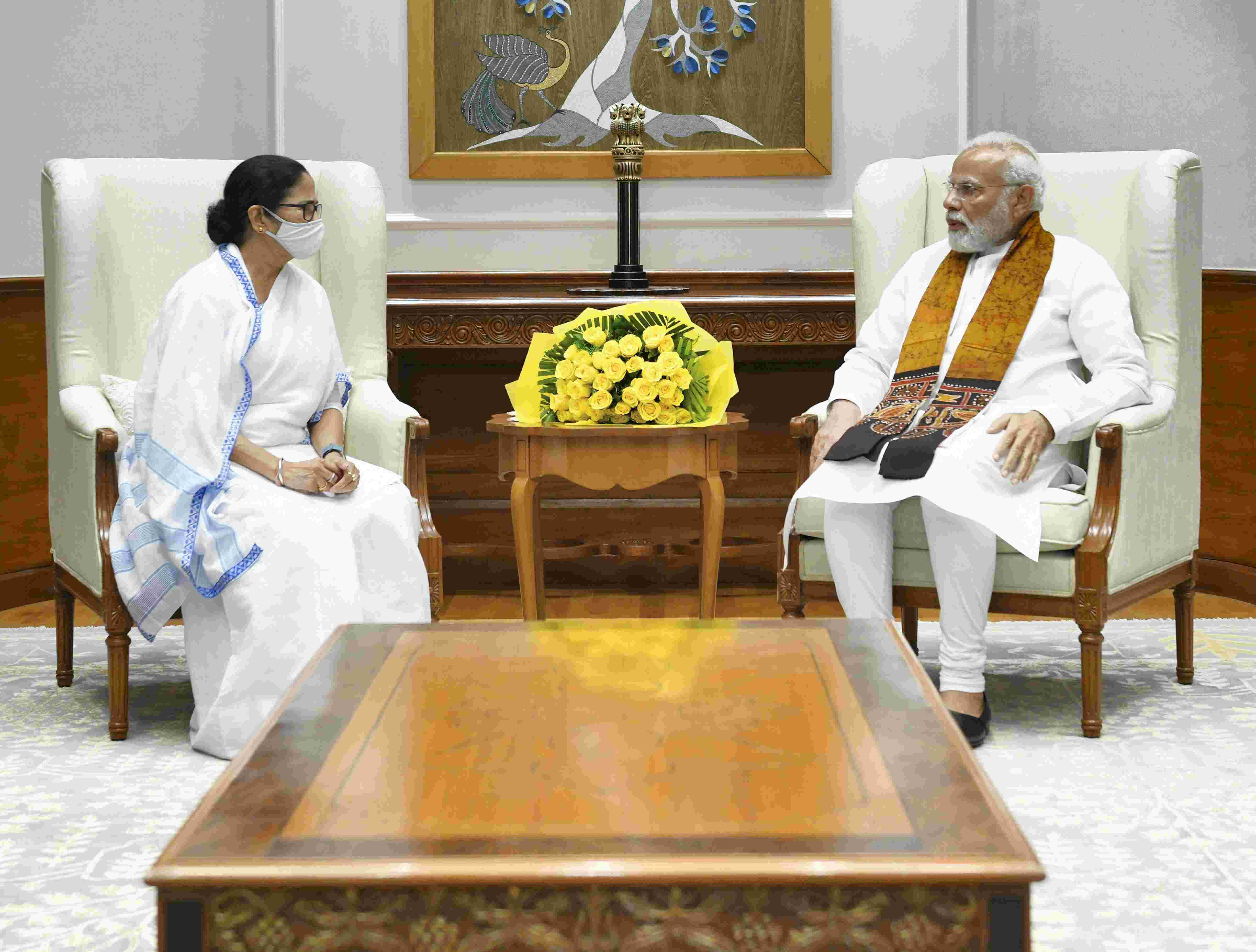 New Delhi: West Bengal Chief Minister Mamata Banerjee met Prime Minister Narendra Modi on Friday and raised a host of issues concerning her state, including the release of GST dues and outstanding funds under various schemes.

The Prime Minister's Office shared a picture of the meeting, which began at around 4.30 pm at 7 Lok Kalyan Marg where the Prime Minister resides. The Chief Minister reached the PM's residence with a bunch of yellow roses and a box of sweets.
Banerjee submitted a three-page letter to Modi during the 40-minute-long meeting, which mentions: "I request for urgent release of funds due to state for implementation of schemes including MGNREGA, PM Awas Yojna and PM Gramin Sadak Yojna... Dues from central govt on these schemes amount to about Rs 17,996 crores."
"Substantial amount on account of many developments and welfare schemes... estimated to be around Rs 1,00,968.44 crore is also due... With such a large amount remaining outstanding, the state is facing extreme difficulty to run affairs and take care of people of the state," the letter read.
Adding further, it said: "Another important issue is that very often, funds under the Central schemes are released towards the end of the financial year, leading to difficulties in utilization of funds and timely implementation of the schemes. It would be appropriate to avoid such a situation.
"Furthermore, a substantial amount is also due to West Bengal from the Central Government, on account of much important development and welfare schemes, relief and restoration work, devolution of taxes, performance grant under the 14th Finance Commission, etc. The amount that is due to the State from the Central Government as on 31st July 2022 has been estimated to be around Rs 1,00,968.44 crore (details enclosed in Annexure). You may kindly recall that I had earlier brought to your kind attention the huge outstanding due to West Bengal vide my letter dated November 18, 2021," her letter added.
Banerjee further stressed that the dues of Central funds for Covid, and natural calamities amount to Rs 6,334 crore for Bulbul cyclone damage, Rs 32,310.32 crore for Amphan Super Cyclone and Rs 4,222 crore for Yaas Cyclone respectively. Further, Rs 6,561.56 crore is due for MGNREGA, Rs 9,329.76 crore is due for PMAY (G), Rs 2,105 crore is due for PMGSY (Batch-I), Rs 174.70 crore is due for Mid-Day Meal scheme for 2015-16, Rs 344.37 crore is due till date for Swachh Bharat Mission (Rural), Rs 1,263.97 crore is due for Food Subsidy (NFSA) for 2020-21 (Q4), Rs 178.30 crore is pending for the ongoing Flood Management Programme on Keliaghi-Kapaleswari (I&W deptt.) where 50 per cent reimbursement of the advance state share of FMPs have not been received from the Government of India, Rs 44.40 crore has not been released by the Centre yet for the Pradhan Mantri Jan Vikas Karyakram (MA&ME Deptt.), are among the others, mentioned in the list of Central dues for 18 sectors in the letter.
Apart from the Prime Minister, Mamata Banerjee also met President Droupadi Murmu later in the evening at the President's House for 15 minutes. Trinamool Congress claimed that it was a courtesy meeting and was pre-decided.
Interestingly, Banerjee will be in town during the election for the Vice-President's post for which the BJP-led NDA has fielded former Bengal Governor Jagdeep Dhankhar, who had multiple run-ins with the TMC government during his tenure. The election is scheduled for Saturday. While the Opposition has fielded Margaret Alva for the post, the Trinamool Congress has decided to abstain from the election.
The Bengal CM is also scheduled to attend the meeting of the National Committee on Azadi Ka Amrit Mahotsav here at 4 pm. The committee, led by Prime Minister Narendra Modi, Lok Sabha Speaker, Governors, Union ministers, Chief Ministers, political leaders, officials, media personalities, spiritual leaders, artists and film personalities and eminent persons from other sectors are also members of the said panel. Banerjee is also scheduled to attend the meeting of the Niti Aayog governing council on August 7 in the morning. She had skipped such a meeting last year, which was chaired by the Prime Minister.