India reports highest daily spike with over 1.15L fresh Covid cases, 630 new fatalities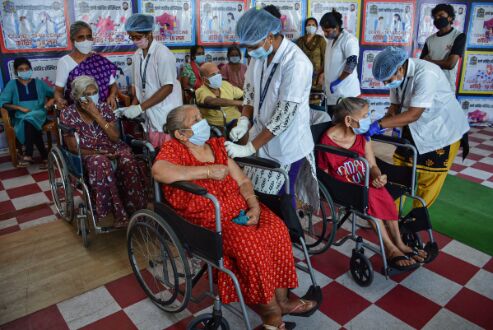 New Delhi: The number of new Coronavirus cases in India has hit a record daily high since the outbreak of the pandemic as the country on Wednesday reported over 1 lakh new infections for the second time in three days.

The country witnessed 1,15,736 new Covid-19 cases in the last 24 hours that pushed the nationwide tally to 1,28,01,785, which includes 8,43,473 active cases, 1,17,92,135 recoveries and 1,66,177 fatalities. In the last 24 hours, 59,856 have recovered, while 630 succumbed to the disease.
Registering a steady increase for the 28th day in a row, the active cases have increased to 8,43,473 comprising 6.59 per cent of the total infections while the recovery rate has further dropped to 92.11 per cent, the Health ministry data stated.
As per the Health Ministry's data, eight states — Maharashtra, Chhattisgarh, Karnataka, Uttar Pradesh, Delhi, Madhya Pradesh, Tamil Nadu and Kerala — have shown a rise in the Covid-19 daily cases as 80.70 per cent of the new cases are reported from these eight states.
Maharashtra, which has reported the highest daily new cases at 55,469, is at the top of the list of states followed by Chhattisgarh which has reported 9,921 new cases and Karnataka reported 6,150 new cases. Delhi has reported 5,100 cases while Uttar Pradesh reported 5,895 new infections in the last 24 hours. Gujarat has reported 3,280 cases and Bihar registered 1,080 new cases.
The 630 new fatalities include 297 from Maharashtra, 61 from Punjab, 53 from Chhattisgarh, 39 from Karnataka, 30 from Uttar Pradesh, 18 from Madhya Pradesh, 17 each from Delhi and Gujarat, 15 from Tamil Nadu, 14 from Kerala, 13 from Rajasthan.
There are 11 states, which include Odisha, Ladakh (UT), Daman & Diu, Dadra and Nagar Haveli, Nagaland, Meghalaya, Sikkim, Manipur, Lakshadweep, Mizoram, Andaman & Nicobar Islands and Arunachal Pradesh, have not reported any Covid-19 deaths in the last 24 hours.
Notably, the active caseload was at its lowest at 1,35,926 on February 12 comprising 1.25 per cent of the total infections.
According to the ICMR, 25,14,39,598 samples have been tested up to April 6 with 12,08, 339 samples being tested on Tuesday.