COVID-19: India records 3,68,147 new cases; 3,417 fresh fatalities in 24 hours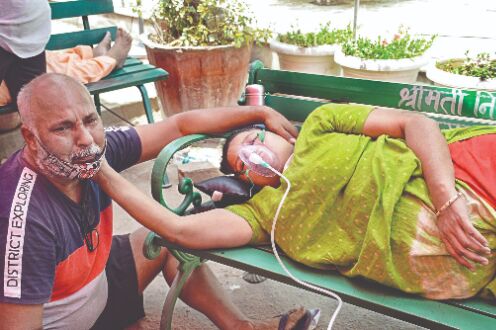 New Delhi: In a small sigh of relief, the number of COVID-19 infections dropped in India on Monday. The daily COVID-19 cases in the country showed a slight dip with 3,68,147 new Coronavirus infections being reported in a day, taking the total tally of cases to 1,99,25,604 on Monday. The death toll increased to 2,18,959 with 3,417 daily new fatalities.

While the country recorded 4,01,993 new cases on May 1, it had registered 3,92,488 fresh cases on May 2.
Meanwhile, concerned over the surge in COVID-19 cases in the country, the Supreme Court said the Centre and state governments may consider imposing a lockdown to curb the virus in the second wave in the interest of public welfare.
However, the apex court put a caveat before them saying if they decide to go for lockdown then arrangements must be made beforehand to cater to the needs of the poor people. A bench headed by Justice D Y Chandrachud, in its order passed in the suo motu case for ensuring essential supplies and services during the COVID-19 pandemic, also asked the Centre and state governments to put on record the efforts taken and to be taken by them in future to ensure that the disease does not spread further. In another turn of events, the Centre told Supreme Court on Monday that there are 4.68 lakh beds for COVID-19 patients in over 2,084 dedicated hospitals across the country.
Registering a steady increase, the active cases have increased to 34,13,642 comprising 17.13 per cent of the total infections, while the national COVID-19 recovery rate stands at 81.77 per cent.
The number of people who have recuperated from the disease surged to 1, 62,93,003, while the case fatality rate was recorded at 1.10 per cent, the data stated.
The Centre said that the rising number of daily COVID-19 cases in some states remains a cause of concern and while a few others like Delhi and Maharashtra are plateauing in terms of daily cases, these are "very early signals" and containment efforts have to continue to break the chain of transmission.
Addressing a news briefing, Joint Secretary in the Health Ministry Lav Agarwal said 13 states, including Delhi, Chhattisgarh, Maharashtra, Punjab, Jharkhand and Uttar Pradesh, are showing early signs of plateauing or decrease in daily new COVID-19 cases.
He said states like Bihar, Rajasthan, Haryana, Tamil Nadu, Andhra Pradesh, Kerala, Karnataka and West Bengal are still showing an increase in daily infections.
There are seven states where the active cases are in the range of 50,000 to 1 lakh cases and 17 states where the active cases are more than 50,000.
There are 22 states where the positivity rate is more than 15 per cent and in nine states the positivity rate is between 5 to 15 per cent and in five states it is less than five percent.
On the vaccination front, over 15.88 crore doses have been administered across the country so far. The country has administered nearly 16.5 lakh vaccine doses till 8 pm on Monday. The cumulative number of COVID-19 vaccine doses administered in the country stands at 15,88,71,435 as per the 8 pm provisional report on Monday. 2,15,185 beneficiaries of the age group 18-44 years received their first dose of COVID-19 vaccine on Monday across 12 States/UTs. According to the ICMR, 29,16,47,037 samples have been tested up to May 2 with 15,04,698 samples being tested on Sunday.