India's Coronavirus active caseload falls below 1.5 lakh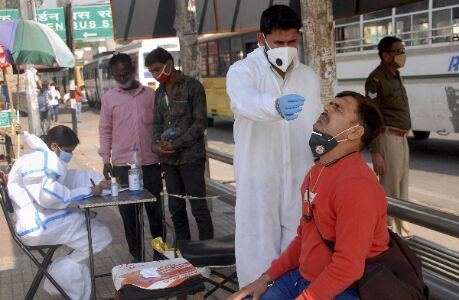 New Delhi: India's tally of active COVID-19 cases fell below the 1.5-lakh mark on Tuesday and was pegged at 1,47,306, comprising 1.34 per cent of the total caseload, the Union Health ministry said, highlighting 21 states and UTs have not reported fresh fatalities in a 24-hour-period.

The Centre on Tuesday said that three mutant Coronavirus strains first detected in other countries were found in India, and reiterated that appropriate Covid protocols must be followed in light of an upsurge in new infections.
"There are 187 cases of the variant found in the United Kingdom, six of the South African strain, and one case of the Brazilian variant have been recorded," NITI Aayog member (Health) VK Paul said during a media briefing.
A total of 10,584 new infections and 13,255 recoveries were recorded in a span of 24 hours, leading to a net decline of 2,749 cases in the total active caseload, it said.
India's daily positivity rate remains below three per cent, the ministry noted. The country reported 78 new COVID-19 fatalities on Tuesday, the Health ministry added, as it underlined that a steady decline is being observed in the number of daily new deaths.
It added that 21 states and Union Territories have not reported any fresh COVID-19 deaths in a span of 24 hours. These are Madhya Pradesh, Assam, Rajasthan, Haryana, Jammu and Kashmir, Odisha, Andhra Pradesh, Goa, Himachal Pradesh, Puducherry, Lakshadweep, Manipur, Sikkim, Tripura, Ladakh, Meghalaya, Mizoram, Nagaland, Arunachal Pradesh, Andaman and Nicobar Islands, Daman and Diu and Dadra and Nagar Haveli.
The cumulative number of Covid vaccine doses administered to healthcare and frontline workers crossed 1.19 crore on Tuesday in the country. According to the Health ministry's report, a total of 1,19,07,392 vaccine doses have been given through 2,53,434 sessions till 6 pm.
The number of cumulative recoveries in India has surged to 1.07 crore (1,07,12,665), the ministry said.
Chairing a virtual review meeting of the COVID-19 situation in Punjab, Chief Minister Amarinder Singh issued orders to limit indoor gatherings to 100 people and outdoor events to 200 attendees from March 1, an official statement said.