PM asks states to check laxity in containing Covid; calls for vaccine festival from Apr 11-14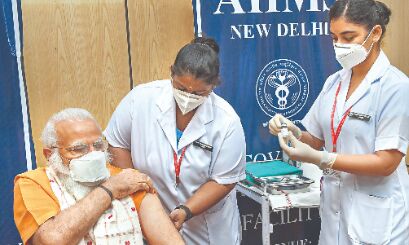 New Delhi: Stressing on increasing coverage of vaccination to eligible beneficiaries, Prime Minister Narendra Modi on Thursday suggested that April 11 to April 14 may be observed as 'Tika (vaccination) Utsav' for Covid-19 vaccination.

Explaining the objectives behind the vaccination festival, the Prime Minister said it's an attempt to vaccinate the maximum number of eligible beneficiaries during the period as we have to protect the vulnerable age groups. Also, youth should be motivated to strictly follow the protocols instead of vaccination.
The states should ensure that every district has required vaccination centres and if needed more such centres should be opened wherever it's required.
However, Modi made it clear that there is no need to implement lockdown to tackle the Covid-19 menace anymore as the country has the infrastructure required to deal with the pandemic. "Earlier, we did not have the infrastructure to deal with the pandemic and we had to use lockdown as a tool… but today we do not need a lockdown," he said.
"There is a need to improve the governance system. I understand that because of the one-year battle, the system can experience tiredness and there can be laxity, but we must tighten it for 2-3 weeks and strengthen the governance," he said, adding that the states have to work in tandem with the Centre leaving aside the political differences.
While speaking after the review meeting with Chief Ministers on the current Covid-19 situation, Modi stressed that tracing and tracking are the ways to curb the spread of the infection. The Prime Minister also suggested holding all-party meetings in states with the involvement of Governors, celebrities and other noted persons to push Covid-appropriate behaviour.
He also pointed out people's disregard for the restrictions and emphasised the need to again raise awareness about the importance of wearing a mask and following safety protocols.
Appealing to Chief Ministers to stress on Covid-19 testing, he said: "Our target is to do 70 per cent RT-PCR tests. Let the number of positive cases be high, but do maximum testing. Proper sample collection is very important as it can be checked through proper governance."
He also dismissed the "intellectual debate" about Coronavirus only having an effect in the night and said such a curfew helps in spreading awareness about the deadly virus with minimal impact on the daily lives of people. "Where ever night curfew is in place, there the phrase 'Corona curfew' should be used so that awareness regarding the virus is maintained," Modi added. Meanwhile, the Prime Minister received his second dose of the Covid vaccine on Thursday at Delhi's AIIMS — 37 days after his first shot — and urged all those eligible to get inoculated against the deadly virus.