BJP retains power in 6 Gujarat municipal corporations, AAP wins 27 seats in Surat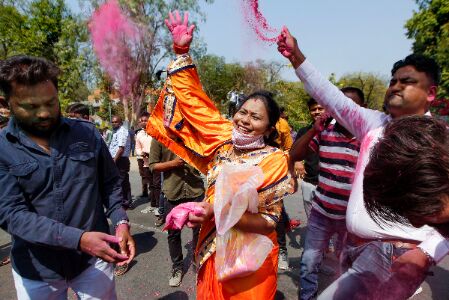 Ahmedabad: The BJP on Tuesday swept elections to six municipal corporations in Gujarat by winning 483 out of 576 seats.

The ruling party retained power in all the six municipal corporations in the state — Ahmedabad, Surat, Vadodara, Rajkot, Jamnagar and Bhavnagar. The polls had been held on February 21.
The main opposition Congress got a drubbing, as it won only 55 seats and failed even to open an account in Surat.
On the other hand, the Aam Aadmi Party (AAP) put up an impressive show by winning 27 seats, all in Surat, and emerged as the main opposition in the Surat Municipal Corporation. The AAP had for the first time fielded 470 candidates across all the six corporations.
The BJP won 159 out of 192 seats in Ahmedabad, 68 out of 72 seats in Rajkot, 50 out of 64 seats in Jamnagar, 44 out of 52 seats in Bhavnagar, 69 out of 76 seats in Vadodara and 93 out of 120 seats in Surat.
Congress, on the other hand, won seats in single digit in three corporations, and drew a blank in Surat.
The party won 25 seats in Ahmedabad, four in Rajkot, 11 in Jamnagar, eight in Bhavnagar and seven in Vadodara.
Asaduddin Owaisi's AIMIM, which also contested local body polls in Gujarat for the first time, won seven seats in Ahmedabad's Muslim-dominated Jamalpur and Maktampura wards.
Three candidates of the Bahujan Samaj Party won in Jamnagar, while an Independent candidate won only in Ahmedabad.
In a series of tweets, Prime Minister Narendra Modi thanked the people of Gujarat and BJP workers for the victory.With agency inputs