Youth fury over 'Agnipath' singes nation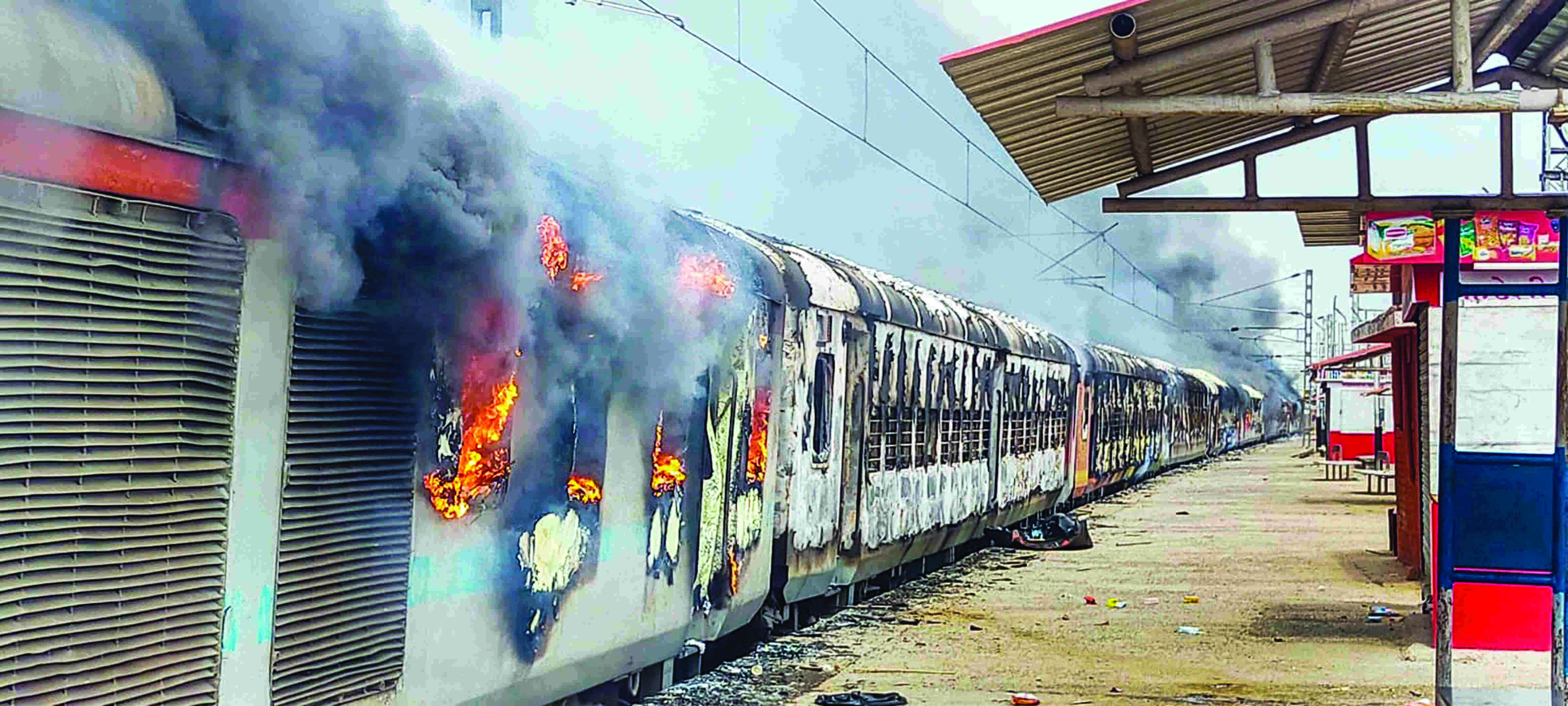 New Delhi/Secunderabad/Patna: As violent protests against the Agnipath recruitment scheme continued across the country for the second day on Friday, a man from Telangana became the first casualty, killed in police firing in Secunderabad. Railway stations and highways turned into battleground in many states where protesters set ablaze trains, and attacked public and private vehicles.

Assurances by Defence Minister Rajnath Singh, Home Minister Amit Shah and the Army chief failed to cut ice with hordes of angry youth, carrying bamboo sticks and stones, storming railway premises across cities and small towns and laying siege to highways, creating a security scare.
The Railways cancelled 234 trains while 340 trains have been affected due to the protests. Coaches of seven trains have so far been set ablaze by protesters, officials said, adding carriages of three running trains in the East Central Railway (ECR), headquartered in Bihar's Hajipur, and one empty rake in Kulharia, also in the same zone, were damaged by protestors. One coach of a train was also damaged in the washing line at Uttar Pradesh's Ballia. So far, 64 trains were short terminated in ECR. As the depredations against the recruitment scheme continued for the third day across large parts of India, from Uttar Pradesh to Telangana and Bihar to Madhya Pradesh, Rajnath Singh, Amit Shah and Army chief Gen Manoj Pande tried to assuage the concerns of the agitators with little success. Though not as intense, protests were also organised in Jharkhand, Punjab and Rajasthan.
The Army chief said the government's Thursday night decision to raise the upper age limit to 23 years from 21 under the scheme in 2022 will provide an opportunity to youths who were preparing to join the force but couldn't in the last two years.
"I heartily thank Prime Minister Shri @narendramodi for his concern and sensitivity towards the future of the youths. I appeal to the youth that the process of recruitment in the army is going to start in a few days. They start their preparation for it," Rajnath Singh tweeted, calling the scheme a "golden opportunity" for the youth.
But the protests spread, seemingly uncontrolled, with crowds squatting on tracks and highways, pelting trains and buses with stones, toppling vending kiosks at train stations and burning used tyres on tracks.
Fiery orange flames leapt out of the windows of trains at Secunderabad, and Lakhisarai and Samastipur in Bihar, sending thick plumes of black smoke into the sky that could be seen from several kilometres away.
Broken tubelights, benches and stones littered several railway stations across the country. Policemen in anti-riot gear were seen chasing away the protesters, hundreds of whom were rounded up.
Demonstrators also blocked highways at several places in Buxar, Bhagalpur and Samastipur with burnt tyres.
Besides targeting railway properties, the protesters attacked the house of Deputy Chief Minister Renu Devi and the car of a BJP MLA in Bihar. State BJP president Sanjay Jaiswal's residence in Bettiah town was also vandalised but the leader claimed the attackers were not job aspirants.
Internet services have been suspended in 12 of Bihar's 38 districts to check the spread of false news, ADG (Law and Order) Sanjay Singh said.
Several students' organisations, including CPI-ML (Liberation)-linked AISA, have called a state-wide bandh in Bihar on Saturday. The opposition Grand Alliance's spearhead RJD has extended support to the bandh.
In Telangana, one person died and several others were injured when police opened fire on a group of violent protesters at the railway station in Secunderabad. The youth who died has been identified as Rakesh, 24, from Warangal.
"These youths had formed a WhatsApp group in which they planned everything. They started assembling near the railway station last night, and launched the attack this morning. We had about 50 security personnel at the station, but they were no match for the 500-1,000 strong mob who came in through all the seven entrances to the station. They went on a rampage, destroying everything in sight and setting property on fire," said Additional Director General of Police (Railways, Telangana) Sandeep Shandilya.
He said the mob set ablaze several coaches of three trains, two brake vans and an accident relief train. The mob tried to target the Route Relay Interlocking system, the nerve centre of South Central Railway, but security personnel managed to chase them away, he said.
The protesters also set ablaze an engine which had 3,000 litres of diesel in it, he said. "They did not allow the firefighting personnel to douse the fire even after being told about the danger if the diesel caught fire… We tried to delink the burning engine and take it elsewhere but they sat in front of it… We opened fire on the rampaging mob; one person died while 10-15 others were injured," he said.
The scenes of chaos unfolded in Uttar Pradesh's Ballia, where the agitators shouting Bharat Mata ki Jai and Agnipath Vapas Lo set an empty train on fire and vandalised a few other trains, provoking a baton charge.
Protests also erupted in Varanasi, Firozabad and Amethi, causing damage to government buses and other symbols of public property.
Dharmendra Singh, younger brother of Uttar Pradesh Transport Minister and Ballia MLA Daya Shankar Singh, said unruly elements threw stones at the camp office of the minister and also damaged a hoarding put at the office gate. Ballia District Magistrate Saumya Agarwal has imposed section 144 prohibiting assembly of people here for the next two months.
Madhya Pradesh's commercial capital Indore, Haryana's Narwana and many places in West Bengal and Jharkhand witnessed protests.
Following the violent protests in Palwal, the Haryana government has suspended mobile internet and SMS services for 24 hours in Ballabhgarh area of Faridabad district as a precautionary measure. Protests also broke out in Hisar, Fatehabad and Jhajjar in Haryana. Section 144 of the Code of Criminal Procedure was imposed in Haryana's Gurugram district on Friday.
The national capital was relatively quiet but Metro travel was disrupted with members of the Left-affiliated All India Students' Association staging demonstrations. The entry and exit gates of some Delhi Metro stations had to be closed. Bihar Chief Minister Nitish Kumar's JD(U) made a fresh plea to the Centre for an immediate review of the Agnipath' scheme, and to assure protesting youngsters that their future will not be adversely affected by the new policy.
While the government defended the scheme, saying it will secure the future of youths and help maintain a youthful profile of the armed forces, opposition leaders maintained it would adversely impact the functioning of the armed forces.