Talking Shop: Ugly side of sports
Why should politics and its cronies enter the sports arena—only because some gentlemen have no other way of making an appearance or a manly statement?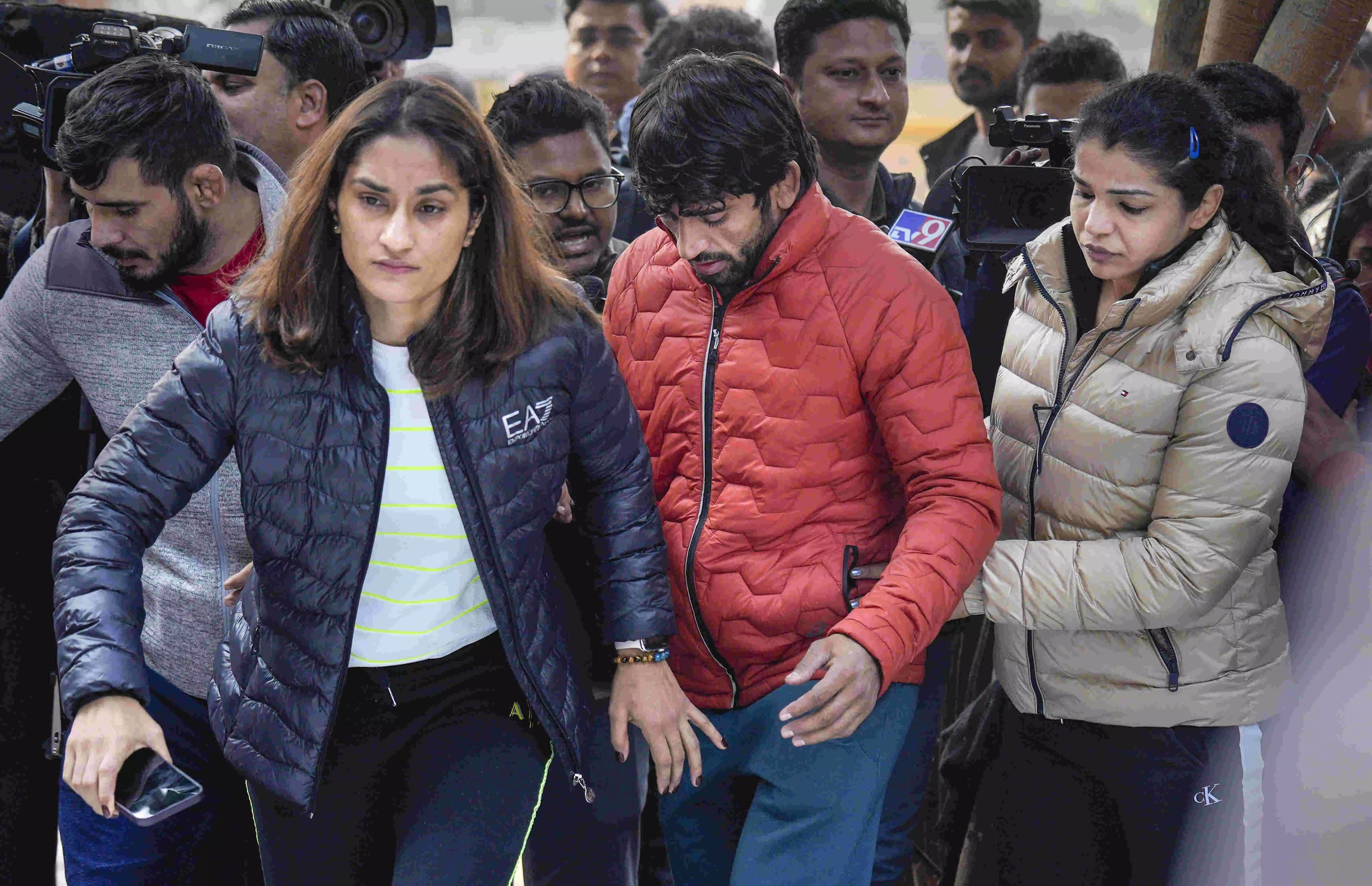 "Hiring and promoting

talented women is the
right thing to do for
society. It is also an
economic imperative."
― Carlos Ghosn
It had to happen and it has, eventually. Idiots are creeping in to harvest the dividends of the hard work of hundreds in Indian sports. And we are allowing it. These idiots are not just trying to grab the riches that come with the sporting success of others; they are also trying to grab female bodily paraphernalia, we are now informed. A host of lady wrestlers, among them Asian Games, Commonwealth Games and Olympics medal-winners and champions, are claiming that male managers have been assaulting them for a long time, sexually and otherwise. Threats and innuendos come their way in the most inspirited manner all the time. If they do not accede, they are shunted, cast aside. Talk about yeoman-ship and sportsman's spirit. We have lost it.
I was born in the summer of 1969, which Bryan Adams has personally acknowledged. Since that blissful summer, when I was stretching my tiny limbs and yawning with my small mouth, I have witnessed matters dither and wane to such apostrophe where we have lost the right to bespeak even the most parabolic English. We have atrophied, not just in intrinsic muscle and thought, but in sheer decency too. The last few years have been telling, when we have degenerated to a level that we fail to have the gall to call a spade a spade, or an ass an ass. How else do you justify the heads of sports federations today hitting on young female athletes and getting away with it? And when the athletes protest at Delhi's Jantar Mantar, why do we throw them asunder? And then call them back?
Something is amiss and awry. I worry what we are turning into. Everything in shorts or a skirt is not 'available'. Hell, my now well-begotten and ageing better-half wears both, even as muscles in all parts of my also-ageing body—head to toe and in-betwixt—shall wreak wrath if indecency transpires.
But tis transpiring
'Ab kya karein' (what to do now)? First of all, let's figure out what is happening and hyperboles be damned. Top Indian wrestlers recently sat in protest near the Parliament Building at Jantar Mantar, accusing the Wrestling Federation of India President of sexually and mentally harassing female athletes. They also claimed that he tried to 'remit' them, but they nonetheless stayed defiant, refusing to quit. The wrestlers and 200 supporters carried placards reading "We will fight for our rights" and "Boycott the WFI President".
Wrestlers Sakshee Malikkh, Vinesh Phogat and Bajrang Punia also met the Indian Sports Minister to vouch for and press their demands, a meeting that eventually went to shards. They sought the removal of Wrestling Federation of India President Brijbhushan Sharan Singh and officials, pending an inquiry against them. Singh, a lawmaker representing the governing party, rejected the accusations, saying he was ready to face any which-ever probe.
To give these devils their due, it is up to the athletes now to present the 'proof' they claim to have to make and stake their case. I can only wonder why they haven't done it already. Else, the grapes shall be deemed to be sour. If the athletes prove their case, I shall be galvanized to witness the nuts and bolts of the powers-that-be spring into action, which seldom happens. If the athletes don't, I shall wonder what all the mess and fuss was all about. There seems to be some misdemeanour at play and the sooner things are brought to book the better. The saving grace is that stalwarts like PT Usha and Mary Kom have been brought into the fray now to pass judgment on what is really happening here. A seven-member committee shall now deliberate.
An intrinsic problem
The malaise is that India is all about cricket, with other sports being treated like the teeming wildebeest that thrive in the Serengeti and Mara. These majestic animals are also known as the 'gnu', being a member of the antelope family, sporting large, box-like heads and curving horns. Our sports administrators of today are similarly equipped, with boxy heads and loopy horns. They team in their numbers and lineage to camouflage their abject lack of managerial ability. It is thus that we have outstanding gnaws and debacles in Indian sports.
I am scared of the Wildebeest now. That's because my country's sportspersons, other than those indulging in the British Raaj's cricket, continue to sleep in toilets and are treated like second-hand automobiles, with anyone allowed to take a test-drive and then name a price. If someone dares to bellow and seek solace, a certified idiot with less than an iota of intelligence comes forth, warning them that this could be the end of their sporting 'yaatra' (journey). 'Yaatra' is anyway a dangerous word in our nation today.
Thankfully, women's cricket in India has found some favour and support, with Harmanpreet Kaur and her ilk creating a trend of winning matches and giving Shri Virat and Rohit-ji a run for their money. After the Phogats gave us what we never thought we could achieve in ladies' wrestling, and with Neeraj Chopra achieving a brilliant gold in both the Olympics and the World Championship, we have new sportspersons and reasons to celebrate.
Could have been easy
This should and could have been easy. Over the years, we should have put the right people in place in the right jobs and let prudence take its toll. Instead, we let the authorities place their offspring in positions of power. What we have now are a few flatulent, yet deep-seated people, gurgling on recliners and hounding luxury sofas while watching live matches and munching on popcorn and other goodies. Alongside, we sometimes witness the real people who make these matches happen wonder what the hell went wrong.
On the other side, in lesser-known sports, we have so-called officials checking out women athletes and their physical endowments. Paradoxically, as the libido diminishes, wantonness appreciates, it would seem. Thus it is that we now have ageing ex-physical-powerhouses hitting on young little wannabes who are trying to create a name for themselves and the nation. If you try and stop these political luminaries from their lustful vagaries, you shall be shunted out of your careers and made a part of history.
What are we turning into? I don't know, except that we are losing the plot. Or maybe, we have a deeper one, for this is not the land I grew up in. We were clean and if anyone made a mistake, he was questioned and chastised. Today, some of these goons are celebrated. As always, let's go to a quote, one that says more than I ever shall be able to. Angelica Fuentes said: "Gender equality is not just good for women. It is good for society."
Remember Dipa Karmakar, the unique Indian gymnast magnificent? We can today but lament that we haven't heard similar stories from her. Still... Why?
The writer is a veteran journalist and communications specialist. He can be reached on narayanrajeev2006@gmail.com. Views expressed are personal