Bridging the continents
An ambitious rail and shipping corridor linking India with the Middle East and Europe, envisaged during G20 deliberations, can be an alternative to Chinese projects in the region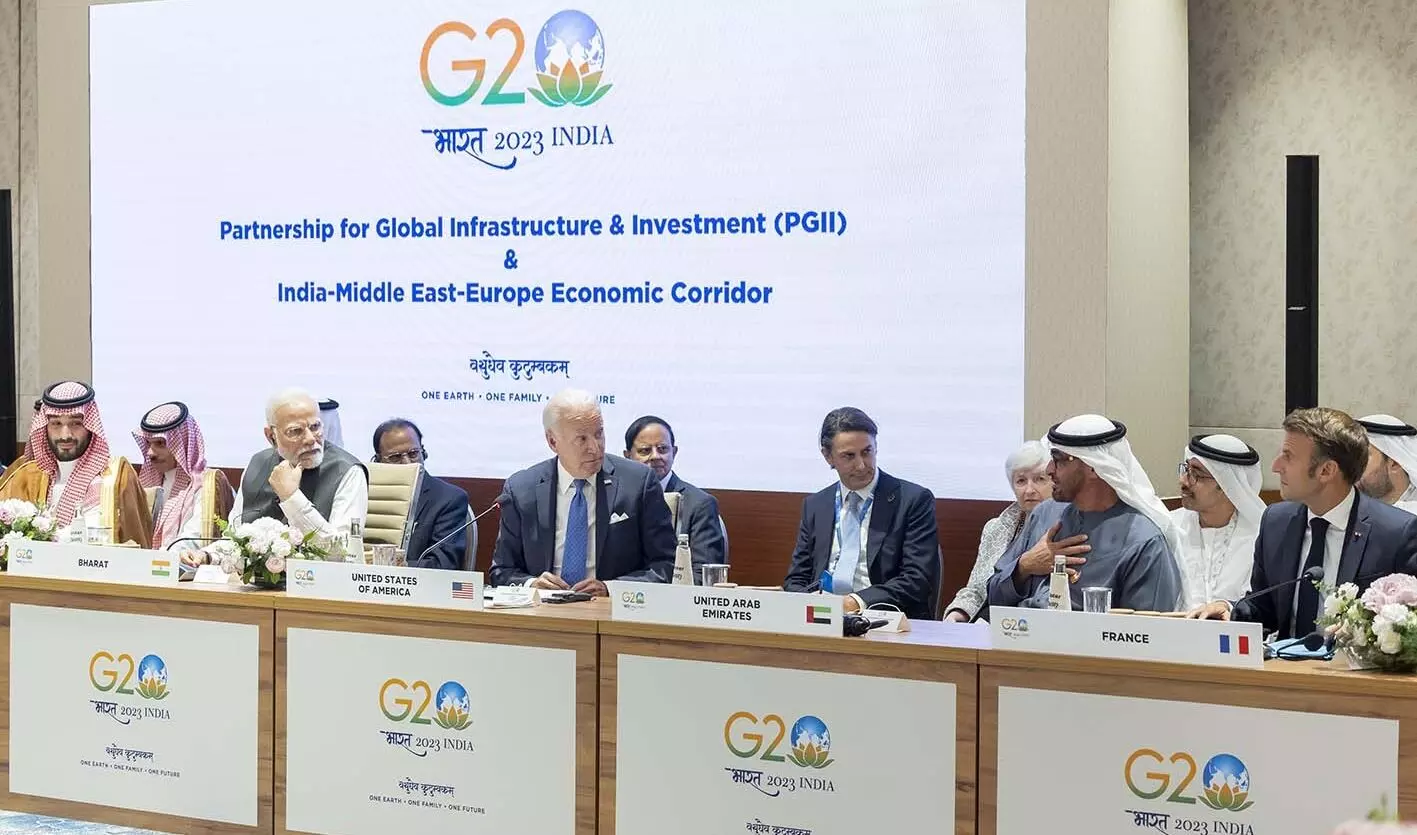 One of the significant takeaways of the G-20 was a groundbreaking collaboration to build an ambitious rail and shipping corridor, linking India with the Middle East and Europe, a project aimed at fostering economic growth and political cooperation.

The project, first of its kind on cooperation on connectivity and infrastructure involving India, the UAE, Saudi Arabia, Jordan, Israel, and the European Union, would provide a physical and ideological alternative to China's connectivity projects in the region under its decade-old Belt and Road Initiative, which a number of countries in South Asia, the Middle East and Africa have clasped.
India, Saudi Arabia, the United Arab Emirates, France, Germany, Italy and the United States have committed to work together to establish the India-Middle East-Europe Economic Corridor (IMEC), ushering a new era of connectivity with railways, linked through ports connecting Europe, the Middle East and Asia.
Prime Minister Narendra Modi joined US president Joe Biden and leaders from Saudi Arabia, the UAE and Europe in unveiling the project that he described as a "beacon of cooperation and innovation" that charts a journey of "shared aspirations and dreams."
"Enhancing connectivity with all regions has been a key priority for India", he said, adding, "we believe that connectivity is a means to not only increase mutual trade between different countries but also increase mutual trust."
The landmark corridor, part of an initiative called the Partnership for Global Infrastructure Investment (PGII), is expected to stimulate economic development through enhanced connectivity and economic integration across the two continents, thus unlocking sustainable and inclusive economic growth. It will help boost trade, deliver energy resources and improve digital connectivity.
PGII is a collaborative effort by G7 nations to fund infrastructure projects in developing nations. It is considered to be the bloc's counter to China's Belt and Road Initiative.
The corridor will further consolidate India's strategic engagement with the Arab world. The Modi government has already elevated political and strategic ties with Saudi Arabia and the United Arab Emirates. It now has the opportunity to build enduring connectivity between India and the Arab world.
The IMEC will comprise two separate corridors, the east corridor connecting India to the Arabian Gulf and the northern corridor connecting Arabian Gulf to Europe. It will include a railway that, upon completion, will provide a reliable and cost-effective cross-border ship-to-rail transit network to supplement existing maritime and road transport routes—enabling foods and services to transit to, from, and between India, the UAE, Saudi Arabia, Jordan, Israel and Europe.
Along the railway route, participants intend to enable the laying of cable for electricity and digital connectivity as well as pipe for clean hydrogen export. This corridor will secure regional supply chains, increase trade accessibility, improve trade facilitation and support an increased emphasis on environmental, social and government impacts.
The corridor is expected to increase efficiencies, reduce costs, enhance economic unity, generate jobs and lower greenhouse gas emissions, resulting in a transformative integration of Asia, Europe and the Middle East.
Ursula von der Leyen, EU Commission President at the PGII, described the project as a "green and digital bridge across continents and civilisations", and said the corridor will make trade between India and Europe 40 per cent faster.
The Memorandum of Understanding reached between the participants says that they intend to meet within the next sixty days to develop and commit to an action plan with relevant timetables.
The first phase will involve identifying the areas that need investment and where physical infrastructure can be connected between countries. Amos Hochstein, the US president's coordinator for global infrastructure and energy security, said the plans can be put into place over the next year so that the project can move onto setting up finances and constructions.
No details on the project's cost and financing have been given, though Saudi Arabia's Crown Prince Mohammed bin Salman announced the participation of his country with a contribution of USD 20 billion.
For India, the project is a win-win and a slap on the face of Pakistan, which has been non-supportive of India's overland connectivity to the West. Since the 1990s, India has sought various trans-regional connectivity projects with Pakistan. But Islamabad has been rigid in its refusal to let India gain access to land-locked Afghanistan and Central Asia.
Iran is willing to provide India access to Central Asia, but its confrontation with the West has cast a shadow over the commercial utility of corridors across Iran into Eurasia.
Speaking to AP, the US president's principal deputy national security adviser Jon Finer gave three major reasons for developing the corridor. First, he said it would increase prosperity among the countries involved through an increased flow of energy and digital communications.
Second, it would help deal with the lack of infrastructure needed for growth in lower and middle-income nations, and third, it could help "turn the temperature down on turbulence and insecurity" coming out of the Middle East.
Inclusion of Israel is noteworthy. Saudi Arabia and Israel do not have diplomatic relations, but the US has been pushing them toward normalizing relations.
Israeli Prime Minister Benjamin Netanyahu, in a video statement, called the rail and shipping project a "breakthrough" that would transform the region. "it's a day of good news for all citizens of Israel, good news that leads us to a new era of regional integration and cooperation."
The writer is a former Editor of PTI and served as the West Asia correspondent. Views expressed are personal