Battle for prestige
Moderna is trying to be gatekeeper for the mRNA platform for future drug development — raising monopolistic fears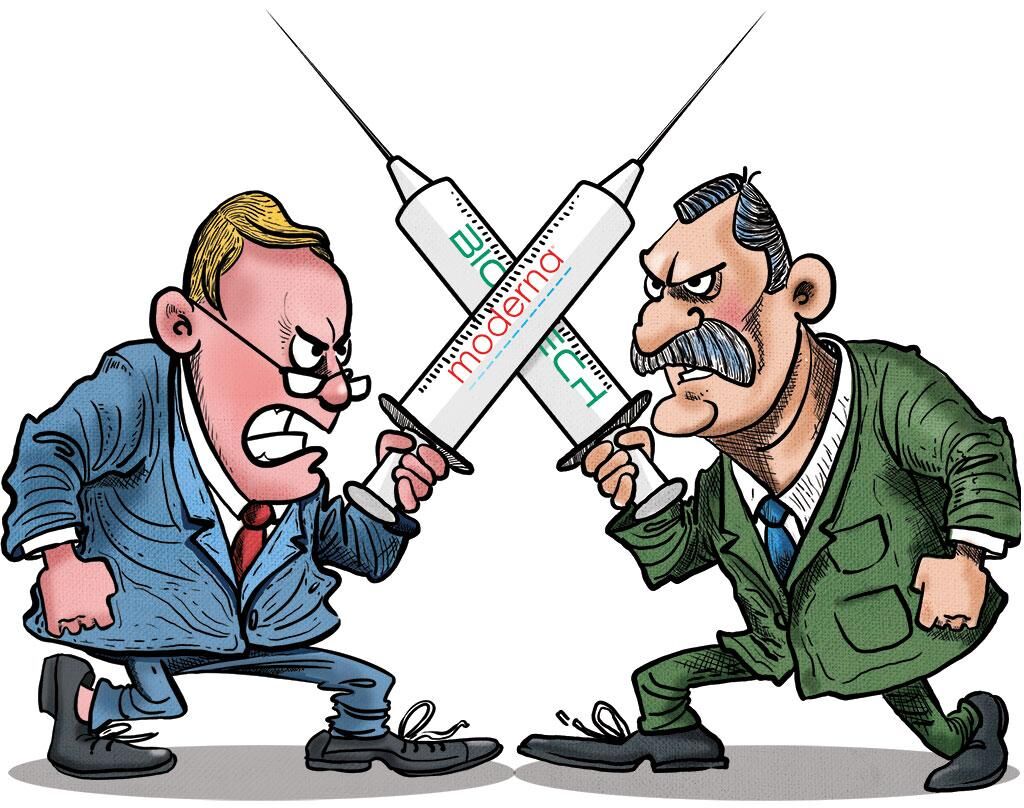 After all the laurels and accolades for developing a new-generation vaccine against COVID-19 at the height of the pandemic, the two competing companies that developed the mRNA jabs are facing off in a critical patent dispute.

The outcome of the big-ticket litigation will determine how accessible the mRNA technology will be in developing future vaccines and therapies against a host of health hazards, ranging from influenza to cancer.
It took the industry by surprise when after a year of doing business peaceably and earning billions of dollars each, Moderna Inc filed a patent infringement suit against rival Pfizer-BioNTech on August 26.
BioNTech SE and Moderna had both developed their COVID-19 vaccines using the mRNA platform to attack the SARS-CoV-2 virus. While BioNTech, a biotechnology startup in Germany, tied up with multinational Pfizer Inc for quick development of the Comirnaty vaccine, Moderna chose to go it alone to make its Spikevax vaccine.
Now, Moderna claims Pfizer-BioNTech has infringed three patents on its vaccine delivery system, which gets the drug inside a recipient's cells and generates a protein.
In lawsuits filed in the US District Court for the District of Massachusetts and the Higher Regional Court of Düsseldorf, where BioNTech is based, Moderna says that Comirnaty infringes patents it had filed between 2010 and 2016 covering the company's "foundational mRNA technology". It accuses its competitor of copying "this ground-breaking technology" which was critical to the development of its own Spikevax.
Moderna clearly wants to be the gatekeeper to the platform. It is using the mRNA technology to develop medicines to prevent and treat infectious diseases like influenza and HIV, as well as autoimmune and cardiovascular diseases along with rare forms of cancer.
Chief Executive Stéphane Bancel justifies the patent suit against its rival on the grounds that the company has invested billions of dollars in creating and patenting the technology "during the decade preceding the COVID-19 pandemic".
This would make it appear that Pfizer-BioNTech is a Johnny-come-lately and thus guilty of copying the technology, except that Moderna itself was a few years late in getting the mRNA patents that it passes off as foundational and ground-breaking.
Long before Moderna came on the scene with a splash — it made the headlines more for Bancel's extraordinary flair for raising investor funds without bringing out a single product — there were hundreds of scientists slogging it out on different aspects of mRNA technology, some with more success than the others.
A 2021 article in science journal Nature details the long and difficult history of the development of mRNA vaccines that started in the 1980s. Along the way, there were breakthroughs; patents were claimed and granted, and some scientists even set up fledgling companies to exploit the potential of mRNA with related technologies.
One of these, Canada's Arbutus Biopharma Corp, is suing Moderna for using its intellectual property on lipid nanoparticle technology, a vital delivery mechanism for sending mRNA into human bodies. The case filed three years ago is yet to be resolved because Moderna's move to get Arbutus Biopharma's patents revoked has failed.
The irony is that Moderna is much more the patent rights offender than it claims its rivals to be. For instance, the most significant advance that made an mRNA vaccine a real possibility was the discovery by two academics at the University of Pennsylvania, Katalin Karikó and Drew Weissman, in the early 2000s.
They found that by altering one of the foundational building blocks of mRNA, the nucleotide uridine, the molecule became less toxic and more capable of avoiding immune destruction. They even patented this technology six years before Moderna did!
Corporate appropriation of scientific breakthroughs made by struggling academics and start-ups is not uncommon, and the mRNA vaccine is a classic example of it. The success of Moderna in producing a COVID-19 vaccine has overshadowed the work of the pioneers and it is only lately that Karikó — she is also senior vice-president at BioNTech — and Weissman are getting their due recognition. Their names are said to have come up as deserving of a Nobel Prize after they won science's most prestigious awards in the last three years.
Moderna is an unabashed case of patent aggrandisement, as this column has pointed out. It gave a bitter twist to an exemplary private-public partnership when it excluded government researchers at the US National Institutes of Health from the patent claims it filed. It wanted the rights all to itself.
The big poser is why now. After all, both Moderna and Pfizer-BioNTech made windfall profits from their vaccines in the past year after the US Food and Drug Administration gave them the go-ahead in December 2020. Moderna made profits of USD 12.2 billion in 2021, against a net loss of USD 747 million in the previous year.
And amazingly, it was with its sole product. Pfizer, too, benefited greatly from its tie-up with BioNTech, earning USD 22 billion on its entire portfolio, largely from the vaccine. The limits to corporate greed will never be defined.
On the plus side, a number of early patents covering the actual foundational work on mRNA have ended their term of protection and are now in the public domain. The Karikó-Weissman patents, licensed to Cellscript and filed in 2006, will also expire in the next five years.
But Moderna's latest claim goes against the current hope that companies will no longer make broad patent claims.
Global health law academic Lawrence Gostin warns in a Bloomberg report that the lawsuit foreshadows a "much more important issue" that's bad for global health, with the likelihood of mRNA technology — which is crucial for fighting epidemics like Ebola and other health hazards — turning more monopolistic.
All this raises the usual questions about the patent system. There is increasing evidence that patents act as a deterrent to the combining and recombining of inventions to yield new products and processes, particularly in the biotechnology and genetics disciplines.
Pursuing patents aggressively does little to encourage innovation, but only increases transaction costs — as Moderna intends with its lawsuit while ignoring its own predatory ways. This is an industry-wide failing that does nobody any good. DTE
Views expressed are personal