At Beijing's brokering
China-mediated deal between Iran and Saudi Arabia marks an improvement in China's diplomatic hold in the Middle East while US' influence is waning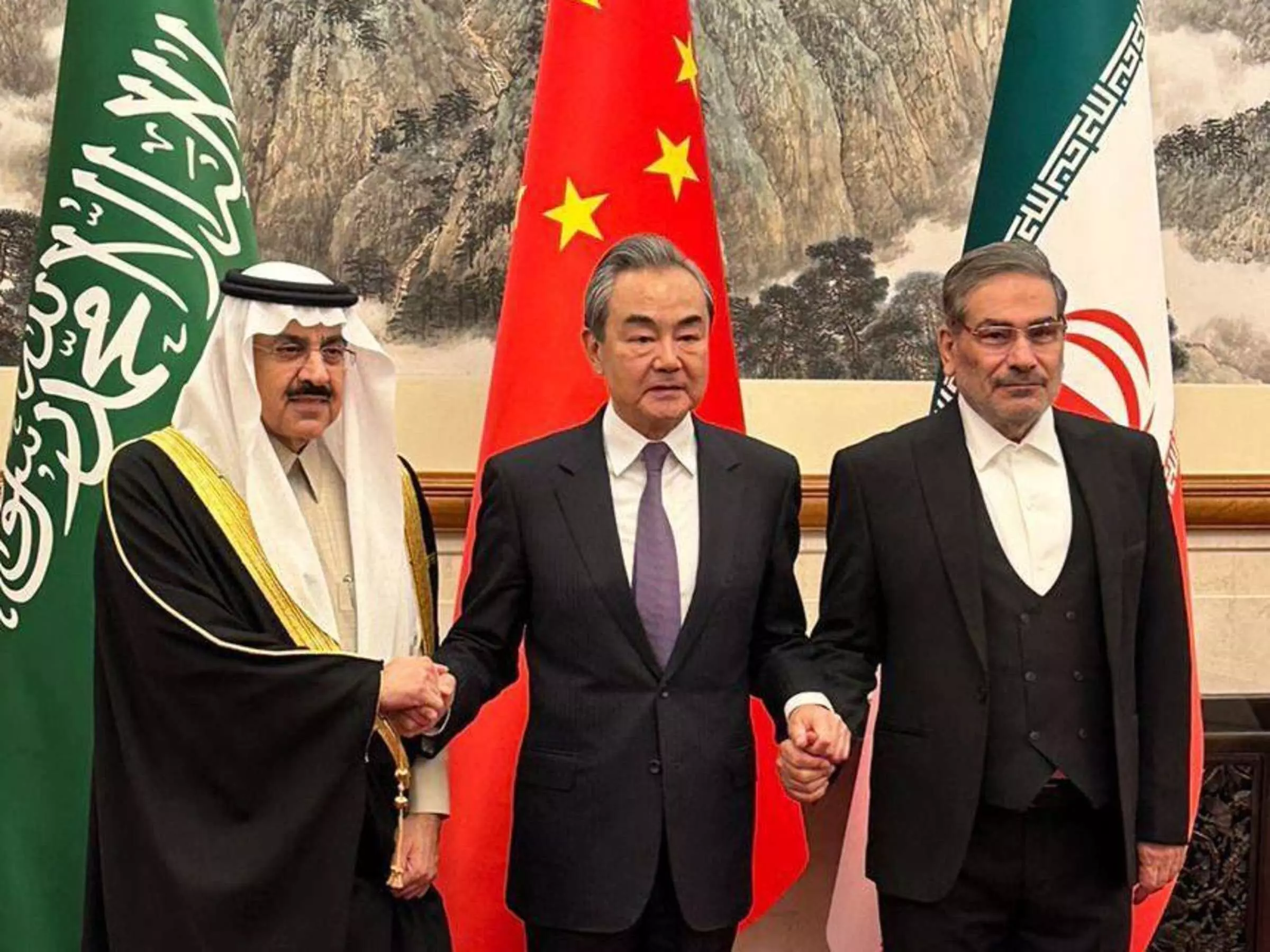 The mediatory role by China leading to the surprise restoration of ties between arch-rivals Iran and Saudi Arabia signals the emerging political influence of Beijing in the Middle East as a whole and the Gulf region in particular. It also reflects the waning of US influence in the area besides dealing a jolt to Israel, which is reportedly having growing security and commercial ties with Saudi Arabia in its bid to isolate Iran in the region.

Since returning to the office late last year, Israeli Prime Minister Benjamin Netanyahu and his allies have hinted that a deal with the Kingdom could be in the offing. In a speech to American Jewish leaders last month, Netanyahu spoke of a peace agreement as "a goal that we are working on in parallel with the goal of stopping Iran."
After years of hostility that had threatened stability and security in the Gulf and escalated conflicts in the Middle East from Yemen to Syria, the deal was announced following four days of behind the closed doors talks between top security officials from Iran and Saudi Arabia in Beijing. According to a statement issued by the two countries and China, the two Gulf countries have agreed to resume diplomatic relations and re-open embassies within two months. "The agreement includes their affirmation of the respect for the sovereignty of states and the non-interference in internal affairs," it said.
The two countries also agreed to reactivate a 2001 security cooperation agreement that helped prevent active conflict for 10 years despite deep mutual mistrust, which remains even today, and an earlier accord on trade, economy and investment. Saudi Arabia severed its ties with Iran in 2016 after its embassy in Tehran was stormed during a dispute between the two countries over Riyadh's execution of a Shi'ite Muslim cleric.
The Sheikhdom also blamed Iran for missile and drone attacks on its oil facilities in 2019 as well as attacks on tankers in Gulf waters, a charge denied by Tehran. Iran and Saudi Arabia, respectively the two leading Shi'ite and Sunni Muslim powers in the Middle East, have backed opposite sides in proxy wars from Yemen to Syria and elsewhere.
Yemen's Iran-backed Houthi movement has also carried out cross-border missile and drone attacks into Saudi Arabia, which leads a coalition fighting the Houthis. Given the hostility between the two Gulf giants, it is yet to be seen whether the Chinese mediation will hold in the future. The accord has come at a time when relations between the US and Saudi Arabia, long aligned with Washington, have grown strained over America's diminishing security guarantees and Riyadh's decision to cut oil production to keep crude prices high during Russia's war in Ukraine which has drawn Riyadh closer to Moscow.
It can be a hindrance in the US and Israel's efforts to strengthen regional alliances to confront and isolate Iran. "While many in Washington will view China's emerging role as mediator in the Middle East as a threat, the reality is that a more stable Middle East where the Iranians and Saudis aren't at each other's throats also benefits the United States," Trita Parsi, executive vice president of the Washington-based Quincy Institute tweeted.
Beijing's attempt to steadily increase its political influence in the region for the last two decades was highlighted most recently when Chinese President XI Jinping visited Riyadh last December and a visit by Iranian President Ebrahim Raisi to Beijing last month. Earlier in 2021 China signed a strategic cooperation pact with Iran.
Beijing has been able to intensify relations on both sides of the Gulf contrary to the US which has no positive leverage on Iran. Its public announcement about the deal shows that it is gaining the confidence of two major countries in the Gulf — Saudi Arabia, an ally of the US and Iran against which Washington has imposed strict sanctions. It also indicates that Middle East diplomacy does not always toe the US line. The deal has come at a time when Iran's enrichment of uranium particles to 83.7 per cent — just closer to weapons-grade purity of 90 per cent — is causing extensive concern among the policymakers of Israel and the US.
By reaching the agreement Iran probably thinks that it would be able to slow down the growing ties between Saudi Arabia and Israel and also prevent any military action by the US or Israel against it. The deal, if implemented, would help bring an end to the war in Yemen, as the US has sought and reduced tensions in Iraq that have led to the targeting of American forces.
On the other hand, the rising influence of China may even lead to weakening the US' hold on the region considerably even among its partners. Growing ties between Saudi Arabia and China may give Riyadh leverage to demand more weapons, security guarantees and civil nuclear technology from the US.
For China, the accord strengthens its legitimacy as a heavyweight diplomatic mediator able to resolve the most hostile geostrategic competitors in the region. It could lead to a shift in the strategic balance in light of the rivalry with the US in the Gulf. It could also help China to position itself as a credible peacemaker with a broader scope of covering conflicts in Syria, Libya and Yemen.
The agreement could also provide the Chinese leadership with more strategic options since the de-escalation of tensions between Riyadh and Tehran creates a thin layer of security and stability necessary for oil export bound to China, trade sea lines of communication, and Chinese Belt and Road investments, says Ahmed Aboudouh, a non-resident fellow with the US-based Middle East Programs at the Atlantic Council.
For Iran, the reconciliation with Saudi Arabia seems to be an effort to reduce at least one of the many crises that it has been facing. The accord also eases the international isolation that Iran has been faced with since anti-government protests and the collapse of talks aimed at restoring a 2015 nuclear deal, dashing its hopes of relief from economic sanctions.
China, which has had diplomatic relations with Iran since 1971 — about two decades longer than it has with Saudi Arabia, considers Tehran strategically important mainly as a like-minded critic of the West. It has promised Iran in 2021 to invest USD 400 billion in the country in exchange for supplies of oil and fuel. But because of Western sanctions against Tehran not much progress has been made.
China wants considerable interest in the region's stability as it gets 40 per cent of its crude oil from the region. The Gulf has also emerged as a key for its Belt and Road Initiative trade routes and a major market for Chinese consumer goods and technology. The deal is a blow to the Israeli Prime Minister, who has made the threat posed by Iran a public diplomacy priority and personal crusade and has caused disappointment and finger-pointing.
India has age-old ties with both Iran and Saudi Arabia along with other Gulf countries. China's rising influence in the region is unlikely to have an impact on India's relations with the Gulf countries.
The writer is a former Editor of PTI and served as the West Asia correspondent. Views expressed are personal