Ukraine targets key Crimean city day after striking Russian Navy HQ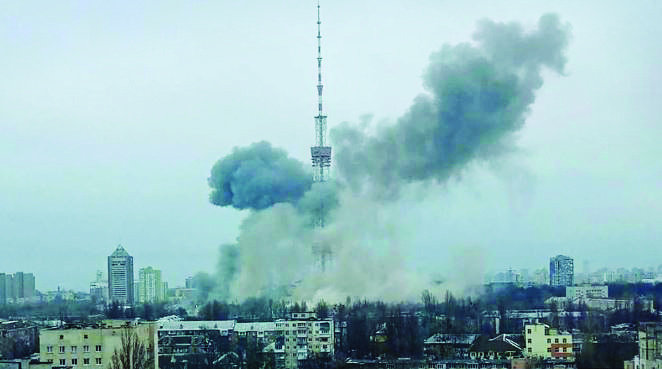 Kyiv: Ukraine on Saturday morning launched another missile attack on Sevastopol in occupied Crimea, a Russian-installed official said, a day after an attack on the headquarters of Russia's Black Sea Fleet left a serviceman missing and the main building smoldering.
Sevastopol was put on air raid alert for about an hour after debris from intercepted missiles fell near a pier, Gov. Mikhail Razvozhayev wrote on the messaging app Telegram. Ferry traffic in the area was also halted and later resumed.
Loud blasts were also heard near Vilne in northern Crimea, followed by rising clouds of smoke, according to a pro-Ukrainian Telegram news channel that reports on developments on the peninsula.
Crimea, illegally annexed by Russia in 2014, has been a frequent target for Ukrainian forces since Russian President Vladimir Putin ordered a full-scale invasion of the neighboring country almost 19 months ago.
Ukraine's intelligence chief, Kyrylo Budanov, told Voice of America on Saturday that at least nine people were killed and 16 injured as a result of Kyiv's attack on the Black Sea Fleet on Friday.
He claimed that Alexander Romanchuk, a Russian general commanding forces along the key southeastern front line, was "in a very serious condition" following the attack.
Budanov's claim could not be independently verified, and he did not comment on whether Western-made missiles were used in Friday's strike.
The Russian Defense Ministry initially said that Friday's strike killed one service member at the Black Sea Fleet headquarters, but later issued a statement that he was missing.
Ukraine's military also offered more details about Friday's attack on Sevastopol.
It said the air force conducted 12 strikes on the Black Sea Fleet headquarters, targeting areas where personnel, military equipment and weapons were concentrated.
It said two anti-aircraft missile systems and four Russian artillery units were hit.
Crimea has served as the key hub supporting Moscow's invasion of Ukraine.
Sevastopol, the main base of Russia's Black Sea Fleet since the 19th century, has had a particular importance for navy operations since the start of the invasion of Ukraine.
Ukraine has increasingly targeted naval facilities in Crimea in recent weeks while the brunt of its summer counteroffensive makes slow gains in the east and south of Ukraine, the Institute for the Study of War said.
Military experts say it is essential for Ukraine to keep up its attacks on targets in Crimea to degrade Russian morale and weaken its military.