Gastronomy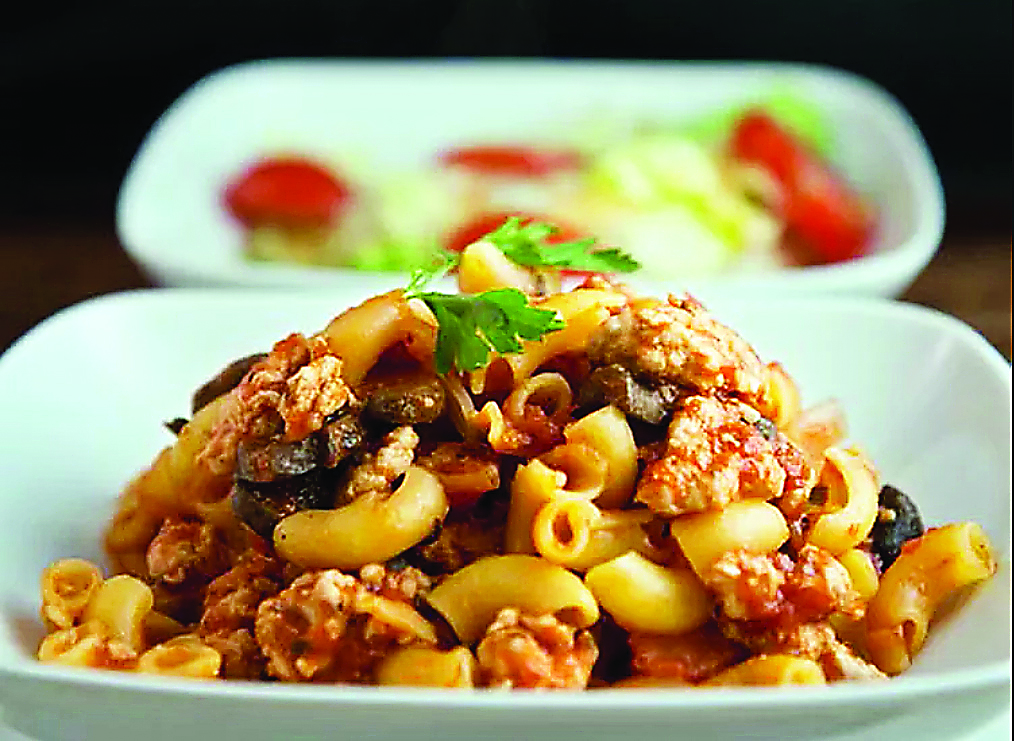 Turkey Goulash
Ingredients
* 450 gram lean ground turkey
* 1 (400 gram) can stewed, diced tomatoes
* 3 cloves garlic, minced
* 1 cup tomato sauce
* 2 teaspoons white sugar
* ½ teaspoon dried basil
* 1 (450 gram) package bow tie pasta
Directions
* In a large skillet over medium heat, cook the turkey until browned.
* Stir in the stewed tomatoes, garlic, tomato sauce, sugar and basil, and then simmer for about 20 minutes.
* Bring a large pot of lightly salted water to a boil. Add pasta and cook for 8 to 10 minutes or until al dente, and then drain. Combine the pasta and turkey mixture; toss and serve.
Courtesy: allrecipes.com
Lasagna
Ingredients
* 450 gram sweet Italian sausage
* 350 gram lean ground beef
* ½ cup minced onion
* 2 cloves garlic, crushed
* 1 (800 gram) can crushed tomatoes
* 2 (200 gram) cans canned tomato sauce
* 2 (150 gram) cans tomato paste
* ½ cup water
* 2 tablespoons white sugar
* 4 tablespoons chopped fresh parsley, divided
* 1 ½ teaspoons dried basil leaves
* 1 ½ teaspoons salt, divided, or to taste
* 1 teaspoon Italian seasoning
* ½ teaspoon fennel seeds
* ¼ teaspoon ground black pepper
* 12 lasagna noodles
* 450-gram ricotta cheese
* 1 egg
* 350 gram mozzarella cheese, sliced
* ¾ cup grated Parmesan cheese
Directions
* Gather all your ingredients.
* Cook sausage, ground beef, onion, and garlic in a Dutch oven over medium heat until well browned.
* Stir in crushed tomatoes, tomato sauce, tomato paste, and water. Season with sugar, 2 tablespoons parsley, basil, 1 teaspoon salt, Italian seasoning, fennel seeds, and pepper. Simmer, covered, for about 1 1/2 hours, stirring occasionally.
* Bring a large pot of lightly salted water to a boil. Cook lasagna noodles in boiling water for 8 to 10 minutes. Drain noodles, and rinse with cold water.
* In a mixing bowl, combine ricotta cheese with egg, remaining 2 tablespoons parsley, and 1/2 teaspoon salt.
* Preheat the oven to 190 degrees Celsius.
* To assemble, spread 1 1/2 cups of meat sauce in the bottom of a 9x13-inch baking dish. Arrange 6 noodles lengthwise over meat sauce. Spread with 1/2 of the ricotta cheese mixture. Top with 1/3 of the mozzarella cheese slices. Spoon 1 1/2 cups meat sauce over mozzarella, and sprinkle with 1/4 cup Parmesan cheese.
* Repeat layers, and top with remaining mozzarella and Parmesan cheese. Cover with foil: to prevent sticking, either spray foil with cooking spray or make sure the foil does not touch the cheese.
* Bake in the preheated oven for 25 minutes. Remove the foil and bake for an additional 25 minutes.
* Rest lasagna for 15 minutes before serving.
Courtesy: allrecipes.com