Crockpot Italian Chicken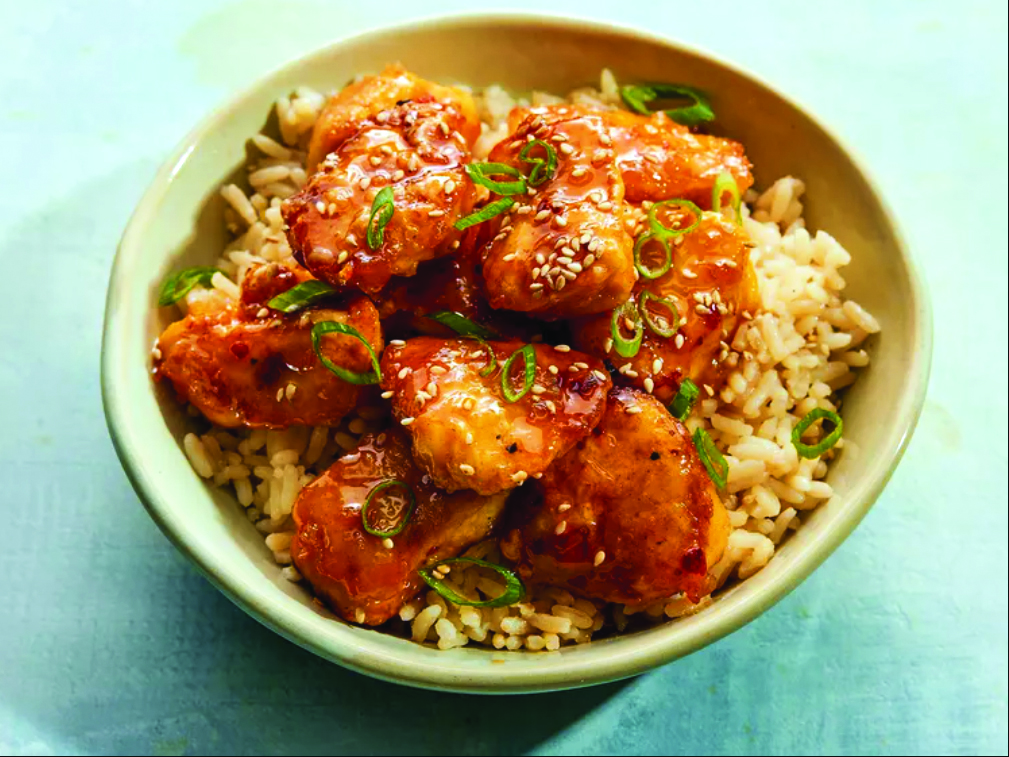 Ingredients
* 1 (500 gram) bottle Italian dressing
* 1/4 cup grated Parmesan cheese
* 4 boneless skinless chicken breasts
Directions
* Stir Italian dressing and Parmesan cheese together in a bowl.
* Place chicken in a slow cooker, and pour dressing mixture over chicken. Cover and cook on Low until chicken is tender, no longer pink in the centre, and the juices run clear, about 8 hours.
Courtesy: allrecipes.com
Firecracker Chicken
Ingredients
* ⅔ cup cornstarch
* 1 teaspoon ground ginger
* ½ teaspoon freshly ground black pepper
* 1 ½ teaspoons kosher salt, divided
* 3 large eggs, beaten
* 750 grams boneless skinless chicken breasts, cut into 1-inch pieces
* ¼ cup canola or peanut oil
* ¾ cup honey
* ½ cup hot pepper sauce
* 1 tablespoon rice vinegar
* ½ teaspoon crushed red pepper (Optional)
* 4 cups cooked white rice
* ½ cup thinly sliced scallions
* toasted white sesame seeds, for garnish
Directions
* Preheat the oven to 200 degrees Celsius. Place a rack in the centre of the oven.
* Combine cornstarch, ginger, pepper, and 1 teaspoon salt in a large bowl. Place beaten eggs in a separate large, shallow bowl. Add chicken to cornstarch mixture and toss to coat.
* Heat 2 tablespoons of oil in a large nonstick skillet over medium-high until shimmering.
* While oil is heating, transfer 1/3 of the chicken to a dish with eggs and toss to coat.
* Use a slotted spoon to transfer chicken to the hot skillet and cook in hot oil, turning once, until chicken is golden on both sides, about 2 minutes per side (chicken will not be cooked through at this point). Transfer to a 9x13-inch baking dish. Repeat with remaining chicken, adding 1 tablespoon of oil to the skillet per new batch (3 batches total).
* Stir together honey, hot sauce, vinegar, crushed red pepper, and remaining 1/2 teaspoon salt in a bowl. Pour over chicken in the baking dish and stir to coat.
* Bake in the preheated oven until chicken is no longer pink in the centre and the juices run clear, stirring halfway through, 25 to 30 minutes. An instant-read thermometer inserted into the centre of the chicken should read 74 degrees Celsius.
* Serve over rice and sprinkle with scallions and sesame seeds.
Courtesy: allrecipes.com