Copycat Chipotle Chicken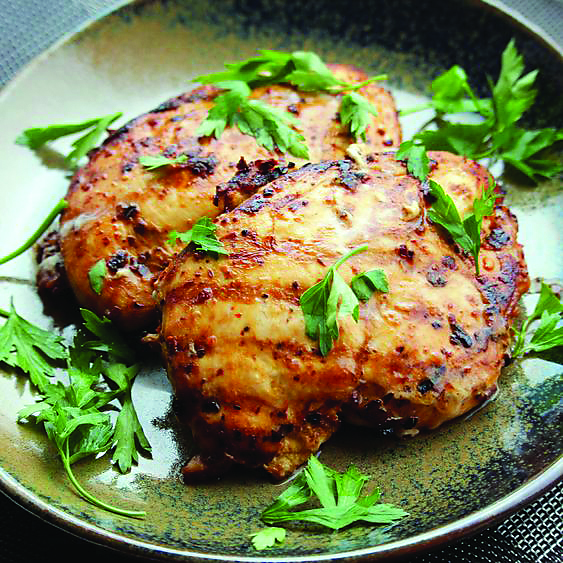 Ingredients
50 grams dried chipotle chile pepper
50 grams dried ancho chile pepper
½ cup water
½ red onion, cut into small chunks
4 cloves garlic
2 teaspoons sea salt
1 teaspoon ground cumin
1 teaspoon dried oregano
1 teaspoon freshly ground black pepper
2 tablespoons olive oil
1.25 kg skinless, boneless chicken thighs
Directions
* Place chipotle and ancho chile peppers in a shallow bowl; pour in water. Cover the bowl and let sit at room temperature until peppers are softened, 10 to 12 hours. Drain water and remove seeds from peppers.
* Blend chile peppers, red onion, garlic, sea salt, cumin, oregano, and black pepper in a blender until a coarse paste forms; add olive oil and blend until marinade is smooth.
* Place chicken thighs between 2 sheets of heavy plastic on a solid, level surface. Firmly pound chicken with the smooth side of a meat mallet to a 1/2-inch thickness.
* Place chicken in a resealable plastic bag and add marinade. Turn chicken several times to coat. Seal bag and marinate in the refrigerator for at least 8 hours.
* Preheat an indoor grill with top and bottom plates for medium-high heat.
* Remove chicken from the bag and discard marinade.
7. Place chicken on the preheated grill, close the lid, and cook until no longer pink in the center and the juices run clear, 5 to 7 minutes. An instant-read thermometer inserted into the center should read at least 74 degrees Celsius. Cut chicken into strips and serve warm.
Courtesy: allrecipes.com
Keto Chicken Thighs in Lemon-Garlic Cream Sauce
Ingredients
2 tablespoons vegetable oil
4 bone-in, skin-on chicken thighs
salt and pepper to taste
½ medium onion, thinly sliced
4 garlic cloves, minced
½ cup dry white wine
1 cup chicken broth
3 tablespoons fresh lemon juice
2 tablespoons butter or margarine
½ cup heavy cream
½ teaspoon thyme leaves
⅛ teaspoon salt
Directions
* Turn on a multi-functional pressure cooker (such as Instant Pot®) and select Saute function. Heat vegetable oil.
* Season chicken thighs with salt and pepper on both sides; add to Instant Pot®. Cook one side at a time until both sides of the chicken are a golden brown, 3 to 4 minutes per side. Remove chicken from the pot and set aside.
* Add onion and sauté for 1 minute. Add garlic and cook for 1 more minute. Pour in white wine and stir to scrape brown bits from the bottom of the pot. Stir in chicken broth and lemon juice; bring to a boil and cook until broth has reduced slightly, 2 to 3 minutes. Turn off the Sauté function.
* Return chicken Instant Pot®. Close and lock the lid. Select High pressure according to manufacturer's instructions; set timer for 10 minutes. Allow 10 to 15 minutes for pressure to build.
* Release pressure using the natural-release method according to manufacturer's instructions, for 10 minutes. Release remaining pressure carefully using the quick-release method, about 5 minutes. Unlock and remove the lid.
* Remove chicken from the pot and set aside. Select the Sauté mode and bring sauce to a boil. Whisk in butter or margarine, heavy cream, salt, and thyme. Cook until the sauce has thickened slightly, 2 to 3 minutes. Serve chicken drizzled with the sauce.
Courtesy: allrecipes.com