Chicken Enchiladas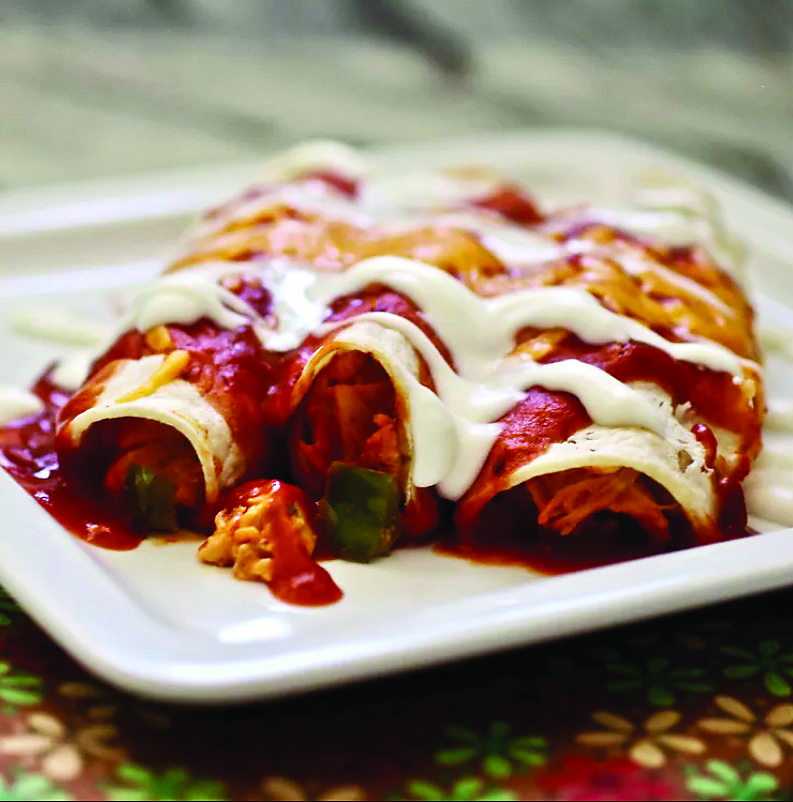 Ingredients
* 1 tablespoon olive oil, or as needed
* 4 skinless, boneless chicken breast halves
* 1 onion, chopped
* 1 ¾ cups shredded Cheddar cheese, divided
* ½ pint sour cream
* 1 tablespoon dried parsley
* ½ teaspoon dried oregano
* ½ teaspoon ground black pepper
* 1 (500 gram) can tomato sauce
* ⅓ cup chopped green bell pepper
* 1 clove garlic, minced
* 1 tablespoon chili powder
* ½ teaspoon salt (Optional)
* ½ cup water (Optional)
* 8 flour tortillas
* 1 (350 gram) jar taco sauce
Directions
* Preheat the oven to 175 degrees Celsius.
* Heat oil in a nonstick skillet over medium heat. Add chicken and cook until no longer pink and juices run clear, 5 to 7 minutes per side.
* Transfer chicken to a cutting board and slice into cubes. Return chicken to the skillet.
* Add onion, 1 cup Cheddar cheese, sour cream, parsley, oregano, and black pepper. Cook and stir over low heat until the cheese melts. Stir in tomato sauce, green pepper, garlic, chili powder, and salt. Add water if needed.
* Spoon chicken mixture into tortillas and roll into enchiladas. Arrange enchiladas, seam-side down, in a 9x13-inch baking dish. Top with taco sauce and remaining 3/4 cup Cheddar cheese.
* Bake in the preheated oven, uncovered, until the cheese has melted, about 20 minutes. Let cool briefly before serving.
Courtesy: allrecipes.com
Beef Kebabs with Pomegranate Couscous
Ingredients
Feta Sauce:
* 50 gram feta cheese, crumbled
* ¼ cup whole-milk plain Greek yogurt
* 1 teaspoon lemon juice
* ½ teaspoon lemon zest
* 1 tablespoon water, or more as needed
Couscous:
* 2 cups reduced-sodium chicken broth
* 1 ½ cups Israeli (large pearl) couscous
* cup pomegranate seeds
* ¼ cup chopped pistachios
* 1 tablespoon chopped fresh mint
* 1 teaspoon baharat (Middle Eastern spice mix)
Kebabs:
* 350-gram beef top sirloin, cut into 1-inch cubes
* 1 tablespoon baharat (Middle Eastern spice mix)
* 1 red bell pepper, cut into 1-inch pieces
* 1 cup cherry tomatoes
* 1 small red onion, cut into 1/2-inch wedges
* 2 portobello mushrooms, stem and ribs removed, cut into 1-inch pieces
Directions
* To make the feta sauce, stir together feta, yogurt, lemon juice, and zest in a small bowl. Add enough water to thin to desired consistency.
* To prepare the couscous, bring broth to a boil in a medium saucepan. Add couscous. Reduce heat and simmer, covered, until couscous is tender and broth is absorbed, 8 to 10 minutes. Fluff with a fork. Add pomegranate seeds, pistachios, mint, and baharat. Toss to combine.
* Preheat an outdoor grill to medium heat 160 to 190 degrees Celsius). Sprinkle steak cubes with baharat; toss to coat. Thread steak, bell pepper, tomatoes, onion, and mushrooms onto eight 10-inch metal skewers (or bamboo skewers that have been soaked in water for at least 30 minutes).
* Grill kebabs, turning once or twice, until vegetables are tender and meat is just pink in center, or until desired doneness, 8 to 12 minutes. Serve kebabs with couscous and feta sauce on the side.
Courtesy: allrecipes.com