Trails to Manipur
Shortlisted in Young Adults category at the literature festival 'Shabdavali: Valley of Words', two books — 'Children of the Hidden Land' by Mandira Shah and 'My Name is Cinnamon' by Vikas Prakash Joshi — delicately narrate two distinct stories, both related to Manipur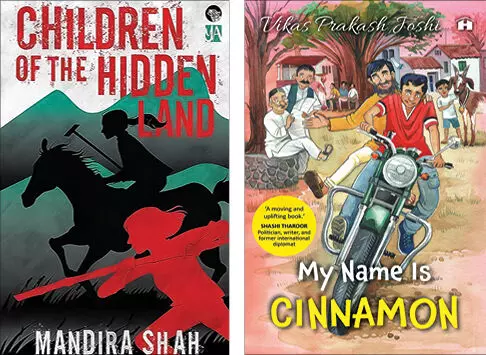 Over the next few weeks, your columnist will share extracts and insights from some of the shortlisted books of 'Shabdavali: Valley of Words' — a pan-India festival of letters based out of Dehradun. This week, the focus is on two shortlisted books in the category of Young Adults. These are 'Children of the Hidden Land' and 'My Name is Cinnamon'. Wonder of wonders, Manipur figures prominently in both the books. While the former is set in the state, in the latter, the protagonist goes to the state to search for his roots, and fulfil his quest for understanding who he really is.
Till about the turn of the century, readings for Young Adults in India, as elsewhere in the colonial world, comprised inspirational and motivational stories from epics or heroes of the freedom movement, or detective series and school series from writers like Enid Blyton. Based on their gender, teenagers would read 'Hardy Boys' or 'Nancy Drews'. Neither of these reflected the 'here and now' situation of an average Indian school girl or boy or contemporary issues like climate change, insurgency, communal strife, cross-border terrorism, bereavements, adoptions, terminal illness, separations and the challenges of coping with these issues. However, in the last decade, a new, bold breed of writers for Young Adults have penned their offerings with greater nuance than before: predictable happy endings have given way to a more realistic assessment of life in which the trajectory of life is not always a straight and clear line.
The first book under discussion, 'Children of the Hidden Land', by Mandira Shah is located in Manipur, and reflects the current situation in the valley and the surrounding hills. This is the story of the fifteen-year-old April, who lives in Imphal, and Shalini, an army man's daughter recently posted to that station. They come together to solve the mystery, and unearth the macabre plot in which April's best friend Henthoiba vanishes overnight. Does Henthoiba act on his own volition or is this part of a larger conspiracy of recruiting youngsters into the sinister drug trade?
The two girls come from different backgrounds, and have worldviews that are poles apart, but they muster their brains, brawn and resources to launch their own investigation, which is fraught with danger, bordering on physical annihilation. April has all the skills of a superb detective, but has never heard of Sherlock Holmes – a character Shalini took for granted. Together, they gather the clues, and uncover a deep and sinister plot which includes trafficking of children, cross-border smuggling, and narco-terrorism. These are stories which adults read about in news reports, but Shah places them in a context which the young readers can respond to in a narrative that is easy to comprehend. Forts, forests, and lakes epitomise the beauty and diversity of Manipur's geography, thereby making the setting picturesque – both literally and metaphorically. The conversation between April and Shalini on horses and polo also gives us a great insight into the game which has its origin in this state. Fortuitously, it ends on a positive note — kindness and humanity triumph over adversity.
The next book is by a master storyteller, Vikas Prakash Joshi, who weaves magic with his words in his offering, 'My Name is Cinnamon', which explores the themes of identity, heritage and self-discovery and, most importantly, 'adoption'. Cinnamon is an adopted child who lives in Pune with his adoptive parents and grows to be much taller than both of them, and is crazy about football. He dreams of being goalkeeper of the Indian football team which trounces Brazil in the finals of the world cup football! After this historic victory, he is feted by none other than the Prime Minister of India, weighed on a scale and given a chocolate cake equal to his body weight, for which a car has been specially hired to take the cake home.
Adoption is a tough subject to handle, but Vikas does so with great sensitivity. With his ability to connect with young readers through his seamless narrative, his work resonates with teens (and adults) everywhere. The quest to search for one's biological parents can never be underestimated. The protagonist, Cinnamon, embarks on a journey that takes him on a path of self-discovery, sparking questions about who he really is and where he belongs, as he decides to uncover his roots and take readers on an emotional journey full of highs, downs, challenges and triumphs which leads him to Manipur. As Cinnamon comes across a range of characters and navigates an unfamiliar terrain, he learns valuable life lessons about empathy, friendship, and the power of acceptance. They encourage the young readers to reflect on their identity and to appreciate the diverse cultures that make up the fabric of our global community, besides understanding one's roots and finding a sense of belonging in an ever-changing world.
The writer, a former Director of LBS National Academy of Administration, is currently a historian, policy analyst and columnist, and serves as the Festival Director of Valley of Words — a festival of arts and literature.