Women's Reservation Bill: After 27 years, at last!
The Women's Reservation Bill has finally been passed even as another long wait for its implementation begins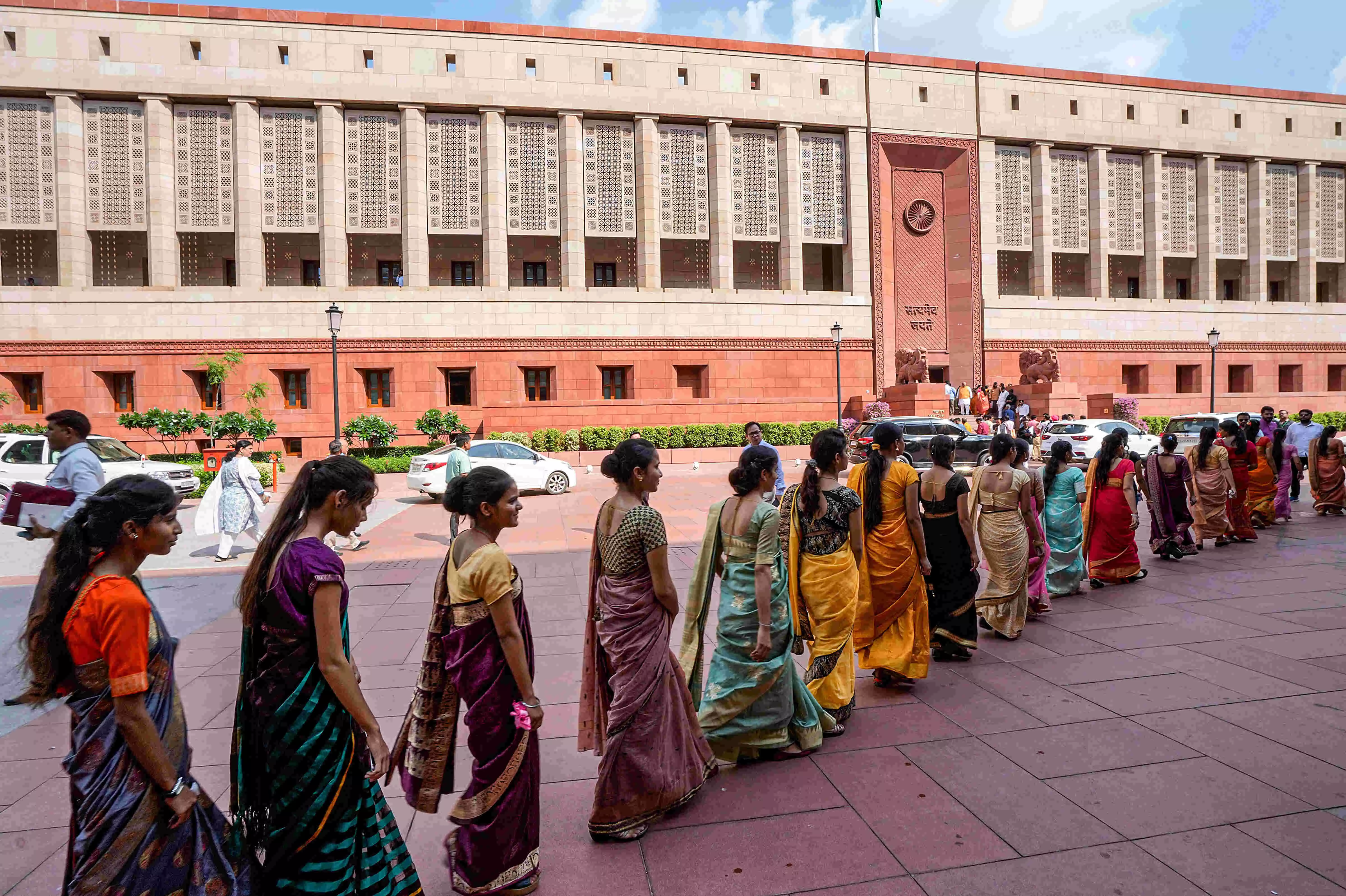 If you're a woman in India today or an ally, there's reason to celebrate. India has finally passed the Women's Reservation Bill that will ensure that 33 per cent of the Lok Sabha and state legislative assemblies have women representatives. The Bill was first introduced by the United Front government in the Lok Sabha on September 12, 1996. We've waited 27 long years for this. Sure, the move is well-timed with electoral calculations, and there still remains the need to accommodate women leaders from OBCs, but hey! Let's take the win for now, shall we? The historic passing of the Nari Shakti Vandan Adhiniyam will have a wide impact on the Indian polity and economy.

India ranks at a dismal 149 out of 193 nations in terms of the share of women policymakers; trailing behind Pakistan, Bangladesh, and Afghanistan. Currently, women are grossly underrepresented in the Indian chambers of power. There are only 78 women MPs in the Lok Sabha out of 542 members i.e under 15 per cent, and just 24 Rajya Sabha MPs are women, of the 224 members i.e about 14 per cent. The state assemblies of Andhra Pradesh, Arunachal Pradesh, Assam, Goa, Gujarat, Himachal Pradesh, Karnataka, Kerala, Madhya Pradesh, Maharashtra, Manipur, Meghalaya, Odisha, Sikkim, Tamil Nadu, Telangana, Tripura, and Puducherry, have less than 10 per cent women MLAs. Bihar, Haryana, Punjab, Rajasthan, Uttarakhand, Uttar Pradesh, and Delhi have between 10-12 per cent of women leaders in the legislative assemblies. Chhattisgarh, West Bengal, and Jharkhand have scored best on women representation with 14.44 per cent, 13.7 per cent, and 12.35 per cent respectively. With the recent legislation, India joins 63 countries that presently reserve seats for women leaders.
Women at the forefront of development and decision-making have usually augured well for those nations. Women's presence has uplifted institutions, reduced corruption, and propounded inclusiveness. India, with its 50 per cent female population, has a fantastic opportunity to propel forward on its growth path aided by the enhanced participation of women. Just last week I had written that while the G20 Summit in Delhi pledged its commitment to gender equality, the stalled Women's Reservation Bill hung over us like a pall of gloom.
The passed Bill will take time for implementation. The long-pending census and delimitation processes will first be undertaken and perhaps, if all goes to plan, by 2028-2029, we should see the implementation of the women's quota. Indian male politicians have over the years governed by proxy through their wives, sisters, and other relatives. We have seen it happen in gram panchayats. In 20 Indian states, 50 per cent seats in gram panchayats have been reserved for women. There have been titular female representatives who have fought and won elections when the husband has been incarcerated, mired in scams, and/or faced anti-incumbency. I won't be surprised if some of this practice carries on to meet the 33 per cent reservation quota. Without further reservation for women from backward classes, it could also become a cohort of upper caste women only. Herein, we will witness the real commitment of political parties to genuinely forward the cause of women empowerment or pursue clever politics by handing out tickets to token female representatives.
In spite of the future pitfalls, I'm giddy with excitement at the prospect of women who enjoy public service and governance coming into the political fray. Can you imagine the wealth of opportunities staring at these women? The power to make lasting changes at the grassroots level that could harness the untapped 'nari shakti'? Who better to solve the problems dogging women than women themselves?
According to the World Bank Labour Force Participation Report (2022), only 24 per cent women in India (15 years of age and above) are gainfully employed. India ranks 127th out of 146 countries on gender parity as per the Global Gender Gap report (2023). As per the Periodic Labour Force Survey (PLFS July 2021-June 2022), 29.4 per cent of women (aged 15-59 years) were part of India's labour force in 2021-22 versus 29 per cent in 2020-21. These stats are oft-repeated but only with repetition can we discern the remarkable and urgent opportunity at hand. More women in the upper echelons of power over the long-term would mean promulgation of pro-women policies that could increase participation of women in the workforce, create safer workplaces, ensure quicker resolution to cases of sexual harassment, maybe even equal pay! The possibilities are endless, as another vigil for the implementation of the Women's Reservation starts now.
The writer is an author and media entrepreneur. Views expressed are personal