Ugly politicking
Bangladesh's government must sternly deal with the divisive forces that are trying to create a wedge between Hindus and Muslims for gaining political momentum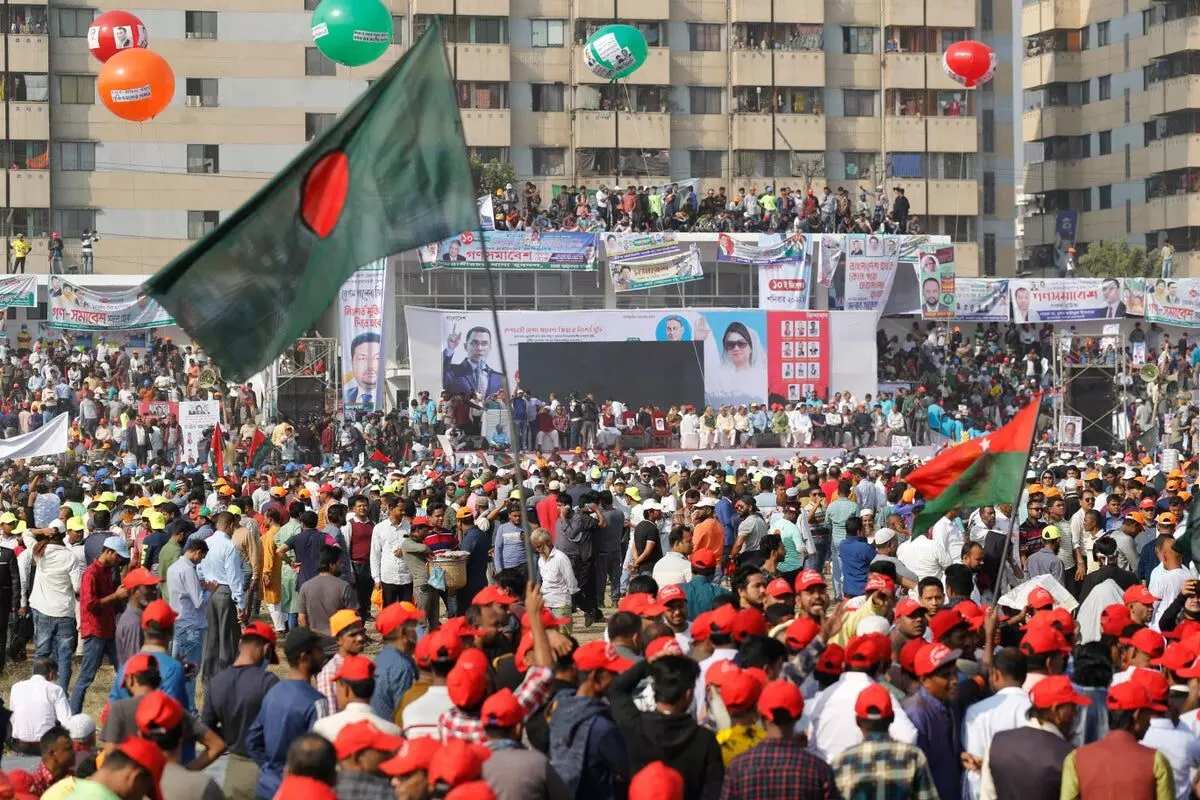 Political pundits are intently watching the political developments steadily engulfing the Bangladesh political landscape as the countdown for the parliamentary elections draws nearer. This apart, the worrisome happenings are the fanatics' and communal elements' attempts to vitiate the communal harmony to drive a wedge between the Muslim majority and Hindu minorities. This has naturally raised apprehensions amongst the Hindus of further polarization of society on parochial religious grounds.

Against this backdrop, a Hindu-led alliance has very recently come out with statistical evidence highlighting excesses on them. They are sanguine about their empirical claims. According to them, the last year saw the murder of 154 members belonging to the minority community. Disturbingly, 14 have been murdered after the rape and there have been cases of 39 incidents of violation of minority women by perpetrators belonging to the majority lot. Gobinda Chandra Paramanik, the general secretary of the alliance, held a press conference to share these figures. He further disclosed that land owned by the minority to the tune of 89,990 acres was forcibly usurped and displaced at least 572 families. Also, 445 families were forced to flee the country. It was further alleged that last year alone the minority community suffered damage of Bangladesh Takas 220 crores and 89 lakhs. Since these figures have not been contradicted by the government, it is assumed that these statistics are correct.
In addition to these allegations were also levelled that there have been over 800 cases of attempts to murder Hindus and umpteen cases of extortion and disappearance have been reported. More worryingly, many temples and other places of worship have been plundered and desecrated. The Hindus are constantly living under threats and fear of life and property due to ceaseless intimidation by a section of the majority of musclemen and fanatics.
As these allegations and counter-allegations from the minorities are gaining momentum to draw the attention of the government in power with upcoming elections in mind, the political and social atmospherics were further poisoned by the most condemnable and acerbic recent statements given by Bangladesh Nationalist Party (BNP) head Tarique Rahman who is hiding in England. Shockingly, he said that all the Hindu scriptures are porn. He went on Facebook live to say so and in his capacity as the joint convener of the Gono Odhikar Parishad. He is backed by his close affiliate and partner in communalizing politics, Jamaat-e-Islami activist Nurul Haq Nur. Both also alleged that the Hindu religion didn't impart any teachings on ethics and moral values.
Closely examining such volatile comments at this juncture imply that Tarique, in conjunction with the intolerant and highly fanatic 'jamaatis' are trying to provoke the minority to react so that there is a communal backlash and the communal peace and tranquil is adversely affected including fomenting of violence and bloodshed. Judging by history, BNP and its fellow collaborator, the Jamaat has been notorious for arousing communal frenzy. Jamaat, of course, had been nastily involved in the killing of thousands of intellectuals and collaborating with Pakistan-backed fanatics in exterminating the Hindus at regular intervals. Now, they are sensing their and BNP's complete political annihilation in the upcoming elections, are trying to inject venom and also provoking the government to act, triggering large-scale violence. Authoritative sources' anonymity gives out that all these agendas are drawn by the Pakistani intelligence agencies in Islamabad and London and such scripted blueprints are parroted by Tarique Rahman and his Jamaat partners out of sheer frustration and desperation.
Under these circumstances, it looks imperative on part of the Bangladesh intelligence agencies to reorganize its intelligence collection machinery to thwart any Pakistan-led BNP Jamaat joint move to spark a communal riot situation where Hindus are violently targeted and the government is embarrassed and shamed before the international community ahead of the elections. As it is, the western countries have trained their eyes and ears on Dhaka with a mission of fault finding and Prime Minister Hasina and her government should be doubly cautious about these ongoing evil designs. Any failure would mean half the election battle gone. She should also seriously consider taking the help of friendly countries to defeat the fanatics' designs to unsettle her and prevent her from winning the elections. Other than Jamaat and BNP, a tighter vigil is also required to be maintained on other communally sensitive political and social outfits that are opportunists and can swing either way sensing the straws in the wind. The situation is delicate and needs delicate handling with restraint, political astuteness, maturity and a firm hand.
The writer is a retired IPS officer, a security analyst and a former National Security Advisor to the PM of Mauritius. Views expressed are personal