Proliferating nexus
Political parties that firmly believe in Telangana existence are coming together on ideological lines for effective sustenance, steadiness and stability of the state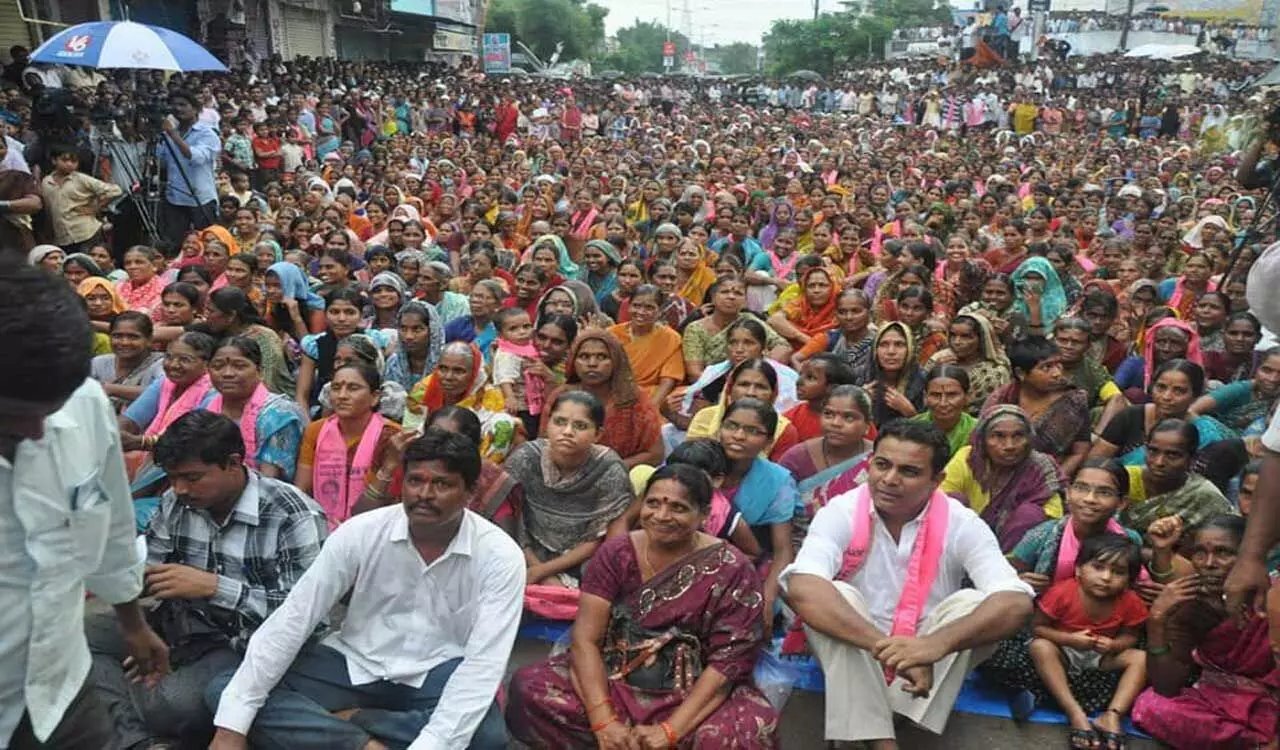 Telangana State is in the midst of third time Assembly Elections. Two categories of politicians are seen leaving their present parties and joining other parties. The first category is in the habit of frequently shifting loyalties in search of quick benefits and shortcut opportunities like leapfrogging for obvious political and business gains. Interestingly, for such persons, parties even fashioned Cells for Joinings!!! Nonetheless, some others leave existing parties to join other parties, on principles and for political ideologies. The latter category by and large join the party in power, the Bharat Rashtra Samiti (BRS), explicitly for political, ideological polarisation and reunification, consciously and dedicatedly believing in sustenance, steadiness, and stabilisation of unprecedented welfare and development in the state, under the leadership of Chief Minister K Chandrashekhar Rao in his two terms of nine and half years.

BRS President and CM KCR, announced names of contesting candidates from his Party, for almost all seats and also distributed B-Forms to them very well in advance. No dissent worthwhile surfaced. Almost all surveys are favoring victory for BRS. Contrary to this, every party in the state, small or big, National or State Level, were in utter muddle and melodrama, denying party tickets to those who said to be 'really deserved' and instead awarding to indifferent and least interested as well as to new entrants with 'financially rich background.'
Despite fully aware of, and conscious that, there are absolutely no chances of getting party ticket to contest in any constituency, 'day in and day out,' in large numbers, several prominent political leaders accompanied by sizable cadre, are leaving parties with which they were associated for years, to join BRS, noticeably not for 'cheap political gains.' Their foremost intention is to extend their support to BRS beforehand the elections. They feel obliged to do so, to stall any unforeseen and unanticipated happening in the ensuing Assembly Election wherein BRS may face cheap tricks and hitches in forming a stable government. Therefore, the polarisation and reunification, with a conscious intention, that, as staunch supporters of 'Telangana Existence,' they would like to ensure through their munificent contribution, landslide mandate in favor of BRS as in the past, instead of a mere victory which is certain.
Telangana that emerged as a new state, is on the move with steadfastness, to become 'Golden Telangana.' For effective sustenance, steadiness, and stability as well as for continuance of unprecedented welfare and development in the state, incessantly and unceasingly, under the leadership of CM KCR, there is an indispensability of ideological, political polarisation and reunification, so that, the fruits of welfare and development are better reached to the vulnerable. Yes, Telangana shall better itself in all aspects, and stand on its own. At a time when elections are half way through, and at a time when all forces, even diametrically opposite, are inhibiting development and uniting directly or indirectly, to harm BRS unethically, it is but natural that all forces that believe in Telangana Development unite to counter their strategy. And hence the need for political polarisation and reunification.
Chief Minister K Chandrashekhar Rao who spearheaded the massive second phase of separate Telangana Agitation, adhering to hundred percent Gandhian Principles, struggled incessantly for 14 long years, and finally, undertook fast unto death to accomplish the State. Frightened with KCR fast, and the likely adverse effect, Congress Party National Leadership, left with no alternative, except to concede the demand of KCR, formed the state on June 2, 2014. In the State Assembly Elections, BRS (Then TRS) contested on its own, won a majority of seats, and formed the government with KCR as first Chief Minister.
Over and above the promises made in the election manifesto, CM KCR and the government headed by him conceived and implemented umpteen welfare and development programmes. With that progress card, in the next Assembly Elections, KCR won hands down, registering a landslide victory and became CM for a second term. Many more welfare and development schemes were formulated and implemented to showcase 'Telangana Model' as the Role Model for the entire country. As and when either an occasion or a platform is available, or a chance to meet his cabinet colleagues, MPs, MLAs, MLCs, journalist friends, and others interested, at leisure from out of his busy schedule, CM KCR turns nostalgic reminiscing both phases of Agitation, and how despite its failure the first phase laid foundation for the second phase.
KCR sharing some of his personal experiences, on such occasions, emphasises the essentiality for political, ideological polarisation and reunification of like minded people, which is a matter of interest for many and also live evidence of contemporary history. Reading 'between the lines' of what he says then, will make one infer that, switching loyalty in favor of BRS need not be construed as 'cheap politics,' but invariably, for a great cause of 'ideological, political polarisation and reunification of political forces' drawn from a cross section. The strategy is for Sustenance, Steadiness and Stability of Telangana welfare and development, that have taken place during KCR's nine and half years' Governance. At a time when state Assembly Elections are midway, his words have a lot of relevance.
Mentioning that there were deep rooted conspiracies to stall the formation of Telangana State right from the first phase of Agitation led by M Channa Reddy, till formation of Telangana State on June 2, 2014, under his leadership, KCR said that spate of conspiracies continued even after formation. The purpose was to destabilise at every stage, the progressing and developing Telangana. And hence, it necessitated 'political reunification.' KCR all alone piloted the second phase of Agitation in 2001, but later, transformed it full-fledged, after some like minded friends joined him.
KCR told his followers that, in the Agitation led by him, there will not be slogans like 'Andhra go back.' His call was, what all we need in a separate State is 'Our Due share of waters, Funds, and Employment Opportunities.' KCR believed that if the entire Telangana Community stands by one word, nothing can prevent the state's formation. When the Agitation led by him progressed successfully, attempts were made to disrupt it in vain. A four-pronged strategy: dividing Telangana society, character assassination of leadership, spreading falsehoods through media, and crushing Agitation with power and authority was adopted. Undeterred, KCR went ahead leading the Agitation, firmly believing that, one day he would be absolutely successful.
According to KCR, who eventually achieved Telangana State, Dr Marri Channa Reddy was a great leader from Telangana and had taken 1969 Agitation to its zenith, laying strong foundation for second phase Agitation led by him. Though Indira Gandhi Congress Party swept 1971 polls in the rest of the country, Telangana Praja Samithi won 11 Lok Sabha seats out of 14. However, Channa Reddy's demand for conceding Separate Telangana State was bluntly denied by Indira Gandhi. Adversaries in Telangana who conspired with Andhra Congress Party Leaders blamed him.
Therefore, the conspiracies and unethical collusions that continued, from the beginning, including futile attempts to enforce President's rule, demanded for ideological reunification of all those who strongly believed in Telangana Existence and Development. And in right earnest and with all sincerity, in frequent intervals, and with determination to enable welfare and development of state to continue and accelerate, many returned to the BRS fold. Telangana State, which is all set to achieve Political, Social and Economic stability, under KCR Leadership, essentially needs 'Political and Ideological Polarisation and Reunification' for sustenance.
The writer is Chief Public Relations Officer to Chief Minister Telangana. Views expressed are personal