With efforts of govt, Punjab will shine like 'Kohinoor', says Bhagwant Mann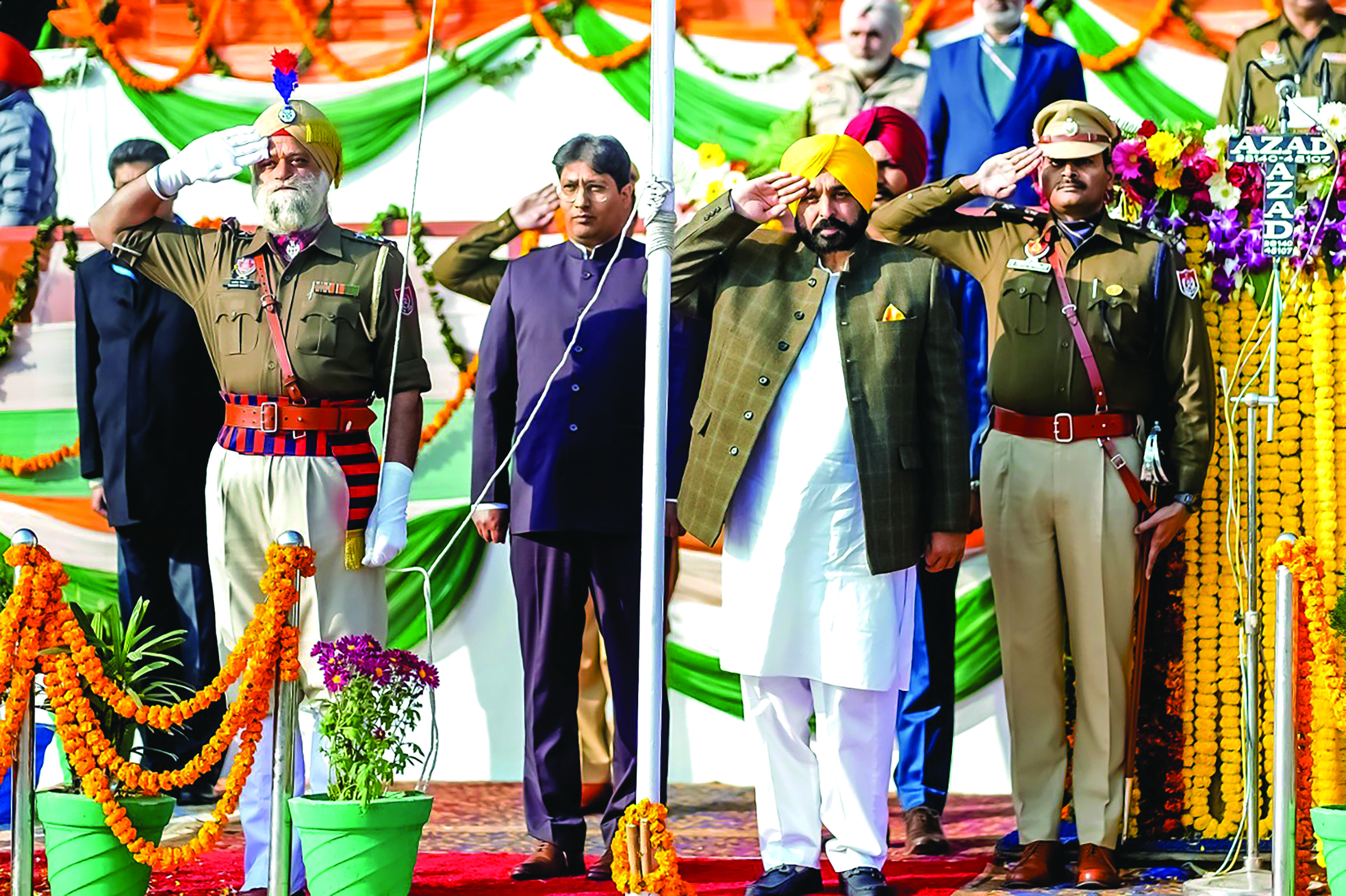 Chandigarh: The Punjab Chief Minister Bhagwant Mann on Thursday said that with the strenuous efforts of the state government, the state will shine like the precious 'Kohinoor' gem during the current year by witnessing a holistic development in every arena.

Addressing the gathering here after unfurling the national tricolor during a function to mark Republic Day at Shaheed Bhagat Singh Sports Stadium in Bathinda, the Chief Minister gave a clarion call to people to extend fulsome support and cooperation to the state government. He urged the Punjabis residing across the globe to help the state government in restoring the pristine glory of the state. Bhagwant Mann vowed to take Punjab to new heights adding that the state government is committed to carve out an egalitarian society that our great martyrs and national leaders had envisioned.
The Chief Minister also said that as a colony of the British Empire our country had suffered a lot but the brave and determined heroes of our freedom struggle made enormous sacrifices to remove the shackles of foreign imperialism. He said that is on record that more than 90% of the great patriots who laid down their lives or were subjected to British tyranny in one form or other were Punjabis. Bhagwant Mann said that a string of gems like Baba Ram Singh, Shaheed-e-Azam Bhagat Singh, Shaheed Rajguru, Shaheed Sukhdev, Lala Lajpat Rai, Shaheed Udham Singh, Kartar Singh Sarabha, Diwan Singh Kalepani and many others, shed their blood to achieve an independent nation for us.
The Chief Minister bemoaned that even 75 years after Independence the dreams of our freedom fighters and great national heroes like Shaheed-e-Azam Bhagat Singh and Baba Sahib Dr BR Ambedkar remain unfulfilled. He said that people had high hopes from the successive governments that assumed power in the state through the decades after independence but most served to dash these hopes because corruption, poverty, unemployment and many other ills are still deeply embedded in the state. Bhagwant Mann said that Aam Aadmi government which assumed the charge of the office early this year has come like a breath of fresh air into Punjab as it is committed to fulfil the aspirations of the people of the state.
The Chief Minister said that now the time has come when every Punjabi must come forward for making a 'Rangla Punjab'. He said that Punjab is a blessed land and now the time has come to resurrect it for ushering a new era of progress and prosperity. Bhagwant Mann said that this will help in reversing the trend of brain drain by opening new vistas for youth within the state.
The Chief Minister asserted that service of the state and its people is ultimate aim of his life. Bhagwant Mann said that god forbids if he ever indulges in favoritism to his family or relatives then it will be the day of his death warrant.