Welfare schemes, caste census in Cong manifesto for Rajasthan polls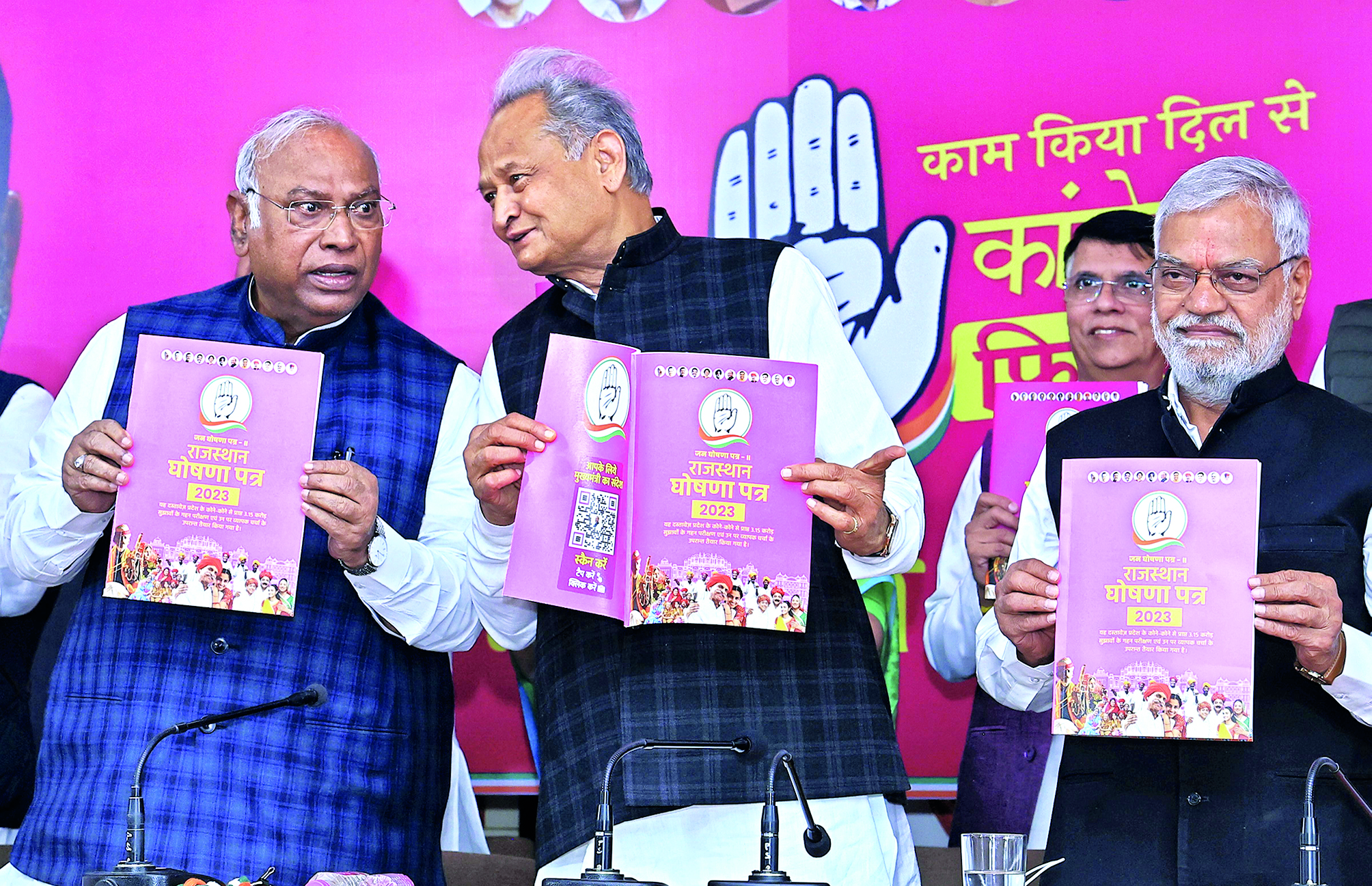 JAIPUR: The Congress on Tuesday released its manifesto for the Rajasthan Assembly polls, promising a caste survey and a slew of schemes for farmers and youth, including 10 lakh job opportunities, and a new scheme for recruitment at panchayat level.

Doubling the amount for beneficiaries under the Chiranjeevi Health Insurance scheme from Rs 25 lakh to Rs 50 lakh annually and interest-free loan up to Rs 5 lakh to small traders are among the other announcements made in the Congress manifesto for Rajasthan elections.
The party also promised reservation to minorities on the basis of their population after the caste census.
Congress president Mallikarjun Kharge, Chief Minister Ashok Gehlot, PCC chief Govind Singh Dotasra, chairman of the manifesto committee CP Joshi and former deputy CM Sachin Pilot jointly released the manifesto at the party office here.
Highlighting the salient points of the manifesto, Joshi said the Congress wants to create a cadre of Panchayati Raj like state and central services and a new policy for recruitment at the panchayat level will be brought. He said 10 lakh jobs will be created and four lakh among them will be in the government sector.
For farmers, interest-free loans up to Rs 2 lakh will be given from cooperative banks and MSP will be given as per the Swaminathan Commission's recommendations.
The party promised 150-day employment under MGNREGA in place of present 125 days annually, inclusion of taxi drivers in Gig Workers Act, Accountability and Auto Service Delivery Act for accountable and good governance, formation of inclusive policy think tank and monthly honorarium to Panchayati Raj public representatives.
The manifesto lists seven guarantees that have already been announced by Gehlot, which include an annual honorarium of Rs 10,000 to women head of family, LPG cylinders for Rs 500 to 1.05 crore families, purchase of dung from cattle rearers for Rs 2 per kg, law for old pension scheme (OPS) for government employees, laptop or tablet to students taking admission in government colleges, insurance cover up to Rs 15 lakh per family to compensate losses due to natural calamities and school education in English medium.
Accusing the Prime Minister and BJP of lacking in commitment, Kharge said despite the fact that Modi was the chief minister of Gujarat for over 13 years and is the Prime Minister for the last nine years, there are many "shortcomings" in Gujarat even today and the reason is "lack of commitment".
Gehlot said Rajasthan has progressed in the last five years and stands at number two in the country and first in north India in terms of economic growth.The economy of Rajasthan will be Rs 15 lakh crore by the end of this year and the target has been set to take it to Rs 30 lakh crore by 2030, he said.
He said the per capita income in Rajasthan has increased while the sectors like manufacturing have also seen growth under the Congress rule.
Rajasthan is going to polls on November 25 and results will be declared on
December 3.