TMC manifesto: 3 lakh jobs, double GDP size in next 5 years for Meghalaya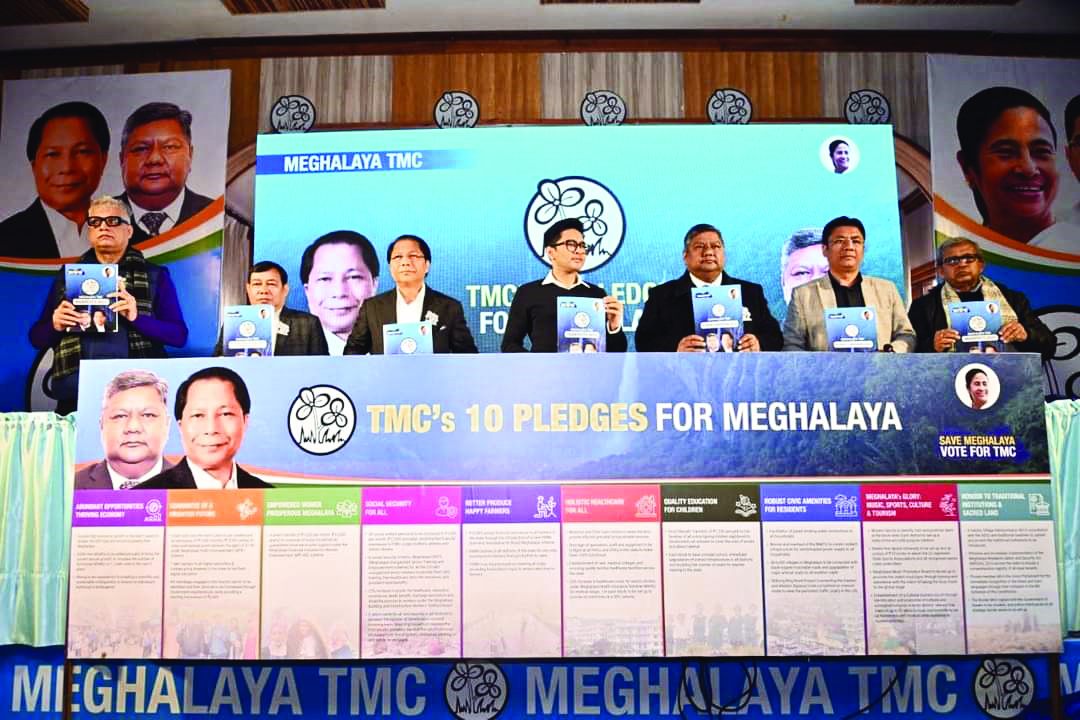 Kolkata: Meghalaya will be ruled by the people of Garo, Khasi and Jaintia Hills while Trinamool Congress (TMC) will ensure the citizens of the state get what they have been deprived of by the incumbent state government, assured TMC national general secretary Abhishek Banerjee while releasing the party's election manifesto for the state that declares 10 pledges for development.

Abhishek said: "TMC is the only party in Meghalaya's political fray that released a manifesto. The irony is that the party and the people that labelled TMC as outsiders in Meghalaya are yet to come up with their manifesto, the vision document. This proves that they neither have any vision nor mission for Meghalaya."
He emphasised: "In our manifesto, we did not make promises but pledges. We pledge to ensure that we will strive to implement all the plans for development till the last drop of blood is left in us."
For development, Abhishek said the state will witness a double GDP in the next five years. About 4000 new MSMEs will be created every year while the number of functional MSMEs will be augmented to 1.3 lakh units in the next 5 years. He also promised a scientific and sustainable mining policy.
The Meghalaya Youth Empowerment Scheme will create 3 lakh jobs in the next 5 years. A monthly allowance of Rs 1000 will be provided to all unemployed youths in the age group 21-40. Additionally, one lakh laptops will be provided to all higher secondary and college students. Individuals engaged in the Meghalaya tourism sector will get government job cards with a monthly allowance of Rs 2500.
Abhishek added that a direct transfer of Rs 1000 monthly to a woman of every household has been guaranteed. Social welfare pension will be increased to Rs 1000 per month. Under Meghalaya Unorganized Sector Training & Unemployment Scheme, about 2.8 lakh unorganized sector workers will be provided skill training, free healthcare, insurance and provident fund benefits.
There is a 25 per cent increase in grants for healthcare, education, assistance, death benefit, marriage and disability pension for workers, he said. Further e-ration cards will be made available.
For farmers, there is Rs 10,000 annual financial assistance through the introduction of a new FARM (Farmer's Assistance for Rural Meghalaya) scheme. Maternal and child care centres will be set up in all blocks, besides the establishment of medical colleges and quality tertiary healthcare facilities. There will be a 25 per cent increase in healthcare coverage for senior citizens under the Meghalaya Health Insurance scheme. About 60 medical shops will be set up in each block to provide medicines at a 20 per cent subsidy.
There will be direct benefit transfers of Rs 1200 annually to families of schoolchildren in government schools. Each block will have model schools. All 6459 villages will be connected with motorable roads and the Shillong Ring Road project will be accelerated.
A holistic Village Administration Bill will be passed for protecting the traditional institutions. There will be the immediate implementation of the Meghalaya Residents Safety and Security Act, 2016 to ensure the registry of all legal tenants while the Border MoU with Assam will be revoked, Abhishek highlighted.
There will also be state-of-the-art multipurpose stadiums in each district. Meghalaya Music Promotion Board will also be set up. Interest-free loans up to Rs two lakhs will be provided to local communities to set up homestays.
The opposition leader of the state, Mukul Sangma, said: "People have recognised and acknowledged TMC as the only alternative which can respond to the needs of the people. We want to see a change. We cannot allow the state to be in the hands of self-centred, anti-people politicians."