Rahul defends 'democracy under attack' remark at Parl panel meet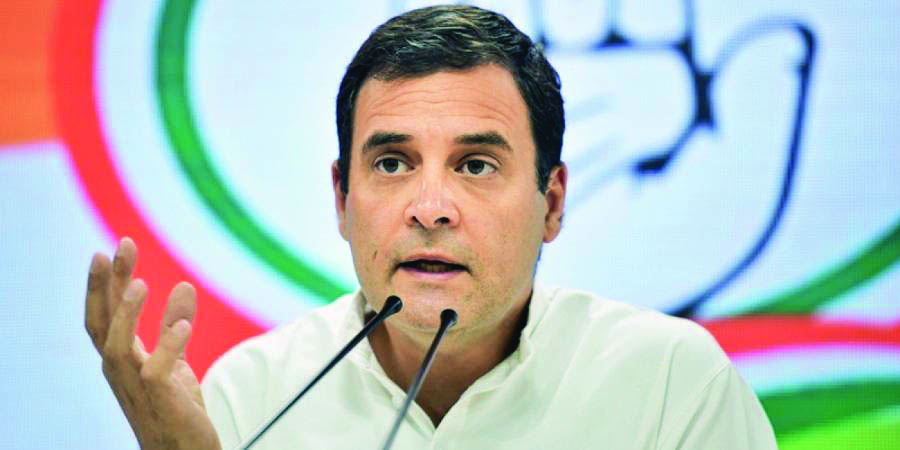 new delhi: Amid BJP's insistence for an apology over his "democracy under attack" remark in the UK, Congress leader Rahul Gandhi on Saturday defended it at a parliamentary panel meet, saying he never sought any foreign intervention over the issue.

Gandhi further reiterated his position that India's democracy was "under attack" and "this was known" to all. He is learnt to have said at the meeting of the Parliamentary Consultative Committee of External Affairs that he cannot be dubbed as "anti-national" for his remarks.
The Congress MP's remarks were made at a meeting of the Ministry of External Affairs consultative committee, which saw acrimonious exchanges after BJP members questioned Gandhi's UK remarks, without naming him, the sources said. The exchanges marred the meeting where the principal agenda was India's G-20 presidency, with Congress MP Shashi Tharoor tweeting, "A good meeting of the Consultative Committee on External Affairs today on India's foreign policy objectives in the G-20 was somewhat marred by some members needlessly politicising the discussion. Rahul Gandhi robustly responded to them and it ended with an amicable group photograph."
Tharoor also tweeted the picture of panel members with External Affairs Minister S Jaishankar. At the meeting, BJP MP G V L Narasimha Rao is learnt to have said that India is the "mother of democracy but concerted efforts were underway to undermine the country".
Rao cited the "Hindenburg report on industrialist Gautam Adani; the recent remarks by George Soros about a government change in India and the BBC documentary" to make his point. Rao also said, "Some people have spoken things...but the real blot on Indian democracy was the Emergency."
According to the sources, later one more BJP MP questioned Gandhi's UK remarks without naming him, while Priyanka Chaturvedi of Shiv Sena (Uddhav Thackeray) argued that Indian democracy, strong as it is, "should not get deterred by random comments of people or some documentary."
After everyone had spoken following a presentation on G-20 by the foreign secretary (where Gandhi did not offer any comments), the former Congress chief intervened and said he wanted to respond since BJP members had spoken about him. At this point, Gandhi said "attack on India's democracy was evident", but added that he never sought any foreign intervention in the matter. The sources said Jaishankar, chair of the meeting, urged Gandhi to reserve his remarks on the subject for the Parliament, but the latter insisted on his right to respond and is learnt to have asked whether or not the "ED was targeting opposition leaders only."
Nominated BJP MP Mahesh Jethmalani intervened and said Gandhi should not bring his "personal angst into a meeting meant to discuss G20", the sources said.
Gandhi is, however, said to have argued that it was the BJP MPs who veered from the main topic, which was why he needed to reply.