'Congress's anti-Dalit, anti-women face exposed with not giving them responsibility to lead Yatra'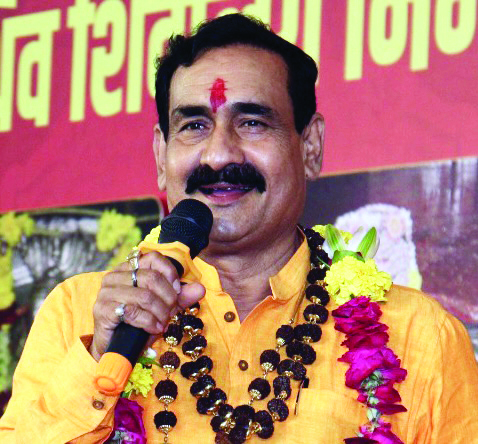 BHOPAL: Madhya Pradesh Home Minister Dr Narottam Mishra on Monday accused Congress, saying that its anti-Dalit and anti-women face was exposed as no one leader of these categories has been given responsibility for the party's Jan Akrosh Yatra (JAY).

Interacting with presspersons at his official residence in Bhopal, Dr Mishra said that the Congress is upset due to the grand success of BJP's ongoing Jan Ashirwad Yatra, the Congress is copying his party's strategy ahead of the Assembly polls and has planned to take out the JAY.
The Assembly polls are due in November this year in the state.
"Congress's anti-Dalit and anti-women face has been exposed once again as neither a women leader nor Dalit leader has been given the responsibility to lead the yatra.
Even their photos have not been taken in the poster hung while announcing the Yatra", Dr Mishra told Millennium Post.
Congress has given the responsibility to lead taking out the Yatra to the leader of the opposition, Govind Singh, former state Congress chief Arun Yadav, ex-ministers Kamleshwar Patel, Jitu Patwari, and Ajay Singh and former Union ministers Suresh Panchouri and Kantilal Bhuria.
"Due to huge public support for the BJP's Jan Ashirwad Yatra, the Congress is nervous and is going to take out the JAY. Anger against Congress is increasing among the people and they have decided to teach a lesson in the upcoming elections", the Minister said. Congress has never paid respect to women and Dalits, he accused the grand old party.
Cornering the Congress over its theme songs of the JAY, Narottam Mishra said that Chalo-Chalo (go-go) has been taken from Pakistan, it shows affection for Pakistan of the Congress.
Mishra attacked the grand old party, saying that the Congress is anti-Sanatan Dharma so they are following the Pakistani culture. "It was because of Kamal Nath's moves that the Congress government and its credibility has been lost in the state.
The people of the state are ready to say 'Chalo-Chalo' to the Congress in the upcoming Assembly polls", Mishra also said.
Congress will take out a 15-day-long Jan Aakrosh Yatra from September 19 from seven places in Madhya Pradesh covering 11,400 kilometres across all 230 Assembly segments in the state highlighting the rampant corruption and failure to tackle unemployment and crime against women and Dalits, under the Shivraj Singh Chouhan-led BJP government.
The BJP has already rolled out Jan Ashirward Yatra to seek the blessings of the people.
The Yatras, being taken out from various places, will culminate in Bhopal on September 25. Prime Minister Narendra Modi is likely to address a mega gathering of BJP workers on
the occasion.