CM Khattar fulfils Jan Samvad promise; high schools to be upgraded to senior secondary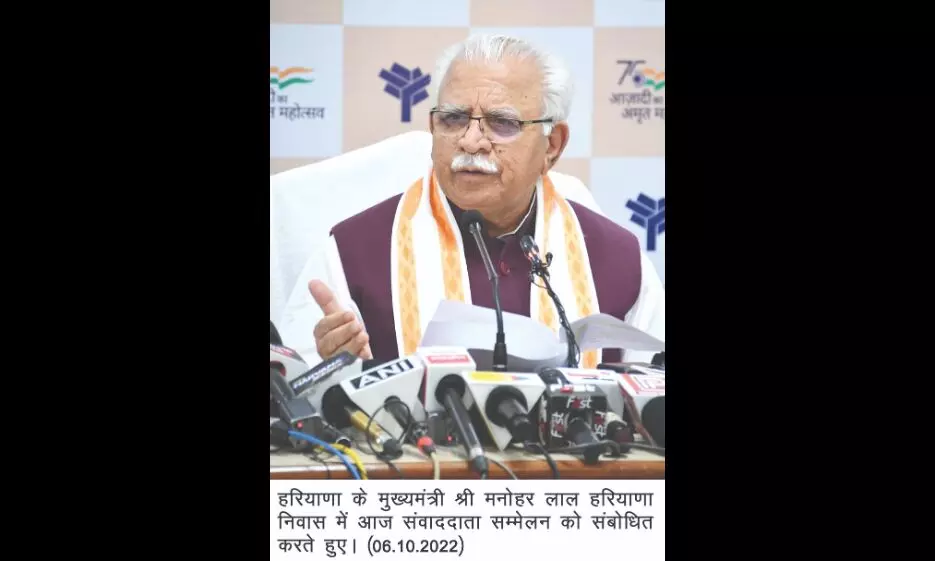 Chandigarh: Fulfilling the Sirsa Jan Samvad announcement, Haryana Chief Minister Manohar Lal Khattar has accorded approval to upgrade 113 high schools across the state to senior secondary schools. After the upgradation of these schools in the first phase by giving exemption/relaxation in the rules by the state government; other schools will also be upgraded in a phased manner.

Giving information in this regard, an official spokesperson said that all such schools across the state which comprise 80 or more students in classes 9th and 10th, with one acre or more land being available and the nearest senior secondary school being at a distance of 3 kilometres or more; will
be upgraded.
The spokesperson said that as per the National Education Policy 2020, the schools will be upgraded to ensure universal access and availability of education for all students up to class 12th. A total of 113 high schools in 64 blocks of 20 districts will be upgraded to senior secondary schools.
The spokesperson said that with the efforts of the Chief Minister, schools under the Pradhan Mantri Schools for Rising India (PM-SHRI) scheme will be established in the state to raise the level of education. PM-SHRI is a centrally sponsored scheme for the development of schools, which are envisaged as model schools; meeting the needs of 21st-century education.
Two schools (one senior secondary school and one primary school) will be opened in every block across the state and they will be developed as PM-SHRI Model Sanskriti School.
Chief Minister Khattar, on the second day of his Jan Samvad programme, presented tablets to girl students who excelled in board examinations at Mahendragarh's Nangal Choudhary block.
The Chief Minister presented the tablets to students Antima, who recently passed the Class 10th examination with 97.2 per cent marks and Sushma, who scored 97.2 per cent marks in the Class 12th examination of Aarohi Model School, Mandhana. Similarly, a student of government senior secondary school, Ganwari Jat village, Jagriti with 94.60 per cent, GSSS Mukundpura student, Mona with 95.40 per cent and GSSS Mandola student, Kusum with 95.40 per cent also given tablets.
Extending best wishes to the meritorious girl students for their bright future, the Chief Minister encouraged them to keep moving forward in life. During the programme, the Chief Minister also released the book Gita Doha Chhand written by Sumer Singh Yadav.
During the programme, the Chief Minister extended wishes to three youngsters on their birthdays, Mayank, Annu, and Ompal, and presented them with presents. Apart from this, he also congratulated and encouraged six students, Manish, Deepak, Parikshit, Anshul, Babli, and Sapna, who excelled in class 10th and 12th board exams.
The Chief Minister announced that a gymnasium would be built on 2 acres of land in the village and a pipeline would be laid to Krishnavati River to drain water from the village pond.
The Chief Minister also announced to give status of sub-tehsil to Mahendragarh's Sihma village.
He said that e-tendering system will prove to be the foundation stone for the development of villages.