South Bengal receives unseasonal rain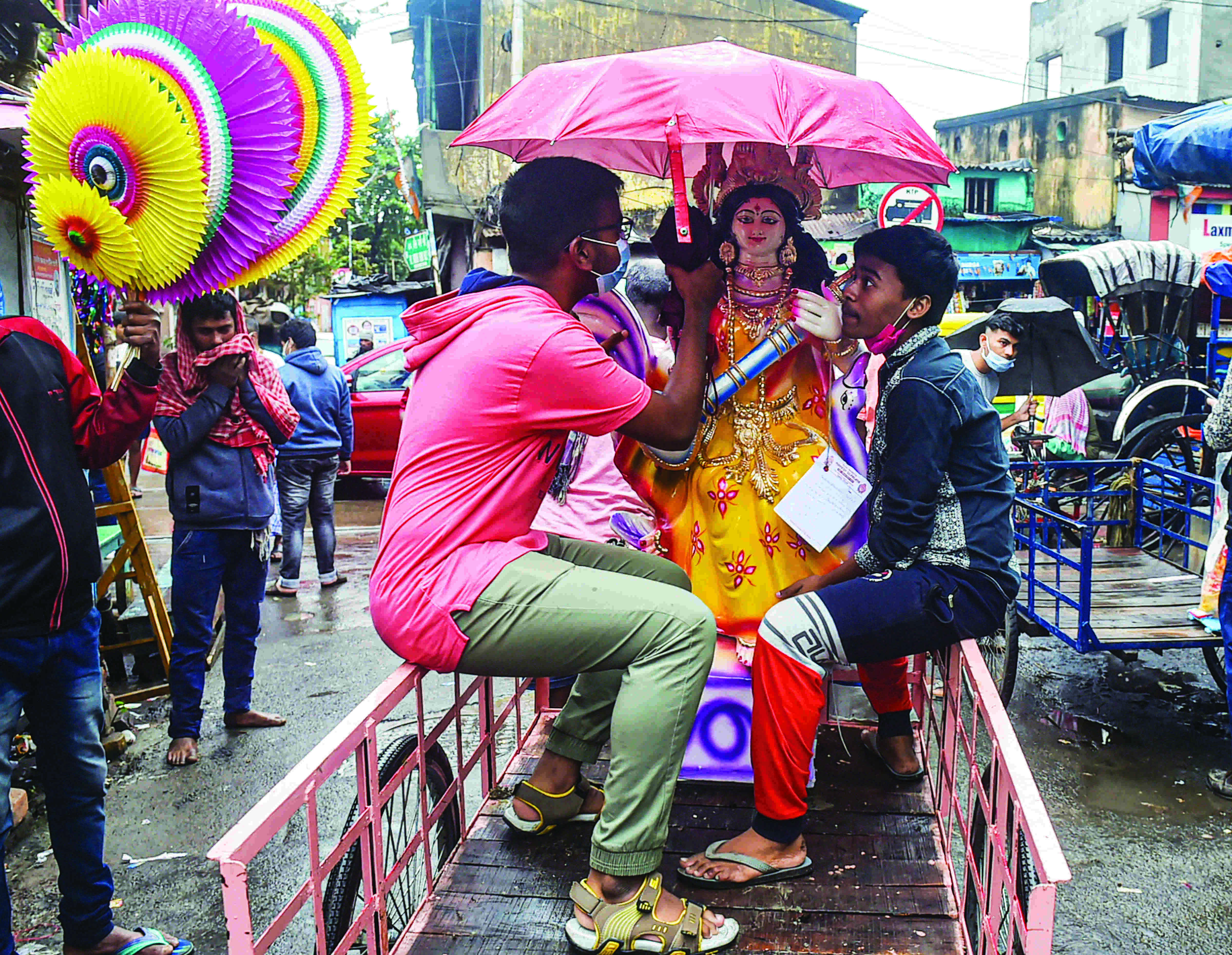 Kolkata: Life in Kolkata was thrown out of gear on the eve of Saraswati Puja as rain lashed several parts of South Bengal from early morning. In some places in the city and suburbs, incidents of water-logging occurred and accumulated water receded as the day progressed. A middle-aged man in Birbhum died after being struck by lightning.

The Regional Meteorological Centre in Alipore predicted that the intensity of rainfall will be reduced from Saturday while it will intensify further in the next 24 hours in case of North Bengal. The MeT office had earlier predicted that there may be rainfall in Kolkata on the day of Saraswati Puja. As per the weather office prediction, some pockets in North Bengal will receive heavy to very heavy rainfall along with hailstorm on Saturday.
"In case of South Bengal, Nadia, Murshidabad, Birbhum, West Burdwan, East Burdwan and Bankura will receive more rainfall. There will be no major changes in the temperature in North and South Bengal in the next two days. Mercury may start going down after February 6 by few notches," a weather official said.
The city registered its lowest temperature at 19.8 degree Celsius which was 4 degrees above normal. The city and various other South Bengal districts received spells of rainfall throughout the day.
A middle-aged man, identified as Sadhin Kumar Roy (49), a resident of Sainthia in Birbhum, died after being struck by lightning. The incident took place on Friday morning when the victim was brushing his teeth in the courtyard. He was struck by lightning and was declared dead at a Sainthia state general hospital.
The city received 23 mm rainfall in 3 hours from 8 am while Salt Lake received 7 mm rainfall. Digha registered 27 mm rainfall in the morning. Several parts of both South and North Bengal districts witnessed thundershowers and lightning on Friday morning. Most of the North Bengal districts started receiving moderate to heavy rainfall from Thursday night.
Incidentally, the mercury had started rising both during day time and night in the state with various South Bengal districts, including the city witnessing morning smog, which the doctors warned may trigger respiratory distress among patients having related issues especially during this Covid situation.
Temperature during night time has been hovering around 18-19 degree Celsius for the past two days while the temperature during day time remains around 27-28 degree Celsius. The MeT office said the untimely rain is caused due to a clash between the western disturbance and easterly wind.
Most South Bengal districts will witness fog in the morning in the next two days. The health experts have pointed out that air quality in the city is bad during early morning hours. A combination of smog and poor air can trigger major respiratory issues, said the doctors.