Is allowing foreign universities in India the way forward?
While the foreign varsities in the country can offer high-quality education, it is integral to ensure these institutions can operate with Indian counterparts on a level playing field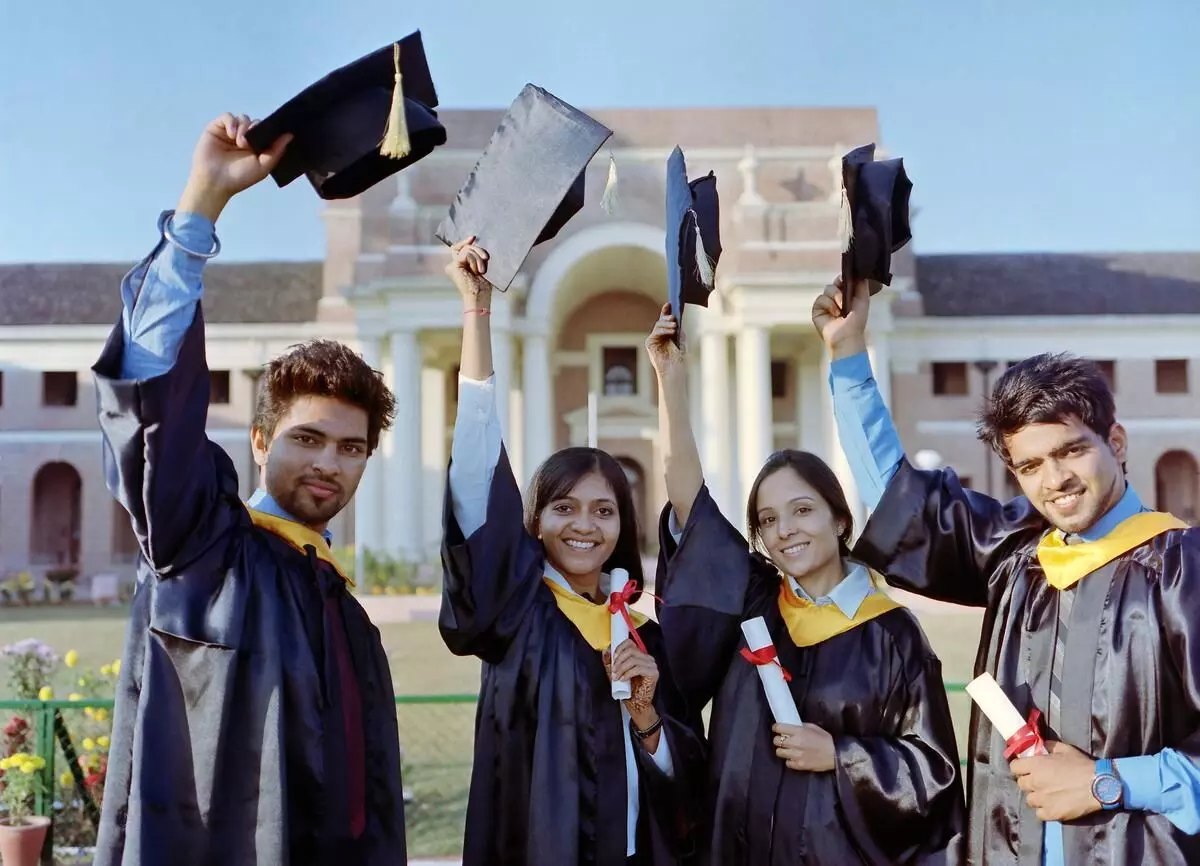 It was Aritra Mazumdar's long-cherished dream to pursue Comparative Literature at Harvard University. However, given his father's meagre job at a Kolkata law firm, Aritra's dream never matured. There are thousands of Indian students like Aritra, who dream of going overseas for high-quality higher education every day. But studying abroad can be extremely expensive, with tuition fees, living expenses, and travel costs adding up to a significant amount. Many Indian families may not have the financial resources to fund an overseas education. But then, the University Grants Commission (UGC) drafted norms to facilitate the "Setting Up and Operation of Campuses of Foreign Higher Educational Institutions in India". So, you might find Harvard, Oxford and Yale setting up campuses in India soon.
According to the draft regulations, these universities cannot provide any programme of study "which jeopardises the national interest of India" and should ensure that their operations are not "contrary to the sovereignty and integrity of India, the security of the state, friendly relations with foreign states, public order, decency, or morality".
The arrival of foreign institutions will expose Indian students to a globally recognised curriculum, and state-of-the-art infrastructure. Also, these universities will provide Indian students with a diverse range of academic programmes and courses to choose from, which will broaden their perspective and lead to an overall improvement in the quality of education in India.
"In the 21st century, education is complete only when we can bring the best of both worlds together. There are two ways of providing this exposure — one is to bring world-class learning and western pedagogy to Indian education e.g. how Early Steps Academy has brought the famous case study-based learning, pioneered at Harvard, to young school children globally. The other way is to establish campuses of foreign universities in India to provide a taste of 'globalisation' to learners," said Sneha Biswas, founder and CEO, Early Steps Academy.
Rohit Sethi, director of ESS Global, told Millennium Post that the success of these ventures will depend on several factors, including the "quality of the programmes offered, the calibre of faculty members, the availability of resources, and the extent to which the campuses are integrated into the larger academic community."
"Being a director of a study abroad consultancy, I feel that simply setting up a campus in India does not guarantee quality education or exposure. The success of the campus will depend on the quality of faculty, curriculum, and resources provided to students. Additionally, the cultural environment of the campus and how it integrates with the local community can also affect the educational experience of students. It is important to carefully evaluate each institution to determine the quality of education and opportunities for exposure that it offers," he said.
Jadavpur University Vice-Chancellor Suranjan Das reminds us about the guidelines in the UGC draft, which mentions that these foreign institutions can decide their fee structure, and admission process, and will also be able to repatriate funds to their parent campuses. "In such a case, it is necessary to ensure that foreign universities can operate with their Indian counterparts on a level playing field. There need not be a situation where there's one set of laws for foreign universities and another for home universities," he said.
According to Das, the Indian government needs to ensure that foreign universities do not restrict themselves to "market-oriented and demand-driven professional and technical disciplines". "They should also be made to participate in teaching-learning processes in humanities and social sciences. This is required since the NEP 2020 rightly stresses imparting holistic knowledge," said Das.
Satyam Roychowdhury, Chancellor of Sister Nivedita University (SNU), Kolkata, said internationalisation of higher education in India is of utmost importance in today's globalised world. "Sharing classrooms and campus with students from different nationalities promotes openness and sensitivity towards inter-cultural differences, develops foreign language skills and builds an ambience of acceptance and tolerance among the students," he said.
While the entry of foreign universities can lead to increased competition among domestic and foreign universities thus pushing innovation, improved teaching practices, enhance research opportunities, faculty development, and robust collaborations, there is still doubt on accessibility, cultural clash and loss of talent and identity of the students.
In fact, a section of educationists worries that the establishment of foreign universities may increase the cost of education in India, making it more expensive for students. "Today many young people aspire to go out of the country to study. Establishing foreign university campuses in India will reduce inequality as the cost to study at these places might be higher than the state-funded institutions, but would be far less than traveling and living in a foreign country for the same access. However, inequality still will exist — between access to cheaper universities in India and these foreign campuses. So, one of the biggest challenges in education is to make sure that access to good quality learning is not limited to a select few who already have better opportunities than others," said Biswas of Early Steps Academy.
Das welcomed the UGC regulations concerning the operation of foreign campuses in the country and called it a 'bold and welcome step', but he also highlighted that foreign universities should be encouraged to go beyond the metro cities or developed cities in India. "Access to foreign courses and foreign campuses should be such that students across caste, class and gender can take advantage of the internationalisation of higher education. Otherwise, we will be creating a social divide among the student population, which again will be going against the spirit of NEP 2020," said the JU V-C.
There is also a risk that the establishment of foreign campuses in India can put private universities or state-funded institutions at a serious disadvantage.
"The entry of foreign universities in India may have an impact on private and state-funded institutions. It is also important to consider the impact of foreign universities on access to education. If foreign universities primarily cater to the elite and wealthy students who can afford high tuition fees, this could deepen existing inequalities in the education system. However, if these universities offer need-based financial aid and scholarships to students from diverse backgrounds, they can contribute to a more inclusive and equitable education system in India," said Sethi, director of a study abroad consultancy firm in Gurugram.
The JU V-C even added that the mere establishment of a foreign campus will not automatically "ensure the implementation of the best practices of that foreign university". "What we need is to imbibe the entire academic climate, which has been developed by world-class universities through ages," he said, not ruling out the danger of having two different modes of pedagogy and teaching in India after the entry of foreign institutions.
"The UGC deserves credit for setting the ball rolling, but we need to ensure the ball rolls in the right direction," said Das.