Digital marketing: Making it click
The rise of digital marketing is not a coincidence but a reflection of the changing times we live in. As we spend more time on our mobiles, laptops and tablets, a transformation of marketing is underway and the challenge for brands to connect with customers through all these devices in real-time is growing with each passing day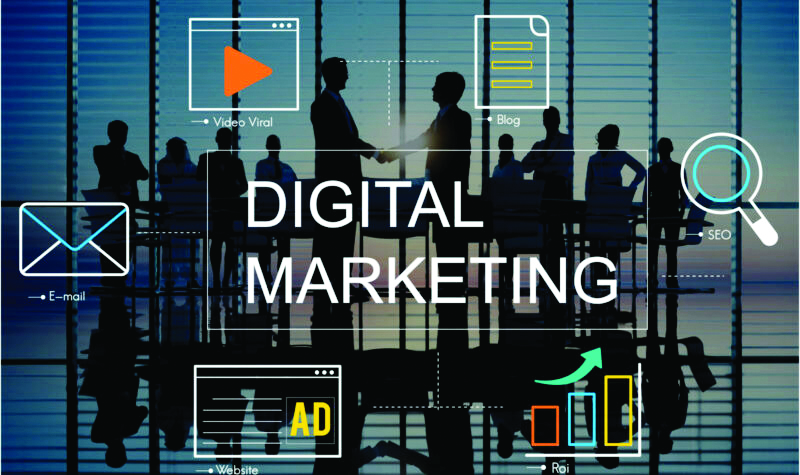 Nazia Khan was happy working with a national daily when Covid-19 struck. She eventually lost her job despite being excellent with content creation and ideation. Her friend Poonam suggested she try freelance content marketing. Today, Nazia works for a reputed digital marketing firm in Noida and is responsible for planning, developing, and implementing strategies for various brands. If you are good with words and have a basic understanding of marketing, then content marketing is a lucrative option.
In today's world, if your business or brand doesn't have a digital presence, then you might lose big time to your competitors. With SEO, PPC and social media posts, you can attract a target audience to your brand and make a connection with your audience personally. Given the widespread use of the Internet and social media, more people are spending their time online, making it necessary for businesses to reach their target audience. This is where digital marketing comes into play and that's why digital marketing is one of the top skills to acquire in today's world. Whether you are a digital marketing manager, executive, social media marketer, or analytics manager, you can work remotely and earn attractive perks.
"Marketing has always been in demand from Adam's age. What has changed is its form. The digital format allows precise targeting, accurate data analysis and informed decision-making, which saves time, and money and hence leads to improvement of ROI. No wonder, digital marketing is turning out to be a good career option," said Santanu Mukherjee, director, Emerge Digital (a JV of INT, Kolkata).
Digital marketing not only allows businesses to target their audience more effectively with advanced tools like social media advertising and Google Ads, but it also provides measurable results, allowing brands to track the success of their campaigns. In fact, SEO is one of the key areas of digital marketing and an SEO specialist can help to improve the website's search engine ranking.
"Digital marketers should have a strong foundation in marketing principles, including an understanding of the target audience, messaging, and branding. They should also possess analytical skills to measure campaign performance, identify trends, and adjust strategies accordingly. Familiarity with a variety of digital channels, including social media, email, SEO, and PPC advertising is essential. Additionally, staying up-to-date with industry trends, adapting to new technologies and platforms, and having a creative mindset are important skills for a digital marketer," said Dr Aman Mittal, vice-president, LPU.
Digital marketers perform a wide range of functions in an organisation such as digital marketing analyst, social media manager, SEO specialist, PPC specialist, content marketing manager, and conversion rate improvement expert.
Mukherjee believes digital marketing is a multi-skill domain. "You can be a paid marketing expert by enhancing your PPC knowledge. You can be an SEO consultant who will help client websites to rank higher on search engines or a social media hero who will improve brand recall on digital platforms. You can also be a conversion rate improvement expert, who will add value to the campaign plan and web UI/UX to improve ROI. Finally, with all your knowledge and experience you can be a digital marketing strategist and consultant," said the Kolkata-based digital adviser.
Swati Ganeti, director, undergraduate programme, Masters' Union, mentioned that it is important for students to stay agile and adapt to the changing digital landscape. "We understand the importance of staying ahead of the curve in the digital marketing landscape. We know our students may come from non-tech backgrounds, so we offer a holistic curriculum taught by industry leaders that ensures our students have the right skills they need to succeed in the ever-evolving world of digital marketing," she said.
Reports suggest that the global digital advertising and marketing market is estimated to grow from $350 billion in 2020 to $786.2 billion by 2026. So, one needs to be skilled and efficient to enter the in-demand digital marketing world. A creative bent of mind, excellent communication skills, a knack for data and the ability to adapt to changing trends and technologies give a candidate an edge in digital marketing.
"A solid understanding of SEO, social media, email marketing, and other digital channels is also crucial. But ultimately, the key to success in digital marketing is a passion for continuous learning and a willingness to experiment and take risks in pursuit of achieving your marketing goals," said Ganeti.
Today, universities and institutions are offering recognised degrees in digital marketing. One can also opt for certified digital marketing courses online. With the proliferation of technology, our world has become more interconnected than ever before and experienced digital marketers are being recruited by top firms to take the brands to the next level.
"In the next five years, we can expect digital marketing to become even more data-driven and personalised. With advancements in machine learning and AI, marketers will be able to analyse vast amounts of customer data to understand their behaviour, preferences, and needs. This will enable them to create more targeted and relevant campaigns that are tailored to individual customers. We can also expect to see an increase in the use of voice search and virtual assistants, which will require marketers to optimise their content for these platforms. Additionally, the rise of new technologies like 5G, augmented reality (AR), and virtual reality (VR) will provide new opportunities for marketers to engage with consumers in innovative ways," said Dr Mittal.