Amit Kumar Unplugged – The man who was never serious in his life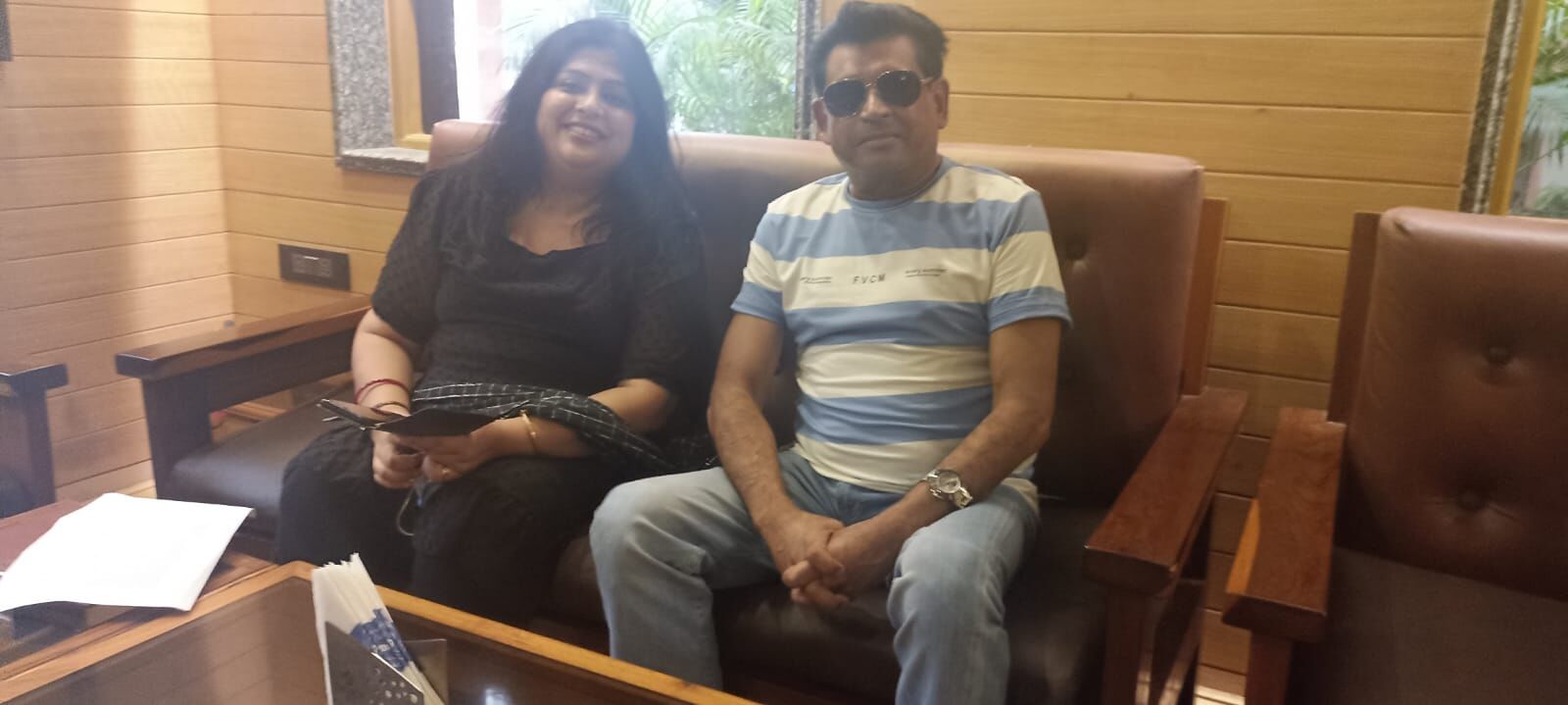 "There was a movie directed by Alfred Hichkok, The Man who knew too much. Similarly, The Man who was never serious in life is me ", such was the way Amit Kumar , the ace singer and scion of legendary singer Kishore Kumar , loved to script the journey of his life. The talented singer and composer turned the audience at Calcutta Rowing Club nostalgic with his popular songs and those of Kishore Kumar and transported them back to the period of 80s and early 90s. Calcutta Rowing club , one of the oldest social club in Kolkata , played host to the magical evening of the auspicious Paila Baisakh. The charismatic singer enthralled a huge crowd and demystified his character, life and ambition in an exclusive tête-à-tête with the Millennium Post on the eve of Bengali New year in a candid mood at the Calcutta Rowing Club.
The romantic voice that became synonymous with Kumar Gaurav in 80s , captivated millions in India for over two decades. He lent his voice for over 200 films. His association with Kumar Gaurav belted out many hit songs from films such Romance, Teri Kasam , Lovers , All-rounder and tele film Janam. He was arguably the second most popular playback singer in his time after Kishore Kumar. Besides Kumar Gaurav , Amit Kumar sang for a host of heroes ranging from Amitabh bacchan, Randhir Kapoor, Mithun Chakraborty, Anil Kapoor. The song Bari Achche lagte hain composed by R D Burman earned him national fame- The song was named the 26th most popular film songs of 1977 by the then-popular radio show Binaca Geetmala by Amin Sayani. His playful rendition of Laila o Laila from the popular flick Qurbani was an all-time favourite too.
Kumar also collaborated with another fresh talent from the 1990s, Jatin–Lalit, who had Amit Kumar croon numbers in several films such as Paandav (1995), Silsila Hai Pyar Ka, Kabhi Haan Kabhi Naa and Kabhi Khushi Kabhie Gham.... He even worked with Ilaiyaraaja for the song "Yeh Gulabi Shaam Ka Nasha", a duet with Asha from the film Mera Farz (1988). In 1996, his duet with Asha Bhosle in the film Sapoot – "Kajal Kajal Teri Ankhon Ka", composed by Anu Malik became popular.
During his long career spanning over two and half decades , He sang for legendary music directors like R D Burman, Bappli Lahiri as well as Anand Milind, Jatin Lalit and Pritam. However he sang maximum songs - over 170 songs composed by R D Burman .
When asked whether R D Burman is his favourite music director or not , He took us by surpise by saying that he never indulged in any favouritism . " R D Burman was the first person who guided me after my father. He revolutionized the whole music system. He was a genius and had no air of pride around him . He was one of the greatest music directors of all times and with all due respect to other music composers , I can say this', quipped the 68 year old singer and composer. " I have worked with many music directors and I tried to work honestly. - I have heard all genres of music from the day I started realizing this is music. I appreciated all and criticized as well", admitted Kumar candidly.
However he left the film industry in his heydays after the demise of R D Burman . It was heard that he was not satisfied with the predominant quality of film music that time. However when asked, he avoided the question and remained silent.
A self confessed happy go lucky human by nature , Amit Kumar turned philosophical in a free wheeling conversation giving his opinion on the ephemeral lifespan of a singer in music world. The veteran composer feels that life is a cycle and every singer has his own time . "Like life, everyone is bound to leave the music world once. " I like Frank Sinatra and but they had their time , now it is the time of Britney spear and she is also becoming obsolete . one can not expect to rule the world.". He feels that Kishore Kumar also will go into oblivion after a span of five hundred years. However he was a rare personality – he was the rare combination of too many in one".
Admirers of the noted singer strongly believe that some qualities of the legendary Kishore Kumar were inherited by his scion too. Amit was only thirteen years old when he recorded the song 'Main Ek Panchhi Matwala Re' for 'Door Ka Rahi' under his father's baton. Of Late he came up with an unplugged cover version of his father Kishore Kumar's song on his birth anniversary. He has already released the cover version of his own popular Hindi film songs like Bade Achhe Lagte Hai, Roz Roz Ankhon Tale, Yaad Aa Rahi Hai and so on..
The veteran singer now loves to focus on composing songs for his you tube channel and the Kumar brothers music. " My you tube channel has now 1.75 lakh subscribers, nothing compared to other great singers but I am happy and I can not live without composing" Amit Kumar is also releasing a song on the Bengali new year today in Kolkata
" I feel on top of the world while composing my songs for my you tube channel at my rooftop room". However he strongly rejects the possibility of turning the music composer for films . "I cannot allow my songs to go corrupt by any music director in film", quipped Amit Kumar.
As a singer Amit Kumar has inherited his musical talent from his both his parents Kishore Kumar and Ruma Guhathakurta , Howerver his mother was more friendly than his father. " Baba was more technical and he wanted me to be the best singer in the world. He used to admit to my cousin about the magic in my voice and my unique style of singing . Unfortunately I could not reach that pinnacle for whatever be the reason",repented the good looking singer who also acted in many films and one Bengali film.
Amit Kumar the recluse however has created lasting impressions in the hearts of lakhs of his admirers in his unique style of singing. His romantic voice and the melodious duets he crooned with Legendary Lata Mangeshkar would be cherished by music lovers for all the time to come. He would love to live the way he leads his life - "happy go lucky and contented" in his own words. " My baba said I was never serious in life. I could not be serious in life. I took life too casually. I have never taken music also seriously. But that's the way I am. I love to live for my passion as a composer. I sing for myself. I would like to be known like this when I would leave this world", signed off the evergreen singer.