'Won't interfere with firecracker ban in Delhi, people's health important'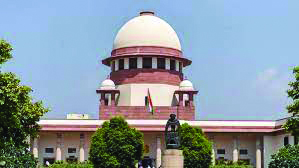 The Supreme Court on Wednesday refused to interfere with the Delhi government's order putting a comprehensive ban on manufacturing, storage, sale and bursting of firecrackers in the city, saying people's health is important.
BJP Lok Sabha member Manoj Tiwari told a bench of justices AS Bopanna and MM Sundresh that a complete ban was imposed on firecrackers despite the court allowing bursting of green firecrackers.
"No, we are not going to interfere. Where the government has banned firecrackers, it means complete ban. People's health is important. If you want to burst firecrackers, go to states where there is no ban," the bench told advocate Shashank Shekhar Jha, appearing for Tiwari.
The counsel said his client being an MP was responsible towards his constituency and the court has itself allowed bursting of green firecrackers.
"People burst firecrackers during wedding and victory processions after elections, then why can't they be allowed to burst green firecrackers during festivals," Jha said.
He said that even the apex court and a Calcutta High Court verdict of last year said there will not be a complete ban on bursting of firecrackers.
"You should make the people understand that they should not burst firecrackers. Even you should not burst firecrackers during victory
processions after elections. There are other ways of celebrating the victory," the bench told Tiwari, who is an MP from North East Delhi.
The Delhi government had put a comprehensive ban on firecrackers for the third year in a row starting from 2021.
Tiwari has filed a petition last year challenging the complete ban on bursting of firecrackers in Delhi and cited that in various other states people are allowed to burst them.
However, the top court last year refused to accord urgent hearing on Tiwari's plea saying, "Let the people of Delhi breathe clean air. People should not spend money on firecrackers instead they should eat sweets."
On September 11, to combat high pollution levels during winter months, Delhi's Environment Minister Gopal Rai announced a comprehensive ban on the manufacture, storage, sale and bursting of firecrackers in the capital city.
The sweeping directive of the Delhi government includes the prohibition of online sale of firecrackers, comes ahead of the festival season. A similar blanket ban was imposed during the last two years.
During the hearing, the bench asked Delhi Police to formulate by Thursday, its argument that despite complete ban on sale of firecrackers in Delhi, how they will regulate and implement the guidelines of the Centre on bursting of green firecrackers
During the hearing, Additional Solicitor General Aishwarya Bhati, appearing for the Centre and other government agencies like Central Pollution Control Board and Petroleum and Explosives Safety Organisation (PESO) said
that they have been continuously implementing the directives of the apex court on green firecrackers and have put a mechanism in place to check sale and manufacture of normal firecrackers.