UP Deputy CM Pathak inaugurates state's first model Vaccination Center in Noida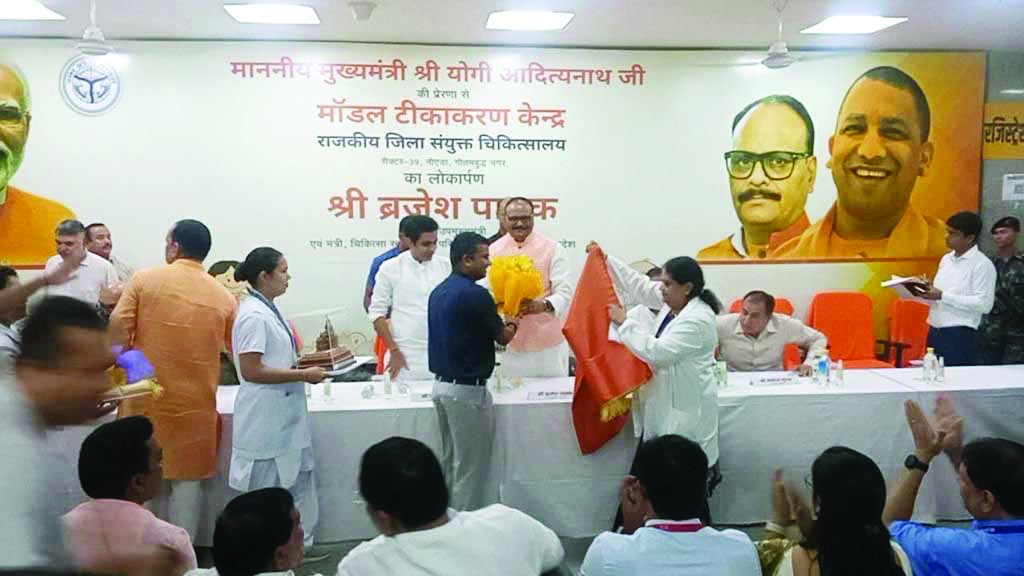 Noida: With an aim to provide better health infrastructure and medical facilities, Uttar Pradesh's Deputy Chief Minister Brijesh Pathak inaugurated state's first newly established model Vaccination Center in District Joint Hospital located in Sector 39 of Noida along with a Biosafety Level-3 (BSL-3) laboratory on Sunday.

Speaking on the occasion, Deputy CM Pathak said that the BSL-3 lab will be used for testing and research of pathogenic microorganisms which spread from one person to another and can cause serious diseases. "There is a high level of risk while testing these organisms and keeping in mind the safety of medical staff, proper arrangements have been made," he said.
"We will ensure complete support from the government for recruitment of qualified doctors and medical staff. The hospital name itself is Post Graduate Institute (PGI) of Child Health so the highest medical facility for children should be here. Medicines should be available in the hospital as per the standards. At every level, we have to make the hospital better and better," he continued.
While inspecting other services being provided to the patients in the District Joint Hospital, he instructed the officials of the Health Department that various public welfare health schemes are being run by the Uttar Pradesh government regarding health services, which should be delivered completely.
"Medical staff have been directed that patients coming to hospital do not need to buy medicines from outside and should be given to them free of cost. People should get free check ups and medicines. Whatever resources are needed for this will be made available by the government," Dy Cm Pathak said. He further said that all the medicines are available in hospitals and rabies injection, anti-venom are also available in sufficient quantities. "However, if there is a sudden requirement of any medicine, which is not available in our stock, the budget has been increased to 40 percent from earlier 20 per cent for the entire state," Pathak informed while adding that funds
of Rogi Kalyan Nidhi should be spent on time for the convenience of the public.