UAPA case: SC to hear Umar Khalid bail appeal on July 24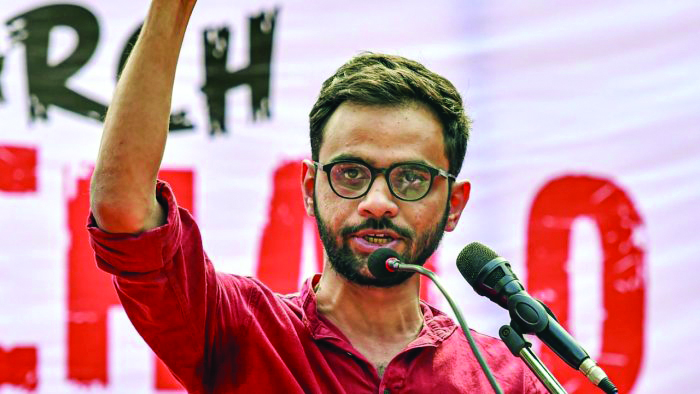 New Delhi: The Supreme Court on Wednesday said it would hear on July 24 a plea by former JNU student Umar Khalid seeking bail in a UAPA case related to the alleged conspiracy behind the riots here in February 2020.

The Delhi Police sought time to respond to the petition during the hearing before a bench of Justices A S Bopanna and M M Sundresh.
Advocate Rajat Nair, appearing for the Delhi Police, urged the bench to grant him some time to file a counter affidavit in the matter.
"In a bail matter, what counter is to be filed. The man is inside for two years and 10 months," said senior advocate Kapil Sibal, representing Khalid.
Nair said he is praying for a short time to file counter in the matter.
"The chargesheet is voluminous. It runs into thousands of pages," he said, while requesting the bench to grant them some "reasonable time".
"It should have been ready today," the bench observed and posted the matter for hearing on July 24. On May 18, the apex court had sought response of the Delhi Police on Khalid's plea.
In his appeal, Khalid has challenged the Delhi High Court order refusing him bail in the case.
On October 18 last year, the high court had rejected his bail plea saying he was in constant touch with other co-accused and allegations against him are prima facie true. The high court had also said the actions of the accused prima facie qualified as "terrorist act" under the anti-terror law UAPA.
Khalid, Sharjeel Imam, and several others have been booked under the anti-terror law Unlawful Activities (Prevention) Act (UAPA) and provisions of the Indian Penal Code for allegedly being the "masterminds" of the February 2020 riots, which left 53 people dead and over 700 injured.
The violence had erupted during the protests against CAA and NRC. Khalid, arrested by the Delhi Police in September 2020, had sought bail on grounds that he neither had any criminal role in the violence nor any "conspiratorial connect" with any other accused in the case.
Before the high court, the Delhi Police had opposed the bail plea by Khalid, saying the speech delivered by him was "very calculated" and brought up issues like Babri Masjid, triple talaq, Kashmir, the alleged suppression of Muslims and the Citizenship (Amendment) Act (CAA) and National Register of Citizens (NRC).